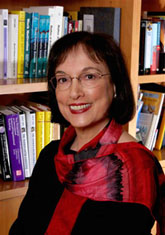 Miriam Erez is an Israeli psychologist.
She is the Mendes France Chair of Management and Economics at the Technion. Erez studied psychology and sociology for her undergraduate degree at the Hebrew University of Jerusalem, and earned her D.Sc. at the Technion in Behavioral Sciences and Management. Her research is in the areas of work motivation, cross-cultural organizational psychology, and innovation and creativity.
Erez was named the 2005 Israel Prize winner for management science, and in 2002, she was awarded the Distinguished Scientific Contributions to the International Advancement of Applied Psychology. She has taught at prestigious universities in the U.S., China, and Singapore, and serves on the Board of the Academy of Management and has served on the editorial board of numerous publications including Organizational Behavior & Human Development.
In particular, Erez's research focuses on team innovation; the interplay among the cultural values of innovation, quality and efficiency, and their effects on individual and team performance; and the interaction of individual differences and organizational culture on innovative performance. She takes a cross-cultural and multi-level approach, studying the global environment – multinational corporations, international mergers and acquisitions, and their impact on how values change over time; and the emergence of a dual global and local identity.
---
Sources: The Technion