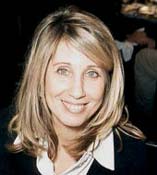 Stacey Snider is a Jewish American motion picture industry executive.
From 1999 until 2006 she chaired Universal Pictures. Her job responsibilities included marketing, production and domestic distribution. In 2002, the Hollywood Reporter named Snider the second most powerful woman in the entertainment industry.
A University of Pennsylvania graduate, Snider also graduated with a law degree from UCLA in 1985. After graduation she began working in the mail room at the Triad Agency and soon became the assistant at Simpson-Bruckheimer Productions. Later she moved on to become director of development and, ultimately, Executive Vice President at Guber-Peters Entertainment Company (GPEC). In 1992, she became president of TriStar Pictures and was in charge of films such as Sleepless in Seattle, Philadelphia, Jumanjii, and Legends of the Fall.
She is credited with Universal Pictures' all-time domestic and international box office records. Movies under her tenure include: The Mummy, which brought in revenue of $400 million worldwide; Life, which brought in $100 million; and Patch Adams, which grossed $200 million worldwide. Snider has also been involved in Beacon Pictures' End of Days with Arnold Schwarzenegger, Jersey Films' Man on the Moon, and Norman Jewison's The Hurricane with Denzel Washington.
Since 2006 Snider has co-chaired and served as CEO of DreamWorks.
Snider lives in Los Angeles, California with her husband and two children.
---
Sources: The Jerusalem Report, (November 4, 2002) and UCLA Alumni, Wikipedia