Judith Resnik
(1949 - 1986)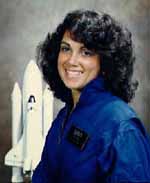 Astronaut Dr. Judith A. Resnik once said, "I think something is only dangerous if you are not prepared for it, or if you don't have control over it or if you can't think through how to get yourself out of a problem." In 1984, Resnik became the second American woman to travel in space. Dr. Sally K. Ride flew a mission in 1983. On her first trip into space, Resnick was a mission specialist on the maiden voyage of the Space Shuttle Discovery.
After the Discovery was in orbit, she radioed back to NASA that "the Earth looks great." Part of her job on the mission was pointing a camera on the craft's robotic long arm to inspect initial efforts to shake a chunk of ice off the craft's side. The crew managed to make the robotic arm knock off the piece of ice. Resnik had logged 144 hours and 57 minutes in space.
Resnik was born on April 5, 1949, in Akron, Ohio. She went to public schools and graduated from high school in 1966. She received a Bachelor of Science Degree in Electrical Engineering from Carnegie- Mellon University, Pittsburgh, in 1970, and a Doctorate in Electrical Engineering from the University of Maryland, College Park, in 1977.
After her graduation, Resnik held a number of jobs before entering the space program. Her first was with the RCA Corporation in Morristown. New Jersey, where she worked on circuitry for specialized radar control systems. While working for RCA, Resnik authored a paper on design procedures for special-purpose integrate circuitry.
Resnik was a biomedical engineer and staff fellow in the laboratory of neurophysiology at the National Institute of Health in Bethesda, Maryland, from 1974 to 1978. Prior to her selection by NASA in 1978, she worked for the Xerox Corporation in El Segundo, California. She was selected as an astronaut candidate by NASA in January 1978 and completed her one-year training evaluation period in August 1979. NASA assigned her to work on a number of projects in support of the Orbiter development, including experiment software, the Remote Manipulator System, and training techniques.
Resnik was determined to do everything she could possiblv do. She was the only girl among 16 students to have perfect scores on her SATs in high school. She was a classical pianist and a gourmet cook. Also, she was working on her pilot's license. "I never play anything softly." she said when questioned about her intensity at the piano. She also liked to run and ride her bicycle.
On January 28, 1986, millions saw Resnik on television as she strutted aboard the Challenger wearing a smile and waving her hand. She was joined by Dr. R. E. McNair and Lieutenant Colonel E. S. Onizuka (U.S. Air Force), two civilian payload specialists, G.B. Jarvis and S.C. McAuliffe, a teacher; Commander M.J. Smith (U.S. Navy), the pilot; and F.R. Scobee, the spacecraft commander. The Challenger launched from Scobee - the spacecraft command at the Kennedy Space Center - at 11:38 a.m. Resnik and crew died at 11:39 when the Challenger exploded seconds after it was launched.
Resnik was carrying a ring for her nephew and a heart-shaped locket for her niece when she died. She saw danger as another unknown to be mastered. She will live in the legacy of Jewish women and men who contributed to their country, many of whom died in doing so.
---
Source: Jewish Heroes and Heroines in America Seymour "Sy" Brody, illustrated by Art Seiden, published by Lifetime Books, Inc.