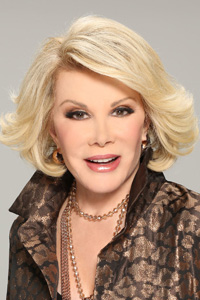 Joan Rvers was born Joan Sandra Molinsky on June 8, 1933, in Brooklyn, New York. In 1954, she graduated from Barnard College with a B.A. in English and Anthropology. In 1958, she decided to turn back to acting and then a few years later to comedy, performing for a time with Chicago's Second City troupe. In the 1960s, Rivers made television appearances as a comedian on the popular shows The Tonight Show and The Ed Sullivan Show, as well as hosting the first of her several talk shows. Late in that decade she made a brief but memorable appearance in the film, The Swimmer.
In the 1970s, Rivers appeared often as a guest on various television comedy and variety shows, such as The Carol Burnett Show. From 1972 to 1976, she was the narrator for the popular animated segment, The Adventures of Letterman. In 1978, Rivers directed and wrote her first film, Rabbit Test, starring Billy Crystal. It was also during this time, that Rivers began her stand-up act. Although she was originally the opening act for singer Helen Reddy, Rivers eventually became a headliner in her own right on the Las Vegas Strip. She also recorded a popular record album of her live standup act entitled Can We Talk?
Throughout the 1980s, Rivers continued to be brought in as a guest host on various television shows, especially on Jonny Carson's The Tonight Show. From 1983 to 1986, Carson invited Rivers to be the permanent guest host of The Tonight Show. However, in 1986, Rivers decided to host her own evening talk show, The Late Show Starring Joan Rivers. The show only lasted a year, but created a falling out between Rivers and Carson. Rivers eventually returned to television with a daytime talk show, The Joan Rivers Show, which ran from 1989 to 1993. In 1990, Rivers won the Emmy for Best Talk Show Host for her daytime show. She was also nominated for a Tony Award as Best Actrees for the play "Donna Marr and her escorts" in 1994.
Rivers has also written a number of screenplays, including The Muppets Take Manhattan (1984) and Serial Mom (1994).
As of 2005, Rivers is a host for the TV Guide channel, often co-hosting red carpet specials before award shows with her daughter, Melissa Rivers. She also worked a brief time for E! Entertainment Television in a similar role.  Rivers is the National Chairwoman of the Cystic Fibrosis Foundation. She is also a strong supporter of animal rights and an active member of PETA.
Rivers experienced complications during a throat surgery on August 28 2014 and was taken to Mount Sinai Hospital in New York City.  There, she was placed in a medically induced coma after suffering cardiac arrest and other complications.  Two days later she was put on life support in the hospital briefly before doctors attempted to bring her out of her coma on August 31.  On September 3 she was moved to a room in the ICU without any comment from her family, and she passed away peacefully on September 4 at the age of 81.  A staple at any awards show or red carpet event, Rivers will be sincerely missed by many people. 
---
Sources: "Joan Rivers (1933 - )," American Jewish Historical Society, American Jewish Desk Reference, (NY: Random House, 1999). pg. 479-80.
Wikipedia. 
IMDB.