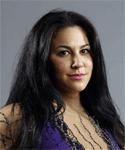 Julie Zetlin is a Jewish American Olympic rhythmic gymnast.
Born to Jewish parents, Zetlin grew up in Bethesda, Maryland. Her mother, Zsuzsi Zetlin, is a former Hungarian national champion in rhythmic gymnastics. Julie began learning this specific type of gymnastics at the young age of four and has been a member of the U.S. junior and senior national rhythmic gymnastics teams since 2004.
In 2011, Zetlin won the all-around championship titles at the Pan American Games and Rhythmic Challenge competitions. Her biggest achievement was capturing the 2010 U.S. National All-Around title. Her passion for gymnastics, drive to excel, and motivation to give it her all are keys to her success. She enjoys the thrill of performing in front of an audience, as well as the glitz and glam of rhythmic gymnastics.
The only rhythmic gymnast to compete in the 2012 London Olympics, Zetlin is one of two Jewish athletes on the five-member gymnastics division of Team USA. She ranked 21st (out of 24) in all four events in which she competed: Individual All-Around Qualification rounds 1-4. Zetlin scored a 96.675 for each rotation.
Because she has had multiple knee surgeries, she practices only once a day and focuses on quality practice over quantity. In spite of her knee injury and surgery history, she is still able to show off world-class leaping in her gymnastics repertoire.
---
Sources: Kathryn Whitney, "1st Look Profile: Juliet Zetlin Leaps Her Way to the Olympics," NBC Olympics; NBC Washington, July 19, 2012; Wikipedia