Gerty Theresa Radnitz Cori
(1896 - 1957)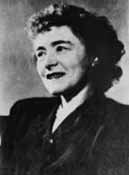 Dr. Gerty Theresa Radnitz Cori was the first American woman to receive the Nobel Prize for Medicine and Physiology, in 1947, which was shared with her husband, Dr. Carl F. Cori, and Dr. B.A. Houssay of Argentina.
Dr. Cori was born on August 15, 1896, in Prague, which was part of the Austro-Hungarian Empire. She was the oldest of three daughters of Martha and Otto Radnitz, manager of a sugar refinery. The family was Jewish and she was educated by private tutors.
At age sixteen and influenced by her uncle, who was a professor of pediatrics at the University of Prague, Cori decided to study medicine. She graduated with a medical doctor's degree in 1920.
When she was attending medical school, she met Carl Ferdinand Cori, a fellow student. They both shared many common outdoor activities and they both had a curious interest in laboratory research. They were married on August 5, 1920, following graduation, with her converting from Judaism to Catholicism. They subsequently accepted positions at the University of Vienna and decided to pursue careers in medical research, rather than medical practice.
In 1922, they both immigrated to the United States to pursue medical research at the State Institute for the Study of Malignant Diseases (now the Roswell Park Memorial Institute), in Buffalo, New York. He became an assistant pathologist and she was appointed as an assistant biochemist. While at Roswell, Mr. and Mrs. Cori were discouraged from working together, but did so anyway, devoting their efforts to how energy is produced and transmitted in the human body. Specializing in biochemistry, they began studying how sugar glucose is metabolized. The Coris published fifty papers jointly while at Roswell, with either researcher's name appearing first, depending on who had done the bulk of the research for a given paper. Gerty Cori also published eleven articles as single author. In 1929, they proposed the theory that bears their name and later won them a Nobel Prize. The Cori cycle is their explanation for the movement of energy in the body—from muscle, to the liver, and back to muscle.
They both became United States citizens in 1928 and, in 1936, they had their only child, Carl Thomas.
The Coris left Roswell after publishing their work on carbohydrate metabolism. They moved to St. Louis, Missouri in 1931, where Carl had been offered the chair of the Pharmacology Department at Washington University School of Medicine. Despite her research, Gerty was only offered a position as a research assistant. She was promoted to a full professor when Carl was made head of the biochemistry department in 1947, the same year she received the Nobel Prize in Medicine and Physiology with her husband and Dr. Houssay of Argentina. She was the third woman to receive this prestigious award and became the first Jewish-American woman to receive such an honor. In 1952, President Harry S. Truman named her to the National Science Board of the National Science Foundation.
Dr. Gerty Cori received many honors and awards during her life, and among them were The Midwest Award of the American Chemical Society, in 1946; the Squibb Award in endocrinology, in 1947; the Garvan Medal and the Women's National Press Award in 1948; the Sugar Research Prize of the National Academy of Sciences in 1950 the Borden Foundation Award for outstanding medical research in 1950. She shared with her husband, Carl, the Squibb and the American Chemical Awards. She received honorary degrees from Smith College, Yale University and Rochester University. She was also one of twelve women honored at Hobart and William Smith Colleges in Geneva, N.Y. in 1949, at ceremonies of the first medical degree bestowed on a woman.
In the summer of 1947, she started to feel the symptoms of Myelofibrosis, a rare disease of the bone marrow. For ten years she continued her work, suffering with pain and refusing to stop her laboratory activities. On October 26, 1957, she died of kidney failure.
The famous newscaster, Edward R. Murrow, eulogized her dedication, intellectual integrity, courage and professionalism in her pursuit for answers in biochemistry.
The Cori crater on the Moon is named after her.
---
Sources: This is one of the 150 illustrated true stories of American heroism included in Jewish Heroes & Heroines of America : 150 True Stories of American Jewish Heroism, © 1996, written by Seymour "Sy" Brody of Delray Beach, Florida, illustrated by Art Seiden of Woodmere, New York, and published by Lifetime Books, Inc., Hollywood, FL.