Amy Winehouse
(1983 - 2011)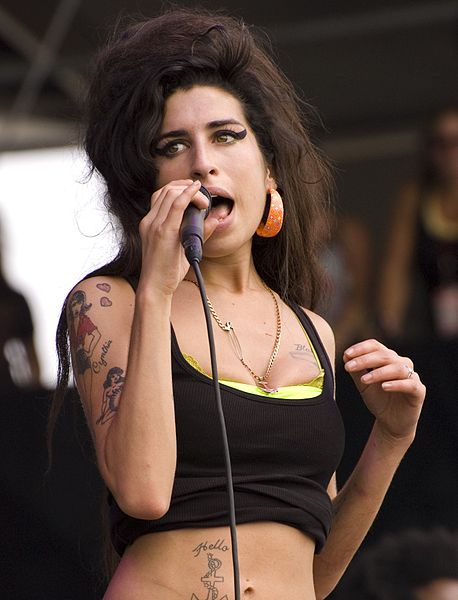 Amy Winehouse was a British singer-songwriter known for her powerful contralto vocals and eclectic mix of musical genres including R&B, soul and jazz.

Amy Jade Winehouse was born September 14, 1983, in the Southgate area of north London to a Jewish family. Her mother, Janis, was a pharmacist and her father, Mitchell, was a taxi driver and often sung Frank Sinatra to young Amy.

Winehouse's platinum-selling debut album Frank, released October 20, 2003, earned her both critical and commercial success. The album earned her two BRIT Awards nominations and made the short list for the 2004 Mercury Music Prize. Three years later she released her follow-up album, Back to Black, on October 30, 2006. Back to Black sold over 10 million copies and earned her six Grammy nominations and five wins in February 2008, including Best New Artist, Record of the Year and Song of the Year. She also won the 2007 BRIT Award for Best British Female Artist and was nominated for Best British Album. Winehouse furhter won the Ivor Novello Award three times, in 2004 for Best Contemporary Song Musically and Lyrically for "Stronger Than Me", in 2007 for Best Contemporary Song for "Rehab" and in 2008 for Best Song Musically and Lyrically for "Love is a Losing Game".

Aside from recognition for her musical career, Winehouse was also well-known for her distinctive style, beehive hairdo and plentiful tabloid appearances. She and her former husband, Blake Fielder-Civil, were plagued by legal troubles that left him serving prison time from 2008 to 2009. Winehouse's divorce from Fielder-Civil was finalized in August 2009. She also had problems with depression, self-harm, eating disorders and substance abuse and was arrested for drug possession and common assault.

On July 23, 2011, Winehouse was found dead of a drug overdose at her home in London at the age of 27.
---
Sources:Amy Winehouse Official Website, Wikipedia

Wikimedia, By Greg Gebhardt from Laguna Beach, CA, USA (Amy Winehouse) [CC BY 2.0 (http://creativecommons.org/licenses/by/2.0)], via Wikimedia Commons