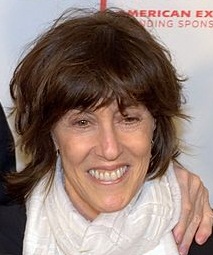 Nora Ephron was a distinguished Jewish American director, producer, screenwriter, novelist, journalist, and blogger.
Born on May 19, 1941 to screenwriters Pheobe (nee Wolkind) and Henry Ephron in Manhattan, Nora was the eldest of four daughters. When she was four years-old, her family moved to Beverly Hills, California, where she lived until the fall of 1958 when she began studying at Wellesley College in Massachusetts.
At Wellesley, Ephron majored in political science, wrote for the weekly Wellesley News, and interned at the Kennedy White House during the summer of 1961. She moved to New York City upon graduation in the spring of 1962 to become a journalist. Ephron worked for Newsweek for a year where she was a fact checker and mail girl, and wrote for the New York Post for five years afterwards. She covered stories like the Beatles, the Star of India robbery at the American Museum of Natural History, and a pair of seals at the Coney Island aquarium that would not mate.
In the late 1960s, Ephron began writing more for magazines, including Esquire and New York, and quickly made a name for herself through her personal, honest writing style and critical profiles of luminaries such as Ayn Rand and Betty Friedan.
In 1976 Ephron married American Jewish journalist Carl Bernstein –best known for exposing the Richard Nixon administration's complicity in the Watergate scandal in the early 1970s – and went into the movie business soon after. Her first screenplay, "Silkwood," was a 1983 film based on the life of Karen Silkwood, who died under suspicious circumstances while investigating abuses at the plutonium plant where she had worked. Meryl Streep and Kurt Russell starred in the Mike Nichols-directed film.
Ephron's greatest cinematic success was When Harry Met Sally… (1989), a romantic comedy directed by Rob Reiner starring Billy Crystal and Meg Ryan, a saga of two people in love who try to have a purely platonic relationship. Ryan's table-pounding fake-orgasm scene with Crystal in Katz's Deli on the Lower East Side is probably the most well-known, followed by the unforgettable "I'll have what she's having" comment by a middle-aged woman sitting nearby. Other box office hits that Ephron wrote, directed and or produced include Sleepless in Seattle (1993), You've Got Mail (1998), and Julie & Julia (2009).
Ephron was an outspoken feminist who, at her 1996 commencement speech, told that year's graduating Wellesley class:
Whatever you choose, however many roads you travel, I hope that you choose not to be a lady. I hope you will find some way to break the rules and make a little trouble out there. And I also hope that you will choose to make some of that trouble on behalf of women.
The recipient of innumerable accolades throughout her multiple careers, Ephron received three nominations for the Academy Award for Writing Original Screenplay for Silkwood, When Harry Met Sally…, and Sleepless in Seattle. She received the prestigious Wellesley Alumnae Achievement Award in 2006 for her accomplishments in film, journalism, and literature. Ephron's novel "Heartburn" (1986) and essay collections "I Feel Bad About My Neck: And Other Thoughts on Being a Woman" (2006) and "I Remember Nothing: And Other Reflections" were instant best-sellers.
Ephron died of pneumonia, a complication from leukemia, on June 26, 2012 at the age of 71. She is survived by two ex-husbands (Dan Greenburg and Carl Bernstein), her husband, crime journalist and screenwriter Nicholas Pileggi, and two children.
---
Sources: Associated Press. "Writer-Filmmaker Nora Ephron dies at 71," AP, June 26, 2012.
Ephron, Nora. "Nora Ephron Remarks to Wellesley College Class of 1996," Wellesley College, July 19, 1999.
McGrath, Charles. "Writer and Filmmaker With a Genius for Humor," New York Times, June 26, 2012.
Mendelsohn, Janet. "Wellesley College News Release," Wellesley College Public Affairs, March 10, 1999.
Wikipedia