Sidonie Matsner Gruenberg
(1881-1974)
Sidonie Matsner Gruenberg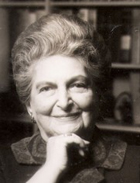 (1881-1974)
GRUENBERG, SIDONIE MATSNER (1881–1974), U.S. educator, who exercised a dominant influence in advancing the study of guidance methods for parents and children. Sidonie Gruenberg was born in Austria and was educated in Germany and New York. In 1906 she joined the Child Study Association of America, became director (1923–1950), and served as consultant from 1950. Gruenberg wrote extensively for children and parents, and her books were translated into many languages. She was regarded as an authority on child-parent relationships and lectured in parent education, and was a member of the editorial boards of Parents Magazine and Child Study. She was chairman of the subcommittee of the White House Conference on Child Health and Protection (1930); a member of The White House Conference (1940) and The Mid-Century White House Conference (1950); director of the Public Affairs Commission (1947) and the Social Legislation Information Service (1947–61).

 
---
Sources:[Ronald E. Ohl]
Encyclopaedia Judaica. © 2008 The Gale Group. All Rights Reserved.