Bobbie Rosenfeld
(1904 - 1969)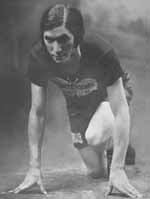 During the workday Canadian Olympic medalist Fanny "Bobbie" Rosenfeld was a stenographer in a Toronto chocolate factory. It was only on evenings and weekends that she had time to resume her role as the "world's best girl athlete." On any given day she could be seen winning softball games before crowds of thousands, breaking national and international track records or leading an ice hockey or basketball team to a league championship. Was there any sport Rosenfeld couldn't conquer? As one author remarked, "The most efficient way to summarize Bobbie Rosenfeld's career... is to say that she was not good at swimming."
Born in 1904, Rosenfeld was known for her wise cracks as well as for her sportsmanship. Although famous as an all-around athlete, she gained the international spotlight with her achievements in track, bursting onto the scene at the 1923 Canadian National Exhibition.
By 1928 Rosenfeld was traveling to the Amsterdam Olympics for what she termed her "greatest victory." There, the small Canadian women's track team, celebrated by the press as "the matchless six," swept the events. With a gold medal for the 400 meter relay, a silver for the 100 meters, and a fifth place in the 800 meters, Rosenfeld scored more points for her country than any other athlete at the Games, male or female.
One year later, her career ground to a halt. Struck with severe arthritis, Rosenfeld was bedridden for months and afterwards confined to crutches.
In 1931 she recovered sufficiently to star on championship softball and ice hockey teams again, but a second attack in 1933 forced her to retire permanently from athletics.
Rosenfeld then moved to coaching track and softball and into the field of sports writing. Her column "Sports Reel" began its twenty year run in the Toronto Globe and Mail in 1937. First as an athlete and then as a writer, Rosenfeld helped topple traditional barriers against women's participation in sports.
Rosenfeld was honored nationally in 1950 when a press poll of sportswriters voted her Canada's Female Athlete of the Half-Century. She was among the first to be inducted into Canada's Sports Hall of Fame, and her legend has carried on long past her death at the age of 65 in 1969. With the recent appearance of her portrait on a Canadian postage stamp, the tributes to her continue today.
---
Sources: The Jewish Women's Archive Exhibits