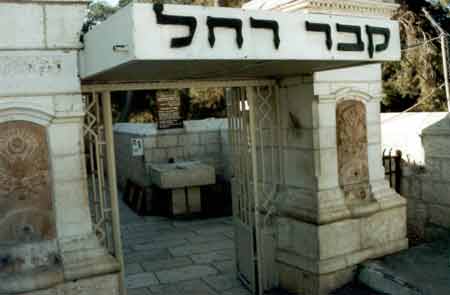 The biblical matriarch Rachel was the wife of Jacob and the mother of Joseph and Benjamin. Information about Rachel is found in Genesis chapters 29-35.
Rachel was the second daughter of Laban, Rebekah's brother. Rachel lived in Haran and worked as a shepherdess. She is described as "shapely and beautiful" (Genesis 29:17).
Jacob ran to Haran to escape from his brother Esau. He reached a well and asked some shepherds there if they knew Laban. They answered that Laban's daughter Rachel was approaching at that moment. Jacob kissed Rachel and told her that he was Rebekah's son and Rachel's relative. She invited him to her house, and he began to work for Laban. After a month, Laban asked Jacob what his wages were to be. By then, Jacob loved Rachel and answered that he would work seven years to marry Rachel. After Jacob fulfilled his commitment, Laban made a feast at which he was to give his daughter to Jacob, but instead of giving him Rachel, Laban gave Jacob his oldest daughter, Leah. Jacob confronted Laban, who agreed to give him Rachel one week later, provided Jacob would work for him for an additional seven years. Jacob agreed and married Rachel, whom he loved more than Leah.
Leah quickly gave birth to four sons while Rachel was barren. Rachel became jealous of her sister. She then gave Jacob her maid Bilhah as a concubine. When Bilhah gave birth to two sons, Dan and Naphtali, Rachel saw them as her own children. After Leah had seven children, Rachel finally conceived. She named her son Joseph, noting that God "has taken away (in Hebrew asaph) my disgrace" and praying that God would "add (yoseph) another son for me" (Genesis 30:23,24).
After Joseph was born, Jacob told Rachel and Leah that God had commanded him to return to his homeland of Canaan. They responded that he should do what God told him, and they would follow. Jacob prepared to leave, and while Laban was out shearing sheep, Rachel stole Laban's idols without Jacob's knowledge. It is not written explicitly as to why she stole them. Some commentators say it was to prevent Laban from worshipping idols, while others say that the idols actually had some magical power, and Rachel did not want them revealing to Laban the way that Jacob traveled. Jacob did not tell Laban that he was leaving. When, three days later, Laban discovered that Jacob was gone and chased after him, he blamed Jacob for stealing his idols. Laban searched the tents of Jacob and his wives, but Rachel hid the idols in a camel cushion, and Laban could not find them. Laban left the next morning, and Rachel continued to travel with Jacob.
The next time Rachel is mentioned is when Jacob meets with his estranged brother Esau. Jacob formed a receiving line of his wives and children, putting Rachel and Joseph last, so they could escape if necessary.
They traveled to Beth-El and from there began a journey to Ephrath. Rachel was pregnant again and, on the way, suffered a hard labor and died in childbirth. In her last breath, she named her son Ben-oni ("son of my suffering"), but Jacob called the child Benjamin ("son of the right hand" or "son of the south"). Jacob buried Rachel on the road where she died and set up a monument. Early descriptions of the tomb claim that it consisted of 11 stones placed by Jacob's sons and one bigger stone placed by Jacob himself.
According to Midrash, Jacob buried Rachel on the road so that the Jews would pass her grave as they traveled into exile and she would be able to pray for them. This is supported by the words of the prophet Jeremiah who wrote, at the start of the Babylonian exile, "A cry is heard in Ramah…Rachel weeping for her children" (Jeremiah 31:15).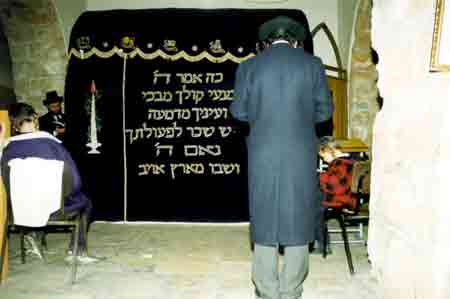 There is some controversy over where exactly the tomb of Rachel is located. According to Genesis, she was buried "on the road to Ephrath, which is Bethlehem" (Genesis 35:19). Samuel I writes that she was buried in the inheritance of the tribe of Benjamin (Samuel I 10:2), a statement that is contradictory to the description in Genesis. The tomb is now generally assumed to be in a spot near Bethlehem and is covered by a structure built by Sir Moses Montefiore in 1841.
During the Jordanian occupation, the area around the tomb was a Muslim cemetery. After the Six-Day War, the structure around the tomb was renovated, and it became a place of mass pilgrimage for Jews. Jews visit it year-round, but specifically on Rosh Chodesh (the new moon and the first of the Hebrew month), the month of Elul, and the anniversary of Rachel's death on the 14th of Heshvan.
According to the Oslo agreements, the Palestinian Authority is responsible for the security of Rachel's Tomb and for allowing Jewish worshipers unhindered access to them. Nevertheless, the PA has allowed the tomb and worshipers to be repeatedly attacked. For example, during the intifada in 2000, Jews could not visit the site because it was repeatedly under gunfire. Palestinians threw rocks, at least 18 firebombs, and nine pipe bombs at Israeli troops guarding the tomb in 2013. Pipe bombs were thrown at the shrine in 2016 and 2017. On two occasions in 2019, explosive devices were thrown at the tomb. Palestinian rioters threw rocks, glass bottles, and Molotov cocktails at Jews praying at the tomb on August 10, 2023.
---
Sources: Yishai Chasidah, Rachel, Encyclopedia of Biblical Personalities, (Brooklyn: Shaar Press, 1994).
Rachel, Colliers Encyclopedia, Vol. 19, (1997).
Rachel, Encyclopedia Judaica, (1978).
Scriptures: Genesis, Samuel I, Jeremiah, (New York: Jewish Publication Society, 1985).
Torat Chaim Bible, (Jerusalem: Mossad Harav Kook, 1986).
Nadav Shragai, "The Palestinian Authority and the Jewish Holy Sites in the West Bank: Rachel's Tomb as a Test Case, JCPA, (December 2, 2007).
Marcy Oster, "Palestinians riot near Rachel's Tomb," JTA, January 16, 2013).
Yotam Berger, "Israel Arrests Seven Palestinian Teens Over Pipe-bomb Attack on Rachel's Tomb," Haaretz, (October 6, 2016.
"None hurt as bomb thrown at Rachel's Tomb in Bethlehem," Times of Israel, (February 7, 2017).
"2019 Report on International Religious Freedom: Israel, West Bank and Gaza," U.S. State Department, (June 10, 2020).
"Palestinians hurl rocks, Molotov cocktails at Rachel's Tomb in West Bank," Jerusalem Post, (August 11, 2023).

 
Photos: © Jack Hazut. No reproduction is allowed without written permission from Jack Hazut and AICE.