Senda Berenson
(1868 - 1952)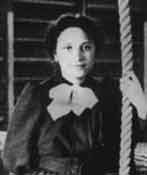 Senda Berenson (Abbott), nicknamed the "Mother of Women's Basketball," was born on March 19, 1868, in Baltramentz (Butrimonys), a town near Vilna, Lithuania. Seven years later, Berenson's family immigrated to Boston and changed the family name from Valvrojenski to Berenson. Her mother made the family only speak English and ignored their Jewish religious practices to better fit in. Senda went to the Boston Conservatory of Music but withdrew due to poor health. She enrolled in the Boston Normal School of Gymnastics where she began her career as teaching physical education.
In 1891, at the age of 23, she began working at Smith College in Northampton, Massachusetts. She read about a new indoor game invented in nearby Springfield College by a graduated student by the name of James Naismith. She met Naismith at a sports symposium at Yale University and he encouraged her to introduce basketball to her students. This was a momentous and controversial move since women of that era did not participate in team sports.
On March 22, 1893, she held the first All-Women's basketball game (in fact there were no male spectators, since that would have been improper) between a group of sophomores and freshmen. The game was a success. Soon other women's colleges heard about the game and began adding basketball to their own athletic curriculum.
She was editor of Spalding's Official Basketball Guide for Women from 1899 to 1916 and served as chairperson of the United States Women's Basketball Committee (1905–17). In 1901, she wrote Basket Ball for Women in 1901, which modified the original rules created by Naismith to avoid the roughness of the men's game and emphasize socialization and cooperation as opposed to competition and winning. Her rules included dividing the court into three areas, with two players permanently designated for each area; eliminated stealing the ball; limited dribbling to three bounces; and restricted a player from holding the ball longer than three seconds. These rules had remained mostly intact for the following seven decades.
The American Association for the Advent of Physical Education appointed her the chair of the Basketball Rules committee, a position she held from 1905 to 1917.
In January of 1911, she married Herbert Vaughn Abbott and, later that year, became Director of Physical Education at the Burnham School in Northampton where she worked until 1921. In 1934, she moved to Santa Barbara, California where she died on February 16, 1952.
On July 1, 1985, she was inducted along with Margaret Wade and Bertha Teague as the first female members of the Basketball Hall of Fame. She was also in the first class of women inducted into the Women's Basketball Hall of Fame in 1999. In between, in 1987, she was inducted into the International Jewish Hall of Fame.
[Last Updated: 4/21 by Aryeh Lev]
---
Sources: "Senda Berenson (1868-1954)," American Jewish Historical Society, American Jewish Desk Reference, (NY: Random House, 1999) pg. 285.
"Senda Berenson," International Jewish Sports Hall of Fame.
Encyclopaedia Judaica. © 2008 The Gale Group. All Rights Reserved.
Women's Basketball Hall of Fame.
Ross Atkin Staff, "Basketball Hall of Fame ushers in its first women inductees," Christian Science Monitor, (July 5, 1985).
Ruth Gursky, "Senda Berenson" Jewish Women's Archives.
"Senda Berenson Abbott," Basketball Hall of Fame.
"Where Basketball was Invented: The History of Basketball," Springfield College.
Picture courtesy of the International Jewish Sports Hall of Fame.