Barbara Walters
(1929 -2022 )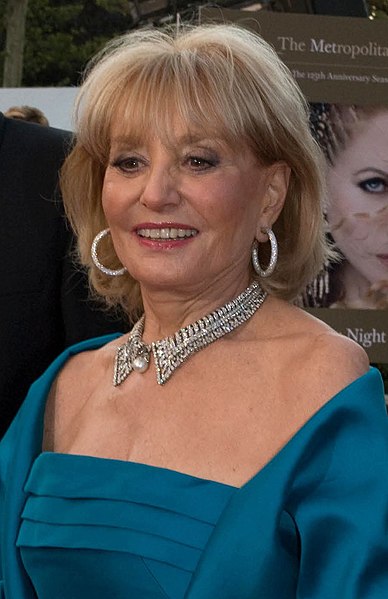 Barbara Jill Walters has become a television superstar through her journalistic instinct, idiosyncratic and penetrating questions of politicians and celebrities, and ability to obtain interviews with some of the most famous and difficult people to reach. She achieved this status the hard way as she broke through "the man's world of television journalism."
She was born on September 25, 1931, in Boston, Massachusetts, to Dena and Lou Walters, neither of whom was religious. They owned New York City's famous nightclub, The Latin Quarter. She was raised in Miami, and New York as her father's business of being an impresario took them to these two cities during the year. Because she was surrounded by celebrities who worked and socialized with her father, she was not intimidated by their presence.
She attended public schools in New York and Miami and then entered Sarah Lawrence College, in Bronxville, New York. She received her B.A. degree in English in 1953. After graduation, she moved to New York City, where she wanted to pursue a career in television.
She was hired by RCA-TV, the local affiliate of NBC, to do some writing, producing, and public relations. Her talent was recognized by Dave Garaway, an early host of the Today Show, who invited her to become a writer on his staff. It was not long before she was given on-air assignments. The choice news stories were assigned to the men, and Walters had to break through this wall of sexism. Her popularity rose because of her unique ability to interview celebrities.
They gave her a regular spot on the show for her interviews. She was able to schedule members of the Kennedy family, the widow and children of the late Dr. Martin Luther King, Jr., and other important and well-known people. This was also a period where television learned how to become an important medium in reporting breaking news as it was happening. In 1976, ABC hired her from NBC, as a co-anchor woman for their prime news time at a record-breaking one million dollars a year. In November 1977, Walters scored her biggest scoop when she interviewed Egyptian President Anwar Sadat and Israeli Prime Minister Menachem Begin.
Walters has continued to conduct interviews with personalities such as Princess Diana of England, General Colin Powell, Hillary Rodham Clinton, and President William Clinton  Her ability to draw people out, understand the situation, and to make it as clear as possible during interviews has attributed to her success. Her 20/20 television show long produced top ratings. Walters has substituted many times for a vacationing Ted Koppel on his Nightline program and hosted multiple specials with newsmakers.
In 1976, she continued to be a pioneer for women in broadcasting by becoming the first female co-anchor of a network evening news program, alongside Harry Reasoner on the ABC Evening News. Walters worked as a producer and co-host on the ABC news magazine 20/20 from 1979 to 2004. She also became known for an annual special aired on ABC, Barbara Walters' 10 Most Fascinating People.
Walters was married four times, to three different Jewish men. She had one child, with theater impresario Lee Guber, who demanded that their daughter attend Hebrew school.  She had an adopted daughter, Jacqueline."
Walters created, produced, and cohosted the ABC daytime talk show The View, on which she appeared from 1997 until her retirement in 2014. Later she continued to host a number of special reports for 20/20 as well as documentary series for Investigation Discovery. Her final on-air appearance for ABC News was in 2015.
Walters was inducted into the Television Hall of Fame in 1989, and in 2007 received a star on the Hollywood Walk of Fame. She received a Lifetime Achievement Award from the National Academy of Television Arts and Sciences in 2000.
Barbara Walters is a television superstar who broke through male-dominated news broadcasting. Her success as a television newscaster and host of magazine programs and special shows proves that women can achieve stardom in television when given the opportunity.
She also had a sense of humor. Gilda Radner did an imitation of Barbara Wawa on Saturday Night Live. In 2014, she appeared on SNL, proclaiming that it was an honor "to see my groundbreaking career in journalism be reduced to a cartoon character with a ridiculous voice."
She died at the age of 93 on December 30, 2022.
---
Sources: This is one of the 150 illustrated true stories of American heroism included in Jewish Heroes & Heroines of America: 150 True Stories of American Jewish Heroism, © 1996, written by Seymour Sy Brody of Delray Beach, Florida, illustrated by Art Seiden of Woodmere, New York, and published by Lifetime Books, Inc., Hollywood, FL
Barbara Walters, Wikipedia.
Gabe Friedman, "Barbara Walters, groundbreaking Jewish TV host, dies at 93," JTA, (December 30, 2022).
Photo: Rubenstein, CC BY 2.0 via Wikimedia Commons.