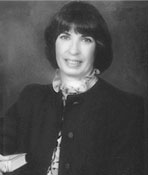 Bobbi Fiedler is a Jewish American politician and former member of the U.S. House of Representatives.
Fiedler (born April 22, 1937) was born Roberta Frances Horowitz in Santa Monica, California. She attended Santa Monica City College from 1955 to 1959. Fiedler was a member of the Los Angeles (City) Board of Education from 1977 to 198.
In November 1980, she was elected as a Republican to represent California's 21st district in the U.S. House of Representatives. She was subsequently re-elected twice - in 1982 and 1984.
In 1986, Fiedler did not run for re-election to the House, opting instead to seek election to the U.S. Senate. In January 1986, she was charged with political corruption after an undercover investigation allegedly showed that Fiedler offered $100,000 to a rival if he would withdraw from the Republican senate primary. The charges were dismissed by Judge Robert Altman before the matter went to trial. Nevertheless, Fiedler lost in the primary.
Fiedler is currently a resident of Northridge, California.
---
Sources: Biographical Directory of the United States Congress; Wikipedia