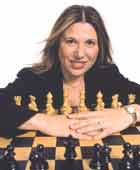 Grandmaster Susan Polgar settles herself into the folding chair on the makeshift podium, folds her arms demurely in front of her and trains her enormous coffee-brown eyes on the green and white chessboard before her. She lost the coin toss to her opponent, Hall of Famer Lev Alburt, so he, as white, will be making the first move in the 4th annual Chess-in-the-Parks Rapid Open in New York City's Central Park.
Polgar, the No. 1 ranked player in the United States and the No. 2 player in the world, earned her first checkmate when she was only 41/2 and since then has played against all the big names—Bobby Fischer, Boris Spassky, Garry Kasparov, Anatoly Karpov—but this is no ordinary game and this is certainly no ordinary venue.
As Polgar and Alburt make their moves, the results are bellowed out via microphone and 32 hyper grade-schoolers, posing as chessmen, mimic the players' maneuvers on a life-size chessboard beneath the park's angel-topped Bethesda Fountain. The object of this demonstration is not so much to win or lose but to show children how much fun the game of chess really can be.
As the clock ticks, the gray sky is spitting rain, the security guards are squealing into their squawkers, the live chess pieces are bopping up and down like Mexican jumping beans, the trumpeter is punctuating each move by playing a peppy phrase and the fans are calling out advice—"Take a bishop, why doesn't she take a bishop!" Then someone trips and tips over the empty chair next to Polgar. She doesn't so much as blink. Her rapt concentration wavers only once, when a little voice yells out a big shout of "Mommy! Mommy!" Reflexively, Polgar, the mother of two little sons, glances to the side.
An hour later, amid all the noise, nuisance and nonsense, the game ends: It's a tie. As the live chessmen boogie off the board, Polgar stands tall in her black stilettos and puts her hand on her forehead as if the motion alone will clear her mind and get her to concentrate on her next move, which is right into the crowd to greet all her fans.
"Chess is in many ways like life itself," she says. "It's all condensed in a playful manner in a game format and it's extremely fascinating because first of all I'm in control of my own destiny, I'm in charge. You have to be responsible for your actions, you make a move, you had better think ahead about what's going to happen, not after it happens, because then it's too late. Chess teaches discipline from a very early age. It teaches you to have a plan and to plan ahead. If you do that, you'll be rewarded; if you break the rules, you will get punished—in life and in chess. You need to learn the rules to break the rules."
Learning the game of chess, she says, gave her a head start on the game of life, and that's why she has been devoting her life to being an advocate and an ambassador for chess, all with the goal of making chess as all-American as Mom, apple pie and baseball. In addition to participating in events like the live chess game, she has established the Polgar Chess Center in Forest Hills, New York, where she teaches students and hosts major chess events, and has set up the Susan Polgar Foundation, a nonprofit organization to introduce the social, educational and competitive benefits to American youngsters, especially girls.
"Chess is very good to teach children because it's a very playful game," she says. "Once you understand a little bit about chess, you can really see the beauty in it like in art or in music."
It is that beauty that taught her to focus, to concentrate and to be disciplined enough to play and win, even when the odds were stacked against her. As a woman and a Jew growing up in Hungary, she faced discrimination on two levels. Chess was, and for the most part still is, a man's game, and it was she who was the first to break through the gender barrier. While her early wins made her a curiosity in her own country, they only brought her awards and acclaim, not acceptance. "The antisemitism was more subtle," the 35-year-old Polgar says, adding that all of her grandparents are Holocaust survivors. "The woman problem was more open. Even though by 1984, when I was 15, I was the top-ranked woman in the world, my real breakthrough didn't come until 1988, when for the first time ever, my two younger sisters, Sofia and Judit, and I won the gold medal in the World Chess Olympiad for Hungary. This was the first time any country had ever won over the Soviets. The government started applauding us, and we became national heroes."
The win made her the Michael Jordan of the chess world. Even today she is a household name in Hungary, and when she visits her homeland, fans stop her on the street and ask for her autograph. By the time her reputation was established, she was besting the male masters. "They were disappointed to lose," she says, "but they weren't disappointed because I was a woman but simply because they lost."
Polgar went on to win nine other Olympic medals, along with a slew of other honors, including being named Women's World Champion four times, that have allowed her to remain ranked among the top three female players for the last two decades. Her most recent victory took place in October 2004, when she and the U.S. team brought home America's first-ever medal for the women's competition—the silver—in the 36th World Chess Olympiad that was played in Calvia, Spain. In that competition, she further distinguished herself by bringing home two gold medals—one for best overall performance and one for the most points scored in the entire Women's Olympiad —and a silver for racking up the second-best percentage.
Since the birth of her sons—Tom is 5 and Leeam is 4—Polgar has devoted herself to promoting, not playing chess. Indeed, the 2004 Olympiad was her first international tournament in eight years.
"Now I concentrate on revolutionizing the game and bringing it to the next level of popularity," she says.
(Sofia, who lives in Israel, stopped playing when she was ranked No. 6 in the world but still ranks in the top 20; Judit, who replaced Susan as No. 1, has been inactive recently because she had a baby.)
It was her father who taught Susan chess and it was she who got Judit and Sofia into the game. "He was a chess fan and wanted to have an opponent," she says. "But he was never a professional player, and he never even owned a book on chess until we started playing together."
Polgar, who was homeschooled, was introduced to the game at 4 and her first win, a perfect 10-0 score in the girls-under-11 championship in Budapest, turned her into a media sensation. By age 10, she was beating her father at his own game. By age 15, she was the No. 1 female player in the world.
When she was ready to enter college, Polgar could say "Checkmate!" in seven languages—Hungarian, English, German, Russian, Spanish, Hebrew and Esperanto—and decided to major in physical education and sports teaching, taking a special degree in chess at the Academy of Physical Sports and Education in Minsk, Belarussia.
Her victories and "firsts" have been steady throughout her career. The only world champion, male or female, to win the triple crown—rapid, blitz and traditional world championships—she also is the first woman to win the U.S. Open Blitz Championship; the first woman to win the Grandmaster of the Year Award; the first woman to break the gender barrier to earn the Men's Grandmaster title, and the first woman to qualify for the Men's World Championship.
The award-winning, best-selling author and columnist also is a three-time winner of the Chess Oscar.
What is Polgar's winning combination? There is a lot more to it than merely making the right moves at the right time, she says. Before the game even begins, Polgar does extensive study and research on her opponent's previous games and on overall strategies. "I have to set my mind so that I get the proper sleep. I have to be organized and really focused for the hours that it takes to play the game," she says. "I also work on improving my endurance by going to the gym. It can take seven to eight hours for one game in top competitions, and it's very tense."
Although chess is popular in Europe, in America it is considered intellectual, difficult and worst of all, boring. "It's not any of those things," Polgar insists. "In Europe, you can make a living playing chess. In the United States, you can't. I hope to improve the image of chess and the life of professional players. I could teach you in an hour all the basics. You have to understand the rules and the logic. After that, it's all a matter of practice."
To prove her point, she has written a number of books, including Teach Yourself Chess in 24 Hours and The World Champion's Guide to Chess, which will be published in March 2005.
Some 45 million people in the United States spend time moving black and white kings and queens from square to square on chessboards and some 200,000 children in New York, New Jersey and Connecticut have learned to cheerfully declare "Checkmate," but only a few schools teach it. "In Europe, there are over 30 countries that use it in the school curriculum," Polgar says. "I'm trying to get U.S. schools to use chess as a tool nationwide. Unlike a lot of other sports like baseball and football, it's very affordable. You can buy a chess set for $10, and two people can play, and it can be used over and over for years."
What's more, playing chess helps children develop critical thinking that is useful not only in the game but also in academics, social situations and life in general, she adds. "Test scores improved by 17.3% for students regularly engaged in chess classes, compared with only 4.6% for children participating in other forms of enriched activities," Polgar notes. "Chess has been shown to develop decision-making, critical thinking, logical thinking, evaluating, planning, problem solving and perseverance skills. It improves concentration, memory, intuition and self-control and promotes independence, imagination and creativity. And it inspires self-motivation, self-esteem and self-confidence. And this is why I am working very hard to raise money for my foundation. I want to be able to help all children in America do better in school and life through chess."
Indeed, Polgar dreams of making chess so popular that it competes with other sports, like tennis, baseball and football. "We hope to get many more colleges to start offering scholarships for chess," she says. "And we are working to promote chess as a grassroots movement in some of the smaller cities."
Once the potential of chess is understood, there will be an explosion of interest, Polgar says. "In terms of popularity, it's still in its infancy," she maintains. "The whole boom in professional chess will create a whole chain reaction that can revolutionize the game and influence society in a positive way."
That's why Polgar wants to put a chess piece in the hand of every child in America and to bring the game to life just as the Central Park demonstration did. As part of that effort, she is working on a concept for an educational and entertaining television show that would introduce children to chess.
"I found my first chess set when I was looking in the closet at home for a new toy," Polgar relates. "I originally was attracted to the shape of the figures. Later, it was the logic that fascinated me and the challenge. When I won with my first perfect score, it gave me self-confidence. And I can see the difference in my own sons; they are more focused, they are more disciplined."
As Polgar is leaving Central Park, yet another young awestruck fan approaches and asks for an autograph. While she's signing, another fan from across the courtyard points her out to a companion, and in an I-can't-believe-it-tone, exclaims, "Wow! That's Susan Polgar!"
---
Sources: Lifestyles Magazine