Alexandra Raisman
(1994 - )
Alexandra Raisman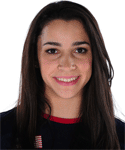 (1994 - )
---
Alexandra "Aly" Raisman is a Jewish American artistic gymnast and two time Olympic gold medalist for Team USA.

Raisman (born May 25, 1994) was born in Needham, Massachusetts and got involved with gymnastics at a very young age, following the footsteps of her mother who was a former high school gymnast herself. At only eighteen months old her mother enrolled Aly in a "Mommy & Me" class and she would continue training at Excel Gymnastics until she was ten. She then started with Brestyan's American Gymnastics under the guidance of Mihai and Slyvie Brestyan.

Throughout 2009, Raisman competed in Junior championships, placing third in the all-around at the Visa Championships in Texas and helping the American squad to a first place finish at the Junior Pan American Championships in Brazil. In March 2010, she competed in her first senior tournament, placing second in the all-around at the American Cup.

In 2011, Raisman competed in the VISA Championships in Minnesota, the American Cup in Florida, and the World Championship in Japan. At the Jesolo Championships in March 2011, she was part of the US team that won gold over the Italians and Russians. That same month, Raisman was awarded the Pearl D. Mazer Jewish Hall of Fame's Jewish Female High School Scholar Athlete Award .

In July 2012, at the Olympic gymastics trials in California, Raisman placed third in the all-around competition, first in balance beam, and first in floor exercises, helping her qualify for the 2012 London Olympics. Upon hearing of her selection for the five-person team, she said, "I feel so honored and so excited. I didn't think I would get this emotional about it, but I'm thinking about all of the hard work it has taken to get to this." Raisman was also one of nine Jews representing Team USA at the London Games - "there are not that many Jewish athletes out there, it is really an honor to be a Jewith athlete and be able to go to the Olympics," she said.

As the captain for the Team USA women's gymastics squad at the London Olympics, Raisman competed qualified for four events: the Team All-Around, Individual All-Around, Balance Beam, and Floor Exercise. In the team final, Raisman contributed scores of 14.933 on balance beam and 15.300 on floor toward the American team's first place gold-medal finish. She also won gold in the Floor Exercise - making her the first U.S. woman in Olympic history to win gold on the Floor Exercise - and a bronze in the Balance Beam. Her two gold and single bronze medals made her the most decorated U.S. Olympic gymnast at the 2012 London Olympics.

One of the most memorable parts of Raisman's floor routine in London was the choice of Hebrew folk song Hava Nagila as her background music. "I'm Jewish, so I thought it would be really nice to use Hava Nagila," Raisman said. "And it's a song the whole crowd can clap to, so for Olympic trials, there are about 20,000 people in the arena, and all of them clapping is an amazing feeling and it gives me a kind of extra boost of confidence and energy."

As of August 2012, Raisman has won five gold medals in competitions on behalf of the United States, six silver medals, and eight bronzes.

Raisman qualified for the August 2016 Olympic games in Rio de Janiero, Brazil in early July 2016.

Raisman celebrated her bat mitzvah in 2007, likes to participate in temple services, and enjoys spending Jewish holidays with her family.
---
Sources: About.com;
Gelbfish, Ezriel. "Exclusive Algemeiner Interview: Olympic Jewish Gymnast Aly Raisman Talks Medals, Fashion and Calls for Minute's Silence," Algemeiner (July 11, 2012);
Sommer, Allison. "Jewish Gymnast Aly Raisman Dances Hava Nagila' to Olympic Glory," Haaretz (July 30, 2012);
Jewish Sports;
London 2012 Olympic Athlete Profiles;
NBC Olympics;
Wikipedia