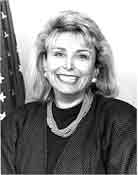 Lynn Schenk is a Jewish American politician and former member of the U.S. House of Representatives.
Schenk (born January 5, 1945) was born in the Bronx, New York, the daughter of a Holocaust survivor. She moved with her family to Los Angeles while in high school and later graduated from UCLA in 1967. She recieved her J.D. from the University of San Diego in 1970. In 1971, she pursued post-graduate studies in international law at the London School of Economics.
Schenker worked as a White House fellow under Vice Presidents Nelson Rockefeller and Walter Mondale, then served as a deputy attorney general in California. From 1977 to 1983, Harman served as a deputy secretary, later secretary, of the California Business, Transportation and Housing Agency under Governor Jerry Brown.
In 1984, Schenk ran for Supervisor of San Diego County but lost the election after her opponent's campaign mailed out a document accusing Schenk of financial irregularities. Schenk reportedly sued and settled out of court.
In 1992, Schenk ran for Congress and won to represent California's 49th district in the U.S. House of Representatives. She was defeated in his first re-election campaign by Brian Bilbray.
After Congress, Schenk served in a number of various positions in the California state government, including Chief of Staff for Gray Davis from 1998 to 2003.
Schenk is widowed. She was inducted in the San Diego County Women's Hall of Fame in 2012.
---
Sources: Biographical Directory of the United States Congress; Wikipedia