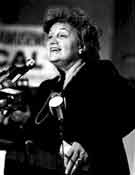 Sala Burton was a Jewish Polish-American who served on the U.S. House of Representatives.
Burton (born April 1, 1925; died February 1, 1987) was born Sala Galante in Bialystock, Poland. She attended public schools in San Francisco and graduated from San Francisco University.
From 1948 to 1950, Burton served as the associate director for the California Public Affairs Institute. From 1951 to 1954, she was vice president of the California Democratic Council and from 1957 to 1959 she served as president of the San Francisco Democratic Women's Forum.
Buron was elected as a Democrat to the 98th Congress by special election June 21, 1983, to fill the vacancy caused by the death of her husband, Representative Phillip Burton. She was subsequently reelected to the two succeeding Congresses and served from June 21, 1983, until her death in Washington, D.C. on February 1, 1987.
---
Sources: Biographical Directory of the United States Congress; Wikipedia