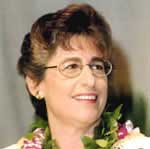 Linda Lingle is a Jewish American politician who served as Governor of Hawaii from 2002 until 2010.
Lingle (born June 4, 1953) was born Linda Cutter in St. Louis, Missouri. She moved with her family to southern California in 1964, graduated from Birmingham High School in Lake Balboa, California, and later received her bachelor's degree in journalism cum laude from California State University, Northridge, in 1975. Soon after graduation, Lingle moved to Hawai'i.
In 1980, waging a grassroots campaign, Lingle was elected to the Maui County Council. She served five two-year terms on the council - three terms representing Moloka'i and two terms as an at-large member. Lingle was elected Mayor of Maui County in 1990 and re-elected in 1994. She was the youngest, the first woman, and the only non-Maui-born person ever elected to the office.
In 1998, Linda campaigned for Governor, losing by just 1 percent of the vote, and was later named the most respected woman in Hawai'i in an independent poll commissioned by one of the state's leading magazines.
After her defeat in the gubernatorial campaign, Lingle was elected chair of the Hawai'i Republic Party, serving from 1999 to 2002. In 2002, Lingle was nominated as the Republican candidate for the next gubernatorial election and she won the election alongside former state judge James Aiona, who became Lingle's lieutenant governor.
In winning the election, Lingle became the first female, as well as the first Jewish governor of Hawaii. She was inaugurated in the rotunda of the Hawaii State Capitol and took the oath of office upon a Tanakh.
In 2006, Lingle won re-election as governor, winning by the largest margin in state history, 63 percent to 35 percent.
After leaving the governorship in 2010, Lingle ran for Hawaii's open senate seat. She won the Republican primary in August 2011 but ultimately lost in the general election to Democrat Mazie Hirono in a reversed repeat of the 2002 gubernatorial election.
---
Source: Wikipedia.