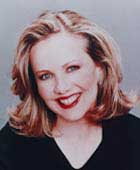 When Susan Stroman opened her front door one wintry New York evening, a strange man burst in and danced all the way to her living room. He jumped on its pristine white couch and broke into song. Then he wrapped up his act with a flourish and a bow, and pronounced: "Hello, I'm Mel Brooks."  
Thus did Stroman and her husband, Mike Ockrent, a matchless Broadway choreographer-director team, meet the inimitable film funnyman. He had sought them out to weave their magic on a musical stage version of his classic 1968 Oscar-crowned film, The Producers. The song he sang on their couch was "That Face," one of the sure-to-be hits he had created for the musical.
That was in December of 1998. For the next year, Stroman and Ockrent joined Brooks and his co-writer Thomas Meehan in intensive discussions to structure the new musical. Then, in December of 1999, Ockrent died suddenly of leukemia. He was only 53.
Stroman was devastated. It took months for Brooks to cajole her into going on with the show, taking on Ockrent's role as director as well. It was her salvation. Brooks brought laughter back into her life.
After the show opened on Broadway, in the spring of 2001, it won ecstatic reviews and an unprecedented 12 Tonys, two of them for Stroman as director and choreographer. Mirvish Productions snagged first rights to produce the show outside of the U.S.—well before the hit reaches England—and it has been selling out in Toronto since its spectacular opening night last December.
The Mirvishes, she says, are "the loveliest men. They have such a love and passion for the theater, which comes first before anything else. Their attention to detail in producing, and the treatment of their performers, is extraordinary."
It's Stroman's second show for David and Ed Mirvish, following Crazy for You, for which she won her first Tony. Her total Tony tally to date is five Awards and 11 nominations. She has been called the greatest woman choreographer on Broadway since Agnes de Mille.
Stroman (Stro to her friends) has an infectious grin and a natural sparkle. She is stunning, even with her trademark black baseball cap hiding her long blond tresses when she works. Her talent has made her the hottest choreographer/director on a Broadway that used to be run mainly by men. She's had five musicals running on Broadway at the same time. Her obvious love for her work ("Theater feeds me") is also an antidote to grief.
She and Brooks worked very closely together on The Producers. When they came to casting, every auditioning actor not only had to sing and dance, they each had to tell a joke. "A bonus for me is that I get really good material for dinnertime jokes," Stroman chortles.
She calls the collaboration with Brooks one of the strongest I've ever experienced. The true success of any musical is in the collaboration of its team, because it takes a village to put on a musical. Everything about Mel is alive and living and present, and our collaboration was very strong.
"He's a writer who is very used to collaboration. He really feeds off other writers and actors. Not all writers are like that. A lot of them need to lock themselves in a closet and not come out for a couple of days, but that's not Mel. He thrives off a life force of people, that's how he writes, so my sessions with him were fantastic. Mel would turn into these characters, he would become Max Bialystock and others, including Ulla [the very tall, blond sexpot/secretary who croons "When You Got It, Flaunt It," so maybe that's a bit of a stretch].
One highlight in a show filled with them is an amazing number danced by Max Bialystock's little old ladies, his principal source of backing for his productions. "That just came out of a session of Mel and me tossing ideas back and forth," Stroman relates.
"A lot of the success of Mel's comedy comes from clichÈd images. The idea of the ultimate old lady would be someone with a walker, and the thing which makes that extremely comic is to have a lineup of 25 of them dancing.
The Producers is the first big musical comedy on Broadway in many years after a rash of serious musicals, many of them from England and France (Les Miserables, Miss Saigon, Phantom of the Opera), and most of Sondheim. Stroman says that's why Producers is such a hit.
"I believe that certain musicals have their time, and their success can be helped or hindered by what's happening in society at the time. Producers came along at a time when there was a dearth of laughter, and it was embraced because it has more laughter than even most musical comedies. You know that old clichÈ about rolling in the aisles? Well, I actually saw a man falling off his seat and rolling in the aisle. The audience laughed even harder.
"Historically, it has been the performer who has come to the forefront in critical times. When Sept. 11 happened in New York, there was so much grieving. Usually when you lose someone, you grieve and then go somewhere for relief, but in fact, there was nowhere to go in the city because the grief was with everyone and everywhere. There was no relief except in the theater, and that's where people could go and be together and laugh.
"It was very important for us to go forward. The terrorists didn't really want our money or our land, they wanted our spirit, and that's the thing that they will never get. The way to show them that they'll never get our spirit is to go forward, and so we had to go on with the show for all those people who were grieving."
We talked about Mike Ockrent. I had met him years ago, at midnight in the King David Hotel in Jerusalem, as he returned after a long day of researching biblical and archaeological sources. He was also scouting locations in Israel to stage, what else, King David, a musical composed by Alan Menken, the multiple Oscar-winning composer of several Disney musicals.
That fell through, but Ockrent worked again with Menken. Ironically, just as Irving Berlin, an American Jew, wrote the quintessential seasonal song, "White Christmas," so Mike Ockrent, a Jew from England, created the spectacular annual production of Charles Dickens' beloved The Christmas Carol at Madison Square Garden to music composed by Menken, another American Jew.
After Ockrent's death, Stroman took over the directing reins. "I've carried on with that tradition because Mike loved that show so much." There are tears in her voice as she says softly, "To be that sort of spiritual leader of the show, to keep it going is difficult, because it reminds me all the time of Mike. He thought it was the greatest story ever told."
Ockrent's leukemia had been in remission for about eight months, "and we just thought it was over. And then it came back with a vengeance and it happened very quickly. It was a very difficult time, and a time of denial for me, because he was one of those people you think could never die, who would defeat death, and that denial on my part was very strong.
"Mike was an extraordinary man, funny and smart. He loved art, but he also loved science. He was a physics major at Edinburgh University who loved the theater. I think I was most attracted to his sense of humor, but he also loved life, good wine, good food and great conversation. I feel like I hit the jackpot." Her throat catches, full of tears. So does mine.
"I think the theater really saved me. I don't know how widows deal with the death of their loved ones if they don't have a job that surrounds them with life. I was very lucky to be surrounded by the life force of theater."
As Stroman grew up in Wilmington, Delaware, her father, a salesman, loved playing the piano, and she would whirl around the room, instinctively making up dance steps. Her childhood was filled with dancing school, piano and guitar lessons, and "art and theater and wonderful old movies."
Her world revolved around creating dance. "Ever since I was a little girl, I have had this passion, this obsession. When I hear music, I see visions of people dancing, I always have. The music translates into visions of dance. It's always been that way, so I can't listen to music if I want to relax! I even dream of people dancing and moving and acting. I visualize music, and had I not had the outlet to become a choreographer, I probably would have gone crazy."
She began choreographing in high school. She studied dance at the Academy of Dance in Wilmington, doing community theater while graduating in English Literature at the University of Delaware. Then she moved to New York as a dancer, but quickly decided that watching her choreographic creation was more satisfying than merely dancing it onstage.
By the mid-'80s, she was choreographing a couple of Kander and Ebb musicals and three New York City Opera productions. Then, in 1992, came Crazy for You, a turning point for her, both personally and professionally—and still her favorite musical. It's where she met Ockrent, won her first Tony for choreography and made her father very happy.
"He lived to see Crazy for You, which was set to the music of Gershwin he so loved. My father was a wonderful piano player. Sadly, I lost him last August. He was 87 and the real 'Music Man' in my life, the one who inspired me musically."
Stroman's range and choice of subjects is immense. She has no fear of trying new techniques, and so her dancing is exuberantly inventive. She cites Jerome Robbins as her strongest choreographic influence.
Her choreography is mostly joyous, but there's a dark side as well to her more soulful, moody numbers, such as those in Contact and Thou Shalt Not. The third short story in Contact starts off with someone who's about to commit suicide because of his loneliness. "He is saved by the 'Girl in the Yellow Dress.' Metaphorically, the idea is that if he doesn't make contact that night, he will die. So it's dancing to make contact, to show how important it is to make contact with people."
Thou Shalt Not was based on Emile Zola's novel, ThÈrËse Raquin, about a woman who killed her husband. "That's absolutely a show that had bad timing because we opened about two weeks after Sept. 11. It didn't last long because people didn't want to see anybody doing anything wrong. I hope the show will come back."
Stroman, now in her mid-40s, but with the looks and stamina of a 20-year-old, dances all her choreography before and while she teaches it to her cast, working it out with her actor-dancers. "The only difference is that I don't have to do it eight times a week," she quips.
Dancing Thou Shalt Not had a healing element for her. "It gave me the opportunity to dance the role of guilt and death, which is rare in musical theater." Surely she didn't feel guilt over Ockrent's death? "No, but when someone dies, you always think of things you could have done and should have done and wished you had done, and so the idea of being able to dance and pound your fists on the floor was actually cathartic."
It's four years since Ockrent passed away. Is it any easier now?" She sighs deeply. "I'm always surprised that it isn't easier." She can't even envisage another love. "There doesn't seem to be a place for it yet." She still wears two rings that Ockrent gave her, a friendship ring and an engagement ring, both of which she wears together on her right hand.
In the meantime, all of her time is taken up with work, except for the few occasions when she has time to go to museums. She does this on her own. "I'm quite taken with art and it brings me peace to walk in a museum and look at art and think why did that artist paint that, in that way. And paintings often translate in my head to dancing, just as music does."
It's not fame or money that Stroman seeks, though they have certainly come to her. "I'm here to tell a story. I consider myself a writer of dance, telling a story through dance, whether it's comic as in The Producers, or dark, as in Contact. For me, the dancers are actors, too. My new ballet for the New York City Ballet is a narrative, two short stories, and I think the dancers are enjoying getting the chance to act out characters."
Director Trevor Nunn invited Stroman to choreograph his 1998 production of Oklahoma for Britain's Royal National Theater. It won Stroman an Olivier Award for her original choreography, including an unprecedented 12-minute ballet. Its arrival on Broadway was delayed until the spring of 2002 because of Stroman's other commitments. That proved to be timely, adding another lively musical to relieve the 9/11 gloom.
Oklahoma has had enormous staying power, with many revivals over the years, Stroman explains, "because it changed the face of musicals. It was groundbreaking in that it had a dark character, and a death, and that was rare for musicals. Jud is not only a villain, he's also a threatening, menacing villain who ultimately dies.
"I'm lucky to be a choreographer for the theater because I can do research on the decade, the geographical area and the society of that time to inform me how to choreograph. For Oklahoma, instead of researching the original show and how it was done in the past, my research focused on the Old West at the turn of the century, what that time was like, how the people of Oklahoma reacted to one another.
"It was about fighting for territory, for land, for space, and that informed me that my choreography would be more fight-oriented and more macho and filled with challenge steps, steps that say 'can you top this?' The farmers and the cowmen were challenging each other, and the women of that time were pioneer women, so they were choreographically more masculine, more feisty than in previous productions."
One of the ways Stroman stays fit is by making sure she has a good breakfast. "My Aunt Phyllis told me that the only food that really gets to your brain is breakfast, and that blueberries will make you smart. She's my father's sister, so I listen to everything she says. She's one of those wonderful eccentric aunts everyone should have."
As for the ubiquitous black baseball cap, she wears it for multiple purposes. "œt keeps the hair out of my face when I dance, it keeps the florescent lights out of my eyes when I'm working in a dance studio, and if I'm trying to figure out something, I just lower my head so no one can see my eyes while I'm trying to work it out!" And she'll never look like she's having a bad hair day.
Stroman has set up her own production company, more in preparation for the future than the present, because "right now I'm still working for all the Broadway folks." After her first full-length ballet for the New York City Ballet, set mainly to Irving Berlin's music, she's doing a new production of Stephen Sondheim's adaptation of the Aristophanes play, The Frogs. It opens at Lincoln Center Theater in the spring, starring Nathan Lane. Then she'll direct her first film, based on her stage production of Contact. She'll also begin working on a new film version of The Producers.
Any plans for a bit of time off? She laughs. "Well, not for another year and a half, I think." Then she might—or might not—take a bit of a rest. If and when Mel Brooks turns his 1974 hilarious horror flick Young Frankenstein into another stage musical, Stroman is slated to direct. There are bound to be more Tonys—and maybe Oscars—in her future, and a lot of joyous theater-going for the rest of us.
---
Sources: Lifestyles Magazine - Reprinted with permission