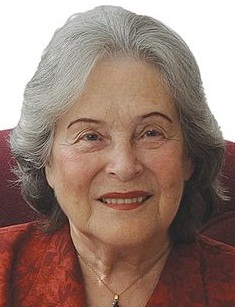 Ruth Arnon is an Israeli biochemist and immunologist.
Arnon (born June 1, 1933) was born in Tel Aviv in Pre-State Israel to parents Sara and Alexander Rosenberg, who changed their surname to Erez after 1948. Alexander worked for the Israeli Electric Company as an electrical engineer and Sara was a teacher.
Arnon became interested in chemistry and specifically biochemistry in high school, and earned her B.A. and M.Sc. at the Hebrew University of Jerusalem. She earned her Ph.D. in biochemistry from the Weizmann Institute in 1960. Arnon served two years in the Israeli Navy as a second lieutenant from 1955-56, and began her scientific career in chemical immunology as a Ph.D. student under Ephraim Katzir and Michael Sela at the Weizmann Institute of Science. During her early research there, she contributed to the understanding of the chemical basis of antigenicity and the elucidation of the immunochemistry of enzymes.
Arnon became a full professor in 1975 and continued research in immunology, focusing on autoimmunity and multiple sclerosis, as well as on the development of sythetic vaccines. She has held numerous academic positions at the Weizmann Institute: head of the Department of Chemical Immunology (1973–74 and 1975–78), director of the MacArthur Center for Parasitology (1984–94), dean of biology (1985–88), vice president (1988–93), and vice president for international scientific relations (1995–97)
Arnon's scientific work led to her receipt of several prizes, including the German Robert Koch Prize in Medical Sciences (1979), the Spanish Jimenez Diaz Award (1986), the French Legion of Honor (1994), the Wolf Prize (1988), the Rothschild Prize (1988), and the Israel Prize (2001). She is an elected member of the European Molecular Biology Organization (EMBO) and was elected to the Israel Academy of Sciences and Humanities in 1990. At the academy she served as chairperson of the Sciences Division (1995–2001) and as vice president from 2004. In the international arena she served as president of the European Federation of Immunological Societies (EFIS) in 1983–86 and secretary-general of the International Union of Immunological Societies (IUIS) in 1989–93. Arnon is currently the Paul Ehrlich Professor of Immunology at the Weizmann Institute.
In several recent publications, Arnon's immunology lab at the Weizmann Institute has demonstrated that Copaxone, an FDA-approved drug developed in their laboratory years ago, leads to neuroprotection and neurogeneration in an animal model. Additionally, the drug prevents demyelination, the process whereby the myelin sheath of neurons is damaged; demyelinating diseases include multiple sclerosis, optic neuritis (inflammation of the optic nerve) and vitamin B12 deficiency. Thus, these findings provide the basis for Copaxone's significant therapeutic efficacy in multiple sclerosis patients as well as those with other demyelinating diseases.
Pursuant to her other research interest in synthetic vaccines, Arnon is currently involved in research towards the development of a universal vaccine for influenza.
---
Sources: Encyclopaedia Judaica. © 2008 The Gale Group. All Rights Reserved; "Professor Ruth Arnon," Weizmann Institute of Science, Department of Immunology, July 6, 2011.