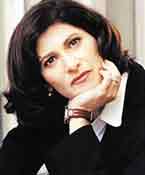 Amy Pascal is a Jewish American businesswoman and co-chairman of Sony Pictures Entertainment.
After graduating from UCLA in political science, Pascal found work as an assistant to producer Terry Garnett and became partners with him in Kestral Films. The company produced Sesame Street Presents Follow That Bird (1985). Before it was released, Pascal landed a position at 20th Century Fox as vice president of production, developing films like Cameron Crowe's Say Anything (1989).
Pascal moved to Columbia Pictures, where she eventually became executive vice president. In 1994, Pascal was tabbed to be president of Turner Pictures, fulfilling the dream of media mogul Ted Turner to have his own film imprint. The 1996 merger between Turner and Time Warner resulted in the dissolution of Turner Pictures. Pascal was subsequently lured back to Columbia, this time as its president.
Pascal was listed as number one on the 15th annual Women in Entertainment Power 100 list published in 2006 by the Hollywood Reporter. In 2009, Forbes ranked her 60th of the 100 most powerful women in the world.
---
Sources: The Jerusalem Report (November 4, 2002); Fortune; Hollywood.com