Emma Lazarus
(1849 - 1887)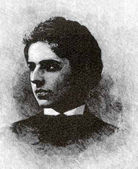 "Give me your tired, your poor, / Your huddled masses yearning to breathe free," proclaims the "Mother of Exiles" in Emma Lazarus's sonnet "The New Colossus." Her best-known contribution to mainstream American literature and culture, the poem has contributed to the belief that America means opportunity and freedom for Jews, as well as for other "huddled masses." Through this celebration of the "other," Lazarus conveyed her deepest loyalty to the best of both America and Judaism.
Born on July 22, 1849, Lazarus was the fourth of Esther (Nathan) and Moses Lazarus's seven children. She grew up in New York and Newport, Rhode Island, and was educated by private tutors with whom she studied mythology, music, American poetry, European literature, German, French, and Italian. Her father, who was a successful sugar merchant, supported her writing financially as well as emotionally. In 1866, when Emma was only seventeen, Moses had Poems and Translations: Written Between the Ages of Fourteen and Sixteen printed "for private circulation." Daughter Emma dedicated the volume "To My Father."
Soon after Poems and Translations was published, Lazarus met Ralph Waldo Emerson. The two corresponded until Emerson's death in 1882. During the early years of their relationship, Lazar-us turned to Emerson as her mentor, and he in turn praised and encouraged her writing. In 1871, when she published Admetus and Other Poems, she dedicated the title poem "To My Friend, Ralph Waldo Emerson." Despite his support, Emerson failed to include any of Lazarus's poetry in his 1874 anthology, Parnassus, but he did include authors such as Harriet Prescott Spofford and Julia C.R. Dorr. Lazarus responded with an uncharacteristically angry letter and subsequently modified her idealized image of Emerson. However, student and mentor obviously reconciled; in 1876, Lazarus visited the Emersons in Concord, Massachusetts.
Admetus and Other Poems includes "In the Jewish Synagogue at Newport" and "How Long" as well as translations from the Italian and German (Goethe and Heine). "In the Jewish Synagogue at Newport" echoes in form and meter Henry Wadsworth Longfellow's "The Jewish Cemetery at Newport." Yet where Longfellow's meditation closes with "the dead nations never rise again," Lazarus's reverie concludes by announcing that "the sacred shrine is holy yet." "In the Jewish Synagogue at Newport" is one of Lazarus's earliest creative expressions of a Jewish consciousness. "How Long" is significant because its proclamation of the need for a "yet unheard of strain," one suitable to prairies, plains, wilderness, and snow-peaked mountains places Lazarus among those mid-nineteenth century American writers who wanted to create literature that did not depend on British outlines.
Lazarus published her next book, Alide: An Episode of Goethe's Life, in 18 74. Her only novel, Alide is based on Goethe's own autobiographical writings and focuses on a love affair between the young Goethe and a country woman. The lovers part at the end, because the poet must be free to fulfill his "sacred office." Lazarus's only other piece of fiction, a story titled "The Eleventh Hour," was published in 1878 in Scribner's. The story raises questions about the needs and rights of the artist, like Alide, and about the status of American art, like "How Long."
In 1876, Lazar-us privately published The Spagnoletto, a tragic verse drama. Throughout the 1870s and early 1880s, Lazarus's poems appeared in American magazines. Among these are "Outside the Church" (1872) in Index; "Phantasmagoria" (1876) and "The Christmas Tree" (1877) in Lippincott's; "The Taming of the Falcon" (1879) in the Century; and "Progress and Poverty" (18 8 1) in the New York Times.
Lazarus's most productive period was the early 1880s. In addition to numerous magazine poems, essays, and letters, she published a highly respected volume of translations, Poems and Ballads of Heinrich Heine, in 1881, and Songs of a Semite: The Dance to Death and Other Poems, in 1882. This was also the period in which Lazarus most obviously spoke out as self-identified Jew and American writer simultaneously.
Until this period, Lazarus's "interest and sympathies were loyal to [her] race," but, as she explained in 1877, "my religious convictions ... and the circumstances of my life have led me somewhat apart from my people." Although her family did belong to the Sephardic Shearith Israel synagogue in New York, and she did write "In the Jewish Synagogue in Newport" when she was young, it appears that learning of the Russian pogroms in the early 1880s kindled Lazarus's commitment to Judaism. This change in attitude is evident in her writing, as well as in her work with the Hebrew Immigrant Aid Society – meeting Eastern European immigrants on Wards Island – and in her efforts to help establish the Hebrew Technical Institute and agricultural communities for Eastern European Jews in the United States.
Songs of a Semite was published by the American Hebrew. The title, as well as many of the poems in the collection, publicly proclaimed Lazarus's identity as a Jewish poet. In that role, Lazarus battled against both anti-Semitic non-Jews and complacent Jews. In "The Banner of the Jew," she urged "Israel" to "Recall today / The glorious Maccabean rage," and she reminded readers that "With Moses's law and David's lyre" Israel's "ancient strength remains unbent." And in The Dance to Death, a poetic dramatization of Richard Reinhard's 1877 prose narrative Der Tanz zum Tode, Lazarus celebrated the courage and faith of the Jews who were condemned to die in Nordhausen, Germany, in 1349 for allegedly causing the plague. The Dance to Death was dedicated to George Eliot, "who did most among the artists of our day towards elevating and ennobling the spirit of Jewish nationality" with her novel Daniel Deronda.
Lazarus published Songs of a Semite in the same year that she adopted a more public Jewish identity in the realm of American magazines, particularly in the Century. Three essays published in that magazine over a ten-month period attest to Lazarus's concerns. In the first, "Was the Earl of Beaconsfield a Representative Jew?" (April 1882), Lazarus offered an ambivalent portrait of Benjamin Disraeli; she defined "representative" as embodying the best as well as the worst of Jewish traits. In the second essay, "Russian Christianity vs. Modem Judaism" (May 1882), Lazarus included a personal plea for informed understanding of Russian Jews and their situation. And in the third essay, "The Jewish Problem" (February 1883), she observed that Jews, who are always in the minority, "seem fated to excite the antagonism of their fellow countrymen." To this problem she offered a solution: the founding of a state by Jews for Jews in Palestine. Lazarus promoted Zionism throughout the 1880s.
Although Lazarus had published occasionally in the Jewish press, she became a regular contributor to the American Hebrew in the early 1880s. This weekly, edited by Philip Cowan, printed "Judaism the Connecting Link Between Science and Religion" and "The Schiff Refuge" in 1882, "An Epistle to the Hebrews" in 1882-1883, "Cruel Bigotry" in 1883, and "The Last National Revolt of the Jews" as well as "M. Renan and the Jews" –an essay, which won first prize in a contest sponsored by the Philadelphia Young Men's Hebrew Association – in 1884. In "An Epistle to the Hebrews," a series of fifteen open letters that appeared between November 1882 and February 1883, Lazarus suggested that assimilated American Jews should recognize their privileged status as well as their vulnerability in America, that all Jews should understand their history in order not to be misled by anti-Semitic generalizations, and that Eastern European Jews should emigrate to Palestine.
While Lazarus was writing more self-consciously as a Jew, she was also writing as an American. Her 1881 essay "American Literature" (Critic) defended American literature against the charge that America had no literary tradition and that America's poets had left no mark. "American Literature" was followed by "Henry Wadsworth Longfellow" (American Hebrew) and the eulogy "Emerson's Personality," both published in 1882. The latter appeared in the Century, three months after "Was the Earl of Beaconsfield a Representative Jew?" and two months after "Russian Christianity vs. Modern Judaism." Lazarus also published the poem "To R.W.E." in 1884 (Critic).
Lazarus wrote "The New Colossus" in 1883 "for the occasion" of an auction to raise money for the Statue of Liberty's pedestal. The poem was singled out and printed in the Catalogue of the Pedestal Fund Art Loan Exhibition at the National Academy of Design because event organizers hoped it would "awaken to new enthusiasm" those working on behalf of the pedestal.
In the following year, Lazarus published the essay "The Poet Heine" in the Century. Lazarus explained her fascination with Heine, born a Jew and later baptized and educated as a Catholic: "A fatal and irreconcilable dualism formed the basis of Heine's nature.... He was a Jew, with the mind and eyes of a Greek." Lazarus admired Heine's ability to understand the "internal incongruity" of his mind as well as his Jewish "pathos" and worldly sensibility.
Lazarus traveled to Europe twice, the first time in 1883. During her stay in England and France, she met Robert Browning, William Morris, and Jewish leaders. Her essay "A Day in Surrey with William Morris" (the Century, 1886) paints a positive portrait of the English socialist. Noting that Morris's "extreme socialistic convictions" elicited criticism, Lazarus explained that English inequalities were more "glaring" than American ones and therefore more in need of dramatic reform.
Lazarus's second trip to Europe was a longer one, lasting from May 1885 until September 1887. According to her sister Josephine Lazarus's biographical sketch, Emma "decided to go abroad again as the best means of regaining composure and strength" after Moses Lazarus died in March 1885. This journey included visits to England, France, Holland, and Italy. Lazarus returned to New York very ill, probably with cancer. She died two months later, on November 19, 1887.
Two of Lazarus's sisters, Mary and Annie, published The Poems of Emma Lazarus, I and II posthumously, in 1888. Volume I contains the biographical sketch written by sister Josephine. In the same year, the sketch also appeared in the Century. Volume 11 includes her final work, "By the Waters in Babylon, Little Poems in Prose," which had previously appeared in the Century in March 1887. This set of Prose poems suggests that Lazarus was exploring new directions for her art. Volume 11 also contains translations of "Hebrew poets of mediaeval Spain," Solomon Ben Judah Gabirol, Abul Hassan Judah Ben Ha-Levi, and Moses Ben Esra.
Lazarus's work received consistently positive reviews. By the late 1870s and 1880s, American writers and readers knew Lazarus as a frequent contributor to periodicals such as Lippincott's, the Century, and the American Hebrew. She corresponded with writers and thinkers of the time, including Ivan Turgenev, William James, Robert Browning, and James Russell Lowell. When she died, the American Hebrew published the "Emma Lazarus Memorial Number." In it, John Hay, John Jay Whittier, and Cyrus Sulzberger, among others, praised Lazarus for her contributions to American literature as well as to "her own race and kindred."
Lazarus dedicated her life to her work. Yet she still had to contend with American and Jewish middle-class prescriptions for womanly behavior. These gender expectations included limitations on a woman artist's expression. In "Echoes" (probably written in 1880) Lazarus spoke self-consciously about women as poets, describing the boundaries drawn around a woman poet who cannot share with men the common literary subjects of the "dangers, wounds, and triumphs" of war and must therefore transform her own "elf music" and "echoes" into song. Successful at that act of transformation, Lazarus found some space in the American literary world.
More than any other Jewish woman of the nineteenth century, Lazarus identified herself and was recognized by readers and critics as an American writer. She was also an increasingly outspoken Jew, and she was a woman. Lazarus's writing benefited from the complexities of her identity. She would not have been as effective on behalf of Jews if she had not believed deeply in America's freedoms, and she could not have been as passionate a writer if she had not uncovered her own meaningful response to Judaism.
SELECTED WORKS BY EMMA LAZARUS
Admetus and Other Poems (1871); Alide: An Episode of Goethe's Life (1874); Emma Lazarus. Selections from Her Poetry and Prose. Edited by Morris Schappes (1944); Poems and Ballads of Heinrich Heine (188 1); Poems and Translations. Written Between the Ages of Fourteen and Sixteen (1866); The Poems of Emma Lazarus. 2 vols. (188 8); Songs of a Semite: The Dance to Death and Other Poems (1882); The Spagnoletto (1876).
---
Sources: Paula Hyman and Deborah Dash Moore eds. Jewish Women in America. NY: Routledge, 1997. Reprinted with permission of the American Jewish Historical Society (AJHS).
Portrait (1887) depicting the poet in the last year of her short life, was engraved by T. Johnson from a photograph by W. Kurtz. Prints and Photographs Division, Library of Congress.