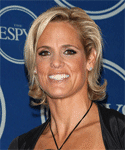 Dara Grace Torres is a Jewish American swimmer, twelve time Olympic medalist and the only American swimmer to compete in five Olympic Games. As of 2014, she is also the most decorated Jewish Olympian in history.
Torres (born April 15, 1967) was born in Beverly Hills, California and she grew up in Los Angeles as with five siblings. Her father, Edward Torres, was Jewish, and Torres herself converted to Judaism before marrying her second husband. At age 7, Torres started following her brothers to swim practice at the local YMCA and later joined the Culver City swim team. She later attended the Westlake School for Girls (now Harvard-Westlake School) swimming under coach Darlene Bible, where she set CIF records that still remain to this day.
Still in high school, Torres won a spot in her first Olympics - the 1984 Los Angeles Games - where she was a member of the winning U.S. women's 4x100-meter relay team, earning a gold medal for swimming in the first-round qualifying heat as well the event final.
Two years later, she accepted a scholarship to attend the University of Florida. Torres would swim for the Gators for four years, winning three NCAA individual national championships  (50-meter freestyle, 100-meter freestyle, 100-meter butterfly), was a member of six NCAA championship relay teams, and received 28 All-American honors.
She would continue to swim in the Olympics for Team USA, competing and medaling in events at the 1988 Seoul Games and the 1992 Barcelona Games.  In 2000, Torres made her first comeback to the US Team, at 33 years old she was the eldest member of the swim team, and won five medals - two gold and two silver - at the Sydney Games. Torres is featured in the book Gold in the Water by P.H. Mullen, which describes her comeback for the 2000 Olympics under coaches Richard Quick and Dick Jochums.
In 2005, Torres was inducted into the International Jewish Sports Hall of Fame.
On August 1, 2007, at the age of 40 (just 15 months after giving birth to her first child), she won gold in the 100 meter freestyle at the U.S. Nationals in Indianapolis, her 14th win at the event. She then followed that up on August 4 by twice breaking her own American record in the 50 m freestyle, 26 years after she first set the American record at just 15 years old.
At age 41, Dara Torres returned to the pool to obtain a spot in her fifth Olympic games - the 2008 Beijing Games - an unprecedented accomplishment for an American female swimmer.  Qualifying for the Games, Torres became the oldest swimmer in American Olympic history and also the first female in history to swim in the Olympics past age 40. Torres won a silver medal in Beijing as the anchor swimmer of the U.S. 4x100-meter freestyle relay. This was the fifth time in five tries she has earned an Olympic medal in that event.
---
Sources: Wikipedia; Shalom Life; International Jewish Sports Hall of Fame; Jewish Journal