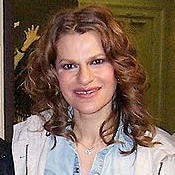 Sandra Bernhard was born in Flint, Michigan, the daughter of Jeanette and Jerome Bernhard.
Of her Jewish family, Bernhard stated in her show Without You I'm Nothing: "My father was a proctologist and my mother was an abstract artist, so that's how I view the world". In the documentary program Girls Who Do: Comedy, she discusses being a funny teenager. After graduating from Saguaro High School in Scottsdale, Arizona, she went to live on a kibbutz in Israel. She moved to Los Angeles at the age of 19.
Bernhard became a popular staple at The Comedy Store. As her popularity as a comedian grew she was cast as a supporting player on The Richard Pryor Show in 1977. Guest appearances on evening talk shows followed. Her big break came in 1983 when she was cast by Martin Scorsese to star as stalker and kidnapper Masha in the film The King of Comedy for which she won the National Society of Film Critics Award for Best Supporting Actress.
She began performing her first one-woman show called I'm Your Woman in 1985, and an unsuccessful album version was released. Bernhard appeared in a variety of small film and television roles throughout the 1980s while crafting her stand-up routine into a more performance art-oriented show. She launched an off-Broadway one woman show called Without You I'm Nothing in 1988 which played at The Orpheum Theatre. In 1990 it was turned into a film of the same name. In all three she notoriously performed a ballad version of the Prince song Little Red Corvette.
In 1991 Bernhard began playing the role of Nancy Bartlett on the hit sitcom Roseanne. She appeared in 33 episodes between 1991 and 1997, and was one of the first actresses to portray an openly lesbian recurring character on American television. The role is one of her best known, something she has lamented in her stand-up as being both a blessing and a curse.
In September 1992, Bernhard did a nude pictorial for Playboy. Bernhard continued acting in mostly independent films and TV guest roles. Her stand-up and one-woman shows continued to be popular, however, and in 1991 she released her first studio album, entitled Excuses For Bad Behavior (Part One). It was not a commercial success.
Bernhard returned to Broadway in 1998 with the show I'm Still Here... Damn It!, which was recorded for a live comedy album. At the time of the show Bernhard was pregnant. She gave birth to daughter Cicely Yasin Bernhard on July 4, 1998. For the next several years she would self-record all of her live shows and release cheaply made CD-R versions which were sold in the lobby of her shows. She continued touring and making smaller films and TV guest appearances.
She returned to New York in 2006 with the Off-Broadway show Everything Bad & Beautiful. It was her first label released CD since 1998. In 2007 she began touring with the show. The year 2007 also saw the creation of Sandra's new show, Plan B from Outer Space. She is set to tour with the show through 2008.
---
Sources: Wikipedia. Photo Wikipedia.