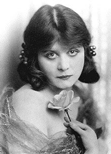 Theda Bara was a Jewish American silent film and stage actress.

Hollywood's first and most notorious Vixen, Theda Bara became synonymous with exoticism. She was alluring and unusual, a wide-eyed siren, a gold digger...and eternal Vamp. In fours years (1915 - 1919), Theda vamped her way through 39 films and millions of dollars for Fox Studios. The studio built her up with such a tremendous publicity campaign, that when they pulled the rug out from under her in 1919, her career fell so far, that she was unable to revive it. Pre-World War I's film-going audiences were presented with Foxs' version of their starlets mysterious and elusive upbringing by proclaiming she was born of an Italian artist and an Arabian princess and that her first name was an anagram spelling "death" and her last name spelled backwards was Arab. They claimed her mystique was the result of being born in the Sahara desert in the shadow of a sphinx. They further stated her mother left the family to become a well-known actress on the European stage and that Theda was brought up by her multitalented father. The story continued on that she was sent to Europe to be trained for the stage where she became a popular Parisian stage actress who played the most renowned theatres of the time. The general public ate it up and her agent's continued to create her persona as their "Serpent of the Nile".

In reality, she was born Theodosia Goodman in Cincinnati, OH on July 29, 1885. She was a blonde haired girl born of a Jewish tailor and a Swiss mother. Upon graduating from high school she followed her dreams of becoming an actresses. She dyed her hair black, adopted exotic makeup and a wardrobe to match. Her first stage performance was of a cast member for Molnar's The Devil, which opened in New York City on August 18, 1908. She continued to play the stage and in 1914, on making her usual round of casting calls, she met up with Frank Powell, a new film director for William Fox. He was so impressed by her potential he immediately cast her in his film, The Stain, but she was so far way in the background as an extra she was not recognizable. Powell, pleased with her ability to take direction, convinced Fox to let her star in his next film, A Fool There Was. Although Theda swore she would never play such an "unvirtuous and daring" role, it proved to be her lucky break. Although well known in theatrical circles for her high-strung ambition and fascination with spiritualism her abilities as an actress were never overly praised. Powell and Theda devised her new name Theda, a shortened version of Theodosia and Bara being extracted from the middle name of her Swiss grandfather, Francois Bar[r]anger de Coppet. Even before the release of A Fool There Was, Fox had his crackerjack publicists concoct an alluring past for their newest discovery. After all, they were paying her $150.00 a week and they wanted to make a good return on their investment. Fox did just that, and in doing so, created the first truly fabricated screen star.

A Fool There Was was a box office success, making Theda and instant star and paving a path for Fox's impressive new film company. Aside from "creating" this new starlet, Fox introduced a new stereotype to the burgeoning film industry...the Vamp(ire) woman, who mercilessly uses her feminine wiles to bring any man to subordination and impoverishment. Furthermore, besides making more follow-ups for his newest star, Fox hired second string vamps for less prestigious rehashes of the vamp formula. The final line of A Fool There Was is the stuff made of legends. Theda utters, "Kiss Me My Fool", while scattering rose petals over the body of her lifeless lover as to command him to wake from his eternal slumbers. Constantly being photographed with snakes, skulls, crystal balls and opulent anything, she epitomized a lavish evilness. She was described as "the wickedest face in the world, dark-brooding, beautiful and heartless."

Strings of vamp films would follow, although contrary to popular belief, she did not always play the wicked woman. Many of her roles featured her as a virtuous maiden, who had been wronged. At the height of her career in 1919, she was making films that cost $60,000 in production and she herself was earning over $4,000 dollars a week. However, the post World War I culture backlashed on the very themes they embraced before going to war and this upheaval into self-righteousness did not fare well on Theda's films. With dwindling box office receipts and wanting to break out of her vampish role, she demanded a raise of $5000.00 a week. Fox, unwillingly to catch a falling star, dropped her contract. Over the course of the next few years, Theda returned to the stage, where critics panned her. She married Charles Brabin in 1921 and she returned to California, so that he could direct films and she could live in retirement. In the mid 20's she attempted two more comebacks with Unchastened Woman and Madame Mystery, but neither would return her glory of years past. She attempted several more stage comebacks in the thirties and even wrote a book called What Women Never Tell, a memoir of her professional experiences, which to this day remains unpublished.

Theda died of abdominal cancer on April 7, 1955, in California Lutheran Hospital.
---
Sources: Wikipedia, Bombshells