Justine Wise Polier
(1903 - 1987)
By Michael Feldberg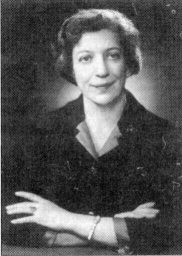 Historians debate whether President Franklin Roosevelt tried hard enough to rescue European Jewry from extermination. A second - and closely related - issue is whether American Jewry put enough pressure on the Roosevelt administration and Congress to open America's doors to Jewish refugees.
In the 1920s, Congress set highly restrictive annual quotas on the number of Central, Eastern and Southern European immigrants who could enter the United States. When Nazi persecution of German Jewry began in the late 1930s, families who might have fled to the U.S. found America's mythic "Golden Door" closed to them. Jewish groups and individuals tried to convince Congress, the State Department and the president to relax the quota for Jewish refugees, but other Americans argued that the quotas should be retained.
An articulate advocate for easing restrictions on persecuted Jews was Justine Wise Polier (1903-1987), a New York City judge and daughter of Rabbi Stephen S. Wise and Louise Waterman Wise. A lifelong advocate for children, Judge Polier championed easing the quota for Jewish youngsters fleeing Germany In 1939, she found an influential partner in her crusade in Eleanor Roosevelt, wife of the President.
While historians argue whether FDR worked hard enough to repeal quotas, or whether he allowed his State Department to overestimate the opposition to Jewish immigration, there is now incontrovertible evidence that Mrs. Roosevelt did all she could to help Justine Polier lobby for legislation to liberalize or bypass the quota. While preparing the American Jewish Historical Society's collections for relocation to our new headquarters at the Center for Jewish History in New York, our archivists recently discovered among Judge Polier's papers a cache of more than 100 letters exchanged by the two women. In a 1939 letter, Polier asked Mrs. Roosevelt to support legislation that would relax the quota for Jewish refugee children. Mrs. Roosevelt wrote:
My husband says that you had better go to work at once and get two people of opposite parties in [Congress] and have them jointly get agreement on the legislation which you want for bringing in children.

The State Department is only afraid of what Congress will say to them, and therefore if you remove that fear the State Department will make no objection,

He advises that you ... get all the Catholic support you can.
In reply, Polier asked Mrs. Roosevelt if FDR would himself speak in favor of the proposed bill. Eleanor responded:
I talked with [a White House staffer] and he told me ... that pressing the President at the present time may mean that the people in Congress who fare drafting bills] to cut the quota will present them immediately and that might precipitate a difficult situation which would result in cutting the quota by 90%...

I cabled [my husband] and he said ... he would be pleased to have the bill go through but he did not want to say anything publicly at the present time.
Subsequently, Polier and the First Lady identified Undersecretary of State Sumner Welles as someone who often had cocktails with FDR, whose advice the President respected and who had sympathy for Jewish refugees. Eleanor approached Welles to see if FDR would advocate or favor quota repeal legislation. She reported in a letter to Polier, "Welles feels very strongly that pressing the bill at the present time might [do harm] because his desk is flooded with protests accusing the State Department of conniving in allowing a great many more Jewish people than the quota permits to enter the country under various pretenses."
Mrs. Roosevelt wrote to Polier that she suggested to Welles that the solution might be to set "some kind of time limit" for the refugee children staying in America, "such as the end of the educational period when these youngsters would go to whatever settlement was being developed and rejoin their own families or be assigned to the care of some family over here until they became independent." Welles thought the idea a good one, but "he was not inclined to recommend pressing the President at present!
Polier continued to work behind the scenes to help European Jewry elude the Nazi vise. In 1942, when the British raised difficulties for European Jewish refugees wanting to enter Palestine, Wise urged Mrs. Roosevelt to protest to Welles. Eleanor wrote to Welles that the British policy "seems perfectly shocking to me.... They have set a very low quota in Palestine and the Arabs have agreed, so why, because of a technicality of [Jewish refugees] not having visas when [they] come from countries where they cannot get visas anyway, they should be turned back, I cannot see. It just seems to me cruel beyond words." Her protest failed to move FDR.
It was not until 1944, after millions of Jews had been killed, that the efforts of Polier, Mrs. Roosevelt and others convinced Roosevelt to admit war refugees by executive order. Led by a young American journalist, Ruth Gruber, 1,000 Jewish refugees were settled at an underutilized Army base in upstate New York. American Jews have subsequently asked whether, as a community, we could have done more to rescue our European brethren. One thing is certain, Justine Wise Polier pushed the levers of power to ease immigration restrictions; that they failed to move was not for her lack of trying.
---
Source: Michael Felberg, Ph.D.