Debbie Wasserman Schultz
(1966 - )
Debbie Wasserman Schultz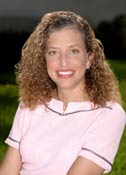 (1966 - )
---
Debbie Wasserman Schultz is a Jewish American politician who currently serves in the U.S. House of Representatives from Florida.

Wasserman Schultz was born in 1966 on Long Island, NY. She attended the University of Florida and graduated with a Bachelor's Degree in Political Science in 1988 and with a Master's Degree in 1990.

For more than a decade, Wasserman Schultz has dedicated her public life to working on behalf of the people of Southern Florida. On January 4, 2005, she was sworn in as a member of the United States House of Representatives to continue this fight as the Congresswoman from Florida's 20th Congressional District. Schultz is the first Florida Jewish woman elected to U.S. Congress. In 2014 Wasserman Schultz won her re-election campaign, running unopposed for the Democratic nomination during the primary and defeating Republican candidate Joe Kaufman in the general election.

Wasserman Schultz brings to Congress her many years of service in the Florida Legislature and the kind of grassroots knowledge of the lives of the people of South Florida that can only be known through countless interactions with the families, businesses and organizations that make up the fabric of our community.

In Washington she continues to expand on her reputation as a fighter for the families of South Florida, as a person whose word is as good as gold and who knows that she was sworn in to work hard in Washington for her constituents. Her reputation preceded her and on her first meeting with President Bush at the White House, he asked her if she was the one that "gave my little brother a hard time down in Florida." That bit of levity aside, Wasserman Schultz arrived in Washington with the reputation as a force to be reckoned with, someone who works hard on behalf of children, education, health care, Social Security, Medicare and the security of every American.

Upon arriving in Congress, Wasserman Schultz was appointed to the Financial Services Committee, the committee in the House of Representatives that oversees the entire financial services industry including the securities, insurance, banking, and housing industries. The Committee also oversees the work of the Federal Reserve, the Treasury, the Security and Exchange Commission (SEC) and other financial services regulators. Through this influential appointment she continues her advocacy for families in an area that often is the greatest impediment to family self-sufficiency, equal and fair access to financial and housing services.

The Democratic Whip, Congressman Steny Hoyer from Maryland selected her to serve in the position of Senior Whip. In this position she will serve as one of a group of Senior Members and Caucus opinion leaders that meet weekly to discuss long-range policy goals and key issues facing Congress. Wasserman Schultz was the only freshman chosen to serve on the Whip team.

Debbie Wasserman Schultz's concern for children and working families first motivated her to run for office in 1992, where she made history as the youngest woman ever elected to the Florida state legislature at the age of only 26. Her enthusiasm and vision for the people of South Florida was evident in her first campaign where she won her seat with 53% of the vote in a six-way race, despite the fact that she'd only been a resident of Broward County for three years. Since then she hasn't looked back, serving in the Florida House of Representatives from 1992-2000 and in the State Senate from 2000-2004.

During her tenure in the Florida State Legislature, Wasserman Schultz made a name for herself as a fighter for South Florida families. As a State Senator, she authored and passed the "Drive Thru Baby Bill" and the "Drive Thru Mastectomy Bill" both of which helped women by mandating that they get the care they needed rather than the limited amount of care that the insurance companies were willing to pay for. She also authored the popular Florida Infant Crib Safety Act that passed both the House and Senate by overwhelming margins. Another significant piece of legislation passed was her bill outlawing human and sexual trafficking in the State of Florida. Her tireless work on behalf of the Florida Residential Swimming Pool Safety Act helped to ensure its passage and will save the lives of unknown numbers of toddlers from accidental drowning in Florida pools. While serving in the state House, Wasserman Schultz fought to increase funding to public schools to solve school overcrowding problems and drew praise for her efforts to establish a statewide child care administration agency to establish regulations for day care facilities. She also was recognized repeatedly as an environmental champion for her strong advocacy on environmental protection issues.

Her dedication to the people of Florida was well recognized by her colleagues in the Florida Legislature where she held several influential leadership positions. Wasserman Schultz's service in the House included a term as House Democratic Leader Pro Tempore, House Democratic Floor Leader and Chair of the Broward Legislative Delegation. She chaired the House Committee on Higher Education from 1994-1996.

All of this experience serves to enhance her commitment to lower health care costs, improve the quality of education, protect Social Security and Medicare, and provide a sensible homeland security plan to protect our citizens from the ongoing threat of terror. She continues to fight to ensure that our first responders, our local police and firefighters, have the tools they need to do their jobs. And she continues take up the fight to give our troops the equipment and compensation they deserve.

In mid-July 2016, emails released by Wikileaks showed how Wasserman-Schultz and other Democrat party leaders tried to undermine Bernie Sanders's Presidential campaign by trying to question his religion. In an email dated May 5, 2016, the CFO of the Democratic National Committee (DNC), Brad Marshall, asked in an email to the CEO of the DNC, Amy Dacey, if they could "get someone to ask his [Sanders's] belief." Marshall went on, writing "does he believe in a God. He had skated on saying he has a Jewish heritage. I think I read he is an atheist. This could make several points difference with my peeps. My Southern Baptist peeps would draw a big difference between a Jew and atheist." In the wake of the release of these emails, DNC chairwoman Debbie Wasserman-Schultz resigned her position, and was hired by the Clinton campaign.

She has been married to Steve Schultz for 14 years and together they have three children: Jake and Rebecca (twins) who are five years old, and the latest addition to the family, daughter Shelby, born in 2003. She is proud to call South Florida home.
---
Sources: Office of Rep. Schultz; Biographical Directory of the United States Congress; Jewish Museum of Florida. Photo from Rep. Schultz web site.