Debbie Wasserman Schultz
(1966 - )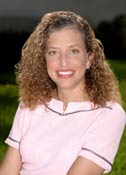 Debbie Wasserman Schultz is a Jewish American politician who currently serves in the U.S. House of Representatives from Florida.
Wasserman Schultz was born on September 27, 1966, in Forest Hills, Queens, New York. From 1968 to 1978, the family lived in Lido Beach on Long Island. In 1978, her family moved to Melville, also on Long Island, where she graduated from Half Hollow Hills High School East in 1984. She attended the University of Florida in Gainesville where she served as president of the Student Senate and graduated with a bachelor's degree in Political Science in 1988 and with a master's degree in 1990.
Wasserman Schultz's concern for children and working families first motivated her to run for office in 1992, where she made history as the youngest woman ever elected to the Florida state legislature at the age of only 26. She won her seat with 53% of the vote in a six-way race, despite the fact that she'd only been a resident of Broward County for three years.
She served in the Florida House of Representatives from 1992-2000 and was House Democratic Leader Pro Tempore, House Democratic Floor Leader and Chair of the Broward Legislative Delegation. She chaired the House Committee on Higher Education from 1994-1996. She was elected and served in the State Senate from 2000-2004.
During her tenure in the Florida State Legislature, Wasserman Schultz made a name for herself as a fighter for South Florida families. As a State Senator, she authored and passed the "Drive Thru Baby Bill" and the "Drive Thru Mastectomy Bill" both of which helped women by mandating that they get the care they needed rather than the limited amount of care that the insurance companies were willing to pay for. She also authored the popular Florida Infant Crib Safety Act that passed both the House and Senate by overwhelming margins. Another significant piece of legislation passed was her bill outlawing human and sexual trafficking in the State of Florida. Her tireless work on behalf of the Florida Residential Swimming Pool Safety Act helped to ensure its passage and will save the lives of unknown numbers of toddlers from accidental drowning in Florida pools. While serving in the state House, Wasserman Schultz fought to increase funding to public schools to solve school overcrowding problems and drew praise for her efforts to establish a statewide child care administration agency to establish regulations for day care facilities. She also was recognized repeatedly as an environmental champion for her strong advocacy on environmental protection issues.
For more than a decade, Wasserman Schultz has dedicated her public life to working on behalf of the people of Southern Florida. On January 4, 2005, she was sworn in as a member of the United States House of Representatives to continue this fight as the Congresswoman from Florida's 20th Congressional District. Schultz is the first Florida Jewish woman elected to U.S. Congress. In 2018 Wasserman Schultz won her reelection campaign with 58% of the vote.
Known for vigorously defending her progressive values, Wasserman Schultz has also demonstrated her ability to pass meaningful legislation in a bipartisan fashion. She teamed up with former Republican Senator Arlen Specter to write a resolution – passed unanimously by both houses of Congress and signed by President Bush – to declare May as Jewish American Heritage Month in an effort to reduce anti-Semitism, hate, and bigotry.
As a mother of three, Wasserman Schultz has worked to prioritize the safety and security of our nation's youth. She authored the first federal pool and spa safety legislation – the Virginia Graeme Baker Pool and Spa Safety Act. Since its passage in 2007, there have been no drain entrapment deaths in any public pools in the United States. That same year, she sponsored the PROTECT Our Children Act, which created the largest law enforcement effort ever formed for the protection of our nation's youth.
After announcing her own battle with breast cancer in 2009, Wasserman Schultz introduced the EARLY Act, a piece of legislation designed to increase breast cancer education and awareness. The EARLY Act became law as part of the Affordable Care Act, signed by President Barack Obama in 2010. Wasserman Schultz also worked with Republican Congresswoman Renee Elmers to write and pass the PALS Act, which helps increase young women's access to mammograms.
A leading advocate for women and girls, Wasserman Schultz introduced the Rape Survivor Child Custody Act to encourage more states to allow women to terminate the parental rights of a rapist, based on clear and convincing evidence. The bill was signed into law by President Obama in 2015.
Currently, Wasserman Schultz is one of only two Democrats in the House of Representatives who serve on both the Budget Committee and Appropriations Committee. As the first-ever woman to Chair the Military Construction and Veterans Affairs Subcommittee, she is committed to ensuring our nation's veterans have the resources and support they need. As a Member of the Energy and Water Committee, Congresswoman Wasserman Schultz is a leading advocate of the efforts to protect the Florida Everglades, take bold action on climate change, and safeguard our air and water.
As Chief Deputy Whip of the Democratic Caucus, Congresswoman Wasserman Schultz has the unique ability to work with and help lead her colleagues in support of a progressive policy agenda. She has been a tireless defender of Social Security and Medicare and is strongly committed to expanding access to quality and affordable health care, preventing senseless tragedies of gun violence, and defending the fundamental idea that all Americans have the right to be treated equally under the law.
In 2011, Wasserman Schultz was chosen to head the Democratic National Committee. A number of her decisions were criticized during the 2016 election. Then, in mid-July 2016, emails released by Wikileaks showed how Wasserman Schultz and other Democrat party leaders tried to undermine Bernie Sanders's presidential campaign by trying to question his religion. In the wake of the release of these emails, Wasserman Schultz resigned her position.
She is married to Steve Schultz and together they have three children: twins Jake and Rebecca and Shelby. They live in Weston, near Fort Lauderdale.
---
Sources: Congresswoman Debbie Wasserman Schultz;
Biographical Directory of the United States Congress;
Jewish Museum of Florida;
"Debbie Wasserman Schultz," Wikipedia.