Joyce Brothers
(1927 - 2013)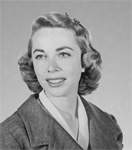 Dr. Joyce Brothers was an American psychologist, television personality and famed newspaper columnist.
Brothers (born October 20, 1927; died May 13, 2013) was born Joyce Diane Bauer in Brooklyn, New York to Jewish, middle-class parents Estelle and Morris, both attorneys. Brothers later credited her parents with instilling a desire for achievement and respect for hard work while their faith imparted a sense of ethics and a belief in God.
After graduating from Far Rockaway High School in 1943, Brothers entered Cornell University, double majoring in home economics and psychology and graduated with her bachelors degree, with honors, in 1947. She then enrolled at Columbia University, where she did graduate work in behavior and personality and earned her Masters in July 1949 and later her Ph.D. in 1953, with a doctoral dissertation on anxiety avoidance and escape behavior measured by the action potential in muscle. While attending Columbia, she was an assistant in psychology as well as a teaching fellow and instructor at Hunter College.
Shortly after receiving her masters degree, Joyce married Milton Brothers, a medical student. Their first, and only, child Lisa was born n 1953 and at that time Brothers chose to remain at home to raise her daughter according to her own beliefs about child rearing. However, this decision reduced the couple's income to the fifty dollars a month her husband received for his medical residency.
In late 1955, to relieve the financial strain, Brothers decided to try out for the popular television show The $64,000 Question, which frequently selected contestants with novel areas of specialization. The attractive psychologist, who had become an expert on boxing to please her husband, as she explained it, was an instant favorite. With the determination that has characterized her entire career, Brothers studied volumes of a boxing encyclopedia to enhance her already considerable knowledge. After seven weeks on the show she became the second person, and only woman, to win the $64,000 top prize. Two years later, Brothers appeared on a successor program, The $64,000 Challenge, which matched the contestant against experts in the field. Again, Brothers walked off with the maximum prize.
"I had enough to promise myself I'd never do things I didn't want to do again," she recalled. Whhen hearings were held in 1959 about corruption on The $64,000 Question, Brothers's honesty was documented. She later revealed that the producers had wanted her off the show, but she had frustrated their intentions by answering the difficult questions they had expected would defeat her.
After her victory on The $64,000 Question, Brothers remained in the public eye, first as cohost on Sports Showcase, and as a popular guest on many television shows. Then, in 1958, NBC offered Brothers her own afternoon talk show, initially called The Dr. Joyce Brothers Show, devoted to counseling viewers on child rearing, love, marriage, and sex. It was an instant success; when Brothers began receiving more than a thousand letters a week, the show was syndicated nationally. In less than a year, she added a late-night show on which she was one of the first to discuss such previously taboo subjects as sexual satisfaction, frigidity, menopause, and impotence. Within a short time, she had a live call-in program on WMCA and was appearing on programs of other networks. A syndicated column ran in 350 newspapers, and a monthly column in Good Housekeeping, initiated in 1963, is still a feature of the magazine. Several of her books, including What Every Woman Should Know About Men (1982), sold well.
Brothers clearly filled a need. Conforming in many ways to the dominant image of women in the 1950s and early 1960s, Brothers described herself as a mother, wife, and psychologist last. Yet her apparent observance of the status quo permitted her to delve into some of the issues that many Americans were concerned about without seeming to threaten the established order. While some psychologists criticized her for giving advice without having adequate knowledge of the patients, others believed she helped people by showing them that their problems were shared by others. Brothers herself claimed that she only linked her viewers with the information available in psychological literature.
Brothers's world was shaken in 1989 by the death from cancer of her husband of thirty-nine years. "I had never really experienced grief before," she explained, "and although the pain was enormous, I became much more sensitive to others." After her initial reaction, she recovered by returning to the habits of a lifetime and using what she had learned to help other women surmount their own grief.
Buoyed by the support of her daughter (an ophthalmologist), son-in-law, and four grandchildren, Brothers wrote of her gradual return from suicidal thoughts to a satisfying, productive life. The book she wrote describing this journey, Widow (1990), would be the most personal and the most popular of her ten books. It was excerpted in many journals, and Brothers again became a sought-after speaker on television and radio talk shows. The thousands of letters she received from grateful women, she explained, "made my own pain not only bearable but worthwhile."
Brothers was a long-standing member of the Federation of Jewish Philanthropies, and in 1964 was named a Woman of Achievement by the Federation of Jewish Women's Organizations. In 1968, she received a merit award from Bar-Ilan University in Tel Aviv, Israel.
On May 13, 2013, Joyce Brothers died at her home in Fort Lee due to respiratory failure. She was 85 years old and is survived by her sister Elaine Goldsmith, her daughter Lisa Brothers Arbisser, four grandchildren and two great-grandchildren.
---
Sources: Paula Hyman and Deborah Dash Moore eds. Jewish Women in America. NY: Routledge, 1997. Reprinted with permission of the American Jewish Historical Society; ContemporaryAuthors 15 (1984): 120-121; Current Biography (1971): 62-68; Rodgers, J.E. "Psychologists at Home: How They Live." Psychology Today 26 (July-August 1993): 48-53; Who's Who in America (1991); Wikipedia; Washington Post (May 13, 2013)