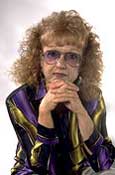 Judy Chicago is an artist, author, feminist, educator, and intellectual whose career now spans four decades. Her influence both within and beyond the art community-is attested to by hundreds of publications throughout the world. Her art has been frequently exhibited in the United States as well as in Canada, Europe, Asia, Australia, and New Zealand. In addition, a number of the books she has authored have been published in foreign editions, bringing her art and philosophy to thousands of readers worldwide.
In the early seventies after a decade of professional art practice, Chicago pioneered Feminist Art and art education through a unique program for women at California State University, Fresno. She then brought her program to the California Institute of the Arts where, with artist Miriam Schapiro, she established the Feminist Art Program. The famous Womanhouse, the first installation demonstrating an openly female point of view in art was produced through this program. The ongoing impact of Womanhouse and of Chicago's work and ideas helped to initiate a worldwide Feminist Art movement.
In 1974, Chicago turned her attention to the subject of women's history to create her most well-known work, The Dinner Party, which was executed between 1974 and 1979 with the participation of hundreds of volunteers. This monumental multimedia project, a symbolic history of women in Western Civilization, has been seen by more than one million viewers during its sixteen exhibitions held at venues spanning six countries.
The Dinner Party has been the subject of countless articles and art history texts and is included in innumerable publications in diverse fields. The importance of The Dinner Party, along with Chicago's role as the founder of the Feminist Art movement, was examined in the 1996 exhibition, Sexual Politics: Judy Chicago's Dinner Party in Feminist Art History. Curated by Dr. Amelia Jones at the UCLA Armand Hammer Museum, this show was accompanied by an extensive catalog published by the University of California Press. In 2004, The Dinner Party will be permanently housed at the Brooklyn Museum as the centerpiece of the Elizabeth A. Sackler Center for Feminist Art, thereby achieving Chicago's long-held goal of helping to counter the erasure of women's achievements.
From 1980 to 1985, Chicago worked on the Birth Project. Having observed an absence of iconography about the subject of birth in Western art, Chicago designed a monumental series of birth and creation images for needlework which were executed under her supervision by skilled needleworkers around the country. The Birth Project, exhibited in more than 100 venues, employed the collaborative methods and a similar merging of concept and media that characterized The Dinner Party. Exhibition units from the Birth Project can be seen in numerous public collections around the country including the Albuquerque Museum where the core collection of the Birth Project has been placed to be conserved and made available for exhibition and study.
While completing the Birth Project, Chicago also focused on individual studio work to create Powerplay. In this unusual series of drawings, paintings, weavings, cast paper, and bronze reliefs, Chicago brought a critical feminist gaze to the gender construct of masculinity, exploring how prevailing definitions of power have affected the world in general - and men in particular. The thought processes involved in Powerplay, the artist's long concern with issues of power and powerlessness, and a growing interest in her Jewish heritage led Chicago to her next body of art.
The Holocaust Project: From Darkness Into Light, which premiered in October, 1993 at the Spertus Museum in Chicago, continued to travel to museums around the United States until 2002. Holocaust Project evolved from eight years of inquiry, travel, study, and artistic creation; it includes a series of images merging Chicago's painting with the photography of Donald Woodman, as well as works in stained glass and tapestry designed by Chicago and executed by skilled artisans.
For many decades, Chicago has produced works on paper, both monumental and intimate. These were the subject of an extensive retrospective which opened in early 1999 at the Florida State University Art Museum in Tallahassee, Florida. Organized by Dr. Viki Thompson Wylder, who is a scholar on the subject of Chicago's oeuvre, this was the first comprehensive examination of the body of Chicago's art. The exhibit, Trials and Tributes traveled through 2002 to eight venues and was accompanied by a catalog by Dr. Wylder with an introduction by renowned critic, Lucy Lippard.
In 1999, Chicago returned to teaching for the first time in twenty-five years, having accepted a succession of one-semester appointments at various institutions around the country - beginning with Indiana University where she received a Presidential Appointment in Art and Gender Studies. In 2000, she was an Inter-Institutional Artist in Residence at Duke University and the University of North Carolina, Chapel Hill. In 2001, with her husband, photographer Donald Woodman, she undertook a project with students at Western Kentucky University commemorating the thirty-year anniversary of Womanhouse. Working with students, faculty, and local artists, Chicago and Woodman developed a project titled At Home, reexamining the subject of "the house", this time from the perspective of residents of Kentucky who have a keen sense of place and home. In 2003, Chicago and Woodman will team-teach again, facilitating an ambitious inter-institutional project in Pomona, California.
Resolutions: A Stitch in Time was Judy Chicago's most recent collaborative project. Begun in 1994 with skilled needleworkers with whom she had worked for many years, Resolutions combines painting and needlework in a series of exquisitely crafted and inspiring images which - with an eye to the future - playfully reinterpret traditional adages and proverbs. The exhibition opened in June, 2000 at the American Craft Museum, New York, NY, and was toured by them to seven venues around the United States and Canada.
In October, 2002 a major exhibition surveying Chicago's career was presented at the National Museum of Women in the Arts. The show was accompanied by a catalog edited by Dr. Elizabeth A. Sackler; with essays by Lucy Lippard and Dr. Viki Thompson Wylder and an Introduction by Edward Lucie-Smith.
In addition to a life of prodigious artmaking, Chicago is the author of seven books:
Through the Flower: My Struggle as a Woman Artist, 1975 (subsequently published in England, Germany, Japan, and Taiwan);
The Dinner Party: A Symbol of Our Heritage, 1979;
Embroidering Our Heritage: The Dinner Party Needlework, 1980 (subsequently published in a combined edition in Germany);
The Birth Project, 1985 (Anchor/Doubleday);
Holocaust Project: From Darkness into Light, 1993;
The Dinner Party/Judy Chicago, 1996;
Beyond the Flower: The Autobiography of a Feminist Artist, 1996 (Viking Penguin).
In 1999, Chicago published a new book coauthored with Edward Lucie-Smith, the well-known British art writer. Published in the U.S., Canada, England, Australia, New Zealand, and Germany, Women and Art: Contested Territory examines images of women by both male and female artists throughout history. In the spring of 2000, Judy Chicago: An American Vision, a richly illustrated monograph about Chicago's career by Edward Lucie-Smith, was published. This book provided the first comprehensive assessment of Chicago's body of art.
Chicago is the recipient of numerous grants and awards including an Honorary Doctorate in Fine Arts from Russell Sage College in Troy, NY; an Honorary Doctorate in Fine Arts, honoris causa from Smith College, Northampton, MA; an Honorary Degree of Doctor of Humane Letters from Lehigh University, Bethlehem, PA; an Honorary Doctorate of Fine Arts from Duke University, Durham, NC; and the 1999 UCLA Alumni Professional Achievement Award. Many films have been produced about her work including Right Out of History; The Making of Judy Chicago's Dinner Party by Johanna Demetrakas; documentaries on Womanhouse, the Birth Project, the Holocaust Project and Resolutions; and two films produced by the Canadian Broadcast Corporation, Under Wraps and The Other Side of the Picture. E Entertainment Television included Judy Chicago in its three part program, World's Most Intriguing Women.
In 1996, the Arthur and Elizabeth Schlesinger Library on the History of Women in America at Radcliffe College, Cambridge, MA, became the repository for Chicago's papers. Chicago is the first living artist to be included in this major archive, one already being used by scholars researching Judy Chicago's work.
For nearly four decades, Chicago has remained steadfast in her commitment to the power of art as a vehicle for intellectual transformation and social change and to women's right to engage in the highest level of art production. As a result, she has become a symbol for people everywhere, known and respected as an artist, writer, teacher, and humanist whose work and life are models for an enlarged definition of art, an expanded role for the artist, and women's right to freedom of expression.
---
Sources: Judy Chicago - Through the Flower