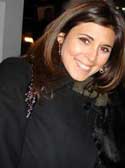 Jamie-Lynn Sigler was born in Queens, New York City to a Jewish American father, Steve, and a Puerto Rican mother, Connie, who converted to Judaism after meeting her husband. Sigler grew up on Long Island in Jericho, New York, and began acting and singing at age 7. She attended one of the top schools in the area, Jericho High School, and also enjoyed a Jewish upbringing by attending Hebrew School and having a bat mitzvah.
In 1997, she was cast as the smart but troubled Meadow Soprano, daughter of New Jersey mob boss Tony Soprano. The show premiered in 1999 and became a success, with Sigler rising to some fame as a TV actress. During the early production of The Sopranos, Sigler struggled with an eating disorder and is now a spokesperson for the National Eating Disorders Association. Sigler appeared in a CNN special with Paula Zahn in which she, jockey Shane Sellers, actress Jane Fonda, and two others revealed their struggles with eating disorders.
In 2000, while filming Campfire Stories in Hamburg, New Jersey, Sigler was paralyzed from the waist down for several days having contracted Lyme disease.
Sigler then spent five months on Broadway from October 2002 through February 2003 playing Belle in Beauty and the Beast where she replaced long-running Belle Sarah Litzsinger. She has continued to appear in theatrical roles, such as Rodgers and Hammerstein's Cinderella.
In 2004, she starred as "Hollywood Madam" Heidi Fleiss in the USA television movie Call Me: The Rise and Fall of Heidi Fleiss. In that same year, she had her first starring feature film role, Extreme Dating, an independent film.
In 2005 Sigler starred in Lovewrecked, and in Mariah Carey's "Through the Rain" music video.
In July 2003, Sigler married her agent and longtime boyfriend, A.J. DiScala. She subsequently changed her name to Jamie-Lynn DiScala, stating she is a very "traditional girl", and never had any doubt that she would take her husband's name after marrying, even professionally. However, in September 2005, Sigler and DiScala announced that they were separating, and she subsequently changed her name back.
During January 2008, Sigler visited Israel through the Birthright Israel program and subsequently was moved by the trip, calling Israel "one of the most beautiful, inspiring places I've ever been to." She further noted that the trip gave her a greater understanding to preserve her Jewish identity and, after talks with the program's guards (Israeli soldiers), she expressed solidarity towards the efforts of the young soldiers.
Among the highlights of Sigler's trip to Israel were riding camels in the desert, dining on roast lamb in a Bedouin tent, and exploring the back alleys of Jerusalem's Old City. Sigler was also especially moved during her visits to the Western Wall and Yad Vashem. Sigler said of her trip," I now have a greater understanding and motivation about preserving my Jewishness."
---
Sources: Wikipedia, Kraft, Dina. "Birthright trip uplifts 'Sopranos' star." JTA (January 21, 2008)