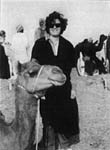 In 1983, Lisa Stein of Plantation, Florida obtained a military scholarship to attend the University of Miami because she "thought it sounded like fun and they would foot the bill for school." Upon graduation in 1987, Lisa was commissioned into the United States Air Force.

Along with the surprise to her family that she had joined the Air Force, Lisa was also discouraged by her ROTC commander, who informed her that there were only nine navigator slots in the whole country open for women. "Boy, was he surprised when I got in," Lisa said.

Following basic training, Lisa was assigned to AWACS (Airborne Warning and Control Systems). For eight to ten months a year, her unit was deployed worldwide. Some of Lisa's missions included flying unarmed over hostile enemy territory; tracking the Soviets on their practice bombing runs toward North America; protecting Saudi interests during the Iran-Iraq War, and drug interdiction in South and Central America. By 1990, Lisa had accrued over 1,800 hours of combat flight time; this, despite the then existing rule that women could not fly combat missions.

Deployed to Saudi Arabia during Operation Desert Shield in 1990, Lisa discovered that the Saudis opposed the presence of both women and Jews. For diplomatic reasons, American women were asked to wear traditional black gowns and cover their hair. Military officials also asked Jewish soldiers to " use discretion" when practicing their religion in Saudi Arabia.

On principle, Lisa refused to cover her hair or refrain form participating in Jewish religious activities. "We didn't flaunt our practices, but [my religion] was important to me, especially considering the grim odds [for survival] predicted at the beginning of Desert Storm," Lisa said. "The Saudi religious police were constantly following me around. Unfortunately, we got the biggest opposition within our own government because officials didn't want to offend the Saudis."

During Operation Desert Storm, Lisa suffered the loss of her peripheral vision from exposure to Iraqi oil fumes. No longer able to fly, she retired from the Air Force as a captain in September.
---
Sources: Courtesy of the Jewish Women's Archives and Jewish War Veterans