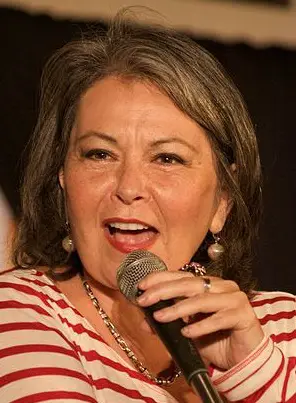 Roseanne Barr is a Jewish American actress, comedian, writer, television producer and director.

The eldest of four children, she was born in Salt Lake City, Utah to a working-class Jewish family. Her mother, Helen, was a bookkeeper and cashier, and her father, Jerome Hershel "Jerry" Barr, worked in sales as a door-to-door salesman of household goods. Barr's grandparents and great-grandparents were immigrants from Ukraine, Russia, Lithuania and Austria-Hungary, and her paternal grandfather changed his surname from "Borisofsky" to "Barr" upon entering the United States. Barr's parents kept their Jewish heritage secret from their neighbors and, thus, were partially involved in The Church of Jesus Christ Of Latter-day Saints. Barr has stated that "Friday, Saturday, and Sunday morning I was a Jew; Sunday afternoon, Tuesday afternoon, and Wednesday afternoon we were Mormons;" her Jewish upbringing was influenced by her devoutly Orthodox Jewish maternal grandmother.

Barr married Bill Pentland, on February 4, 1974. They had three children, Jennifer, Jessica, and Jacob. In 1971, prior to marriage and while residing in Denver, Roseanne had a daughter named Brandi Brown for whom she arranged an adoption. In 1989 Roseanne located and met Brandi. Eventually, Brandi moved to L.A. and began working for Roseanne. She later moved to Denver and now splits her time between Denver and the Colorado West Slope. Brandi and Roseanne remain very close.

Roseanne became famous in the early 1980s with her stand-up comedy routine, receiving critical acclaim for her unglamorized portrayal of the typical American working-class housewife. In her routine she popularized the now well-known phrase, "domestic goddess," to refer to a homemaker or housewife. The success of her act led to her own series on ABC, called Roseanne. The show ran from 1988 to 1997, and co-starred Emmy winners Laurie Metcalf and John Goodman. Roseanne herself also won an Emmy for her part in the show. For the final season Roseanne earned $650,000 an episode. In 1997, after the end of her sitcom's run, she portrayed the Wicked Witch of the West in a production of The Wizard of Oz at Madison Square Garden. She went on to host her own talk show, The Roseanne Show, which ran for two years before it was canceled in 2000.

In the summer of 2003, she took on the dual role of hosting a cooking show (called Domestic Goddess) and starring in a reality show (called The Real Roseanne Show) about hosting a cooking show, although food poisoning and an emergency appendectomy brought a premature end to both projects. In 2005, she returned to stand-up comedy, touring the world. In February 2006, Roseanne performed her first-ever live dates in Europe as part of the Leicester Comedy Festival in Leicester, England. The shows took place at De Montfort Hall. She also released her first kids' DVD, Rockin' with Roseanne: Calling All Kids, that same month. Roseanne's return to the stage culminated in an HBO Comedy Special Roseanne Barr: Blonde N Bitchin', which aired November 4, 2006, on HBO. Two nights earlier, Roseanne returned to prime-time network TV with a guest spot on NBC's My Name Is Earl, playing a crazy trailer park manager.

Roseanne has a star on the Hollywood Walk of Fame at 6767 Hollywood Blvd in Los Angeles. In 2007, TV Land announced that Roseanne would be the host of season three of The Search for the Funniest Mom in America on Nick at Nite. The show aired in spring 2007. She headlined at the Sahara Hotel and Casino on the Las Vegas Strip in Nevada in 2008.

In 2012, Barr ran for the U.S. Presidential nomination of the Green Party but lost to Jill Stein. She won the presidential nomination for the Peace and Freedom party later that year.

The awards she has won and for which she was nominated include multiple Emmys, People's Choice Awards, the American Comedy Award, Golden Globe Awards and the Screen Actors Guild Award. The majority of her awards are for Roseanne.
---
Sources: Wikipedia