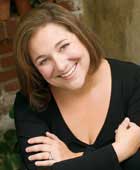 Jennifer Weiner was born in 1970 on an army base in Louisiana. She grew up in Connecticut, and graduated from Princeton University with a degree in English literature. She worked as a newspaper reporter in Central Pennsylvania, Lexington, Kentucky, and Philadelphia, before the publication of her first novel, GOOD IN BED, in 2001. She is the author of the novels IN HER SHOES (2002), which was turned into a major motion picture; LITTLE EARTHQUAKES (2004), GOODNIGHT NOBODY (2005), and the short story collection THE GUY NOT TAKEN (September 2006). Her work has appeared in Seventeen, Salon, Redbook, Glamour, Good Housekeeping, and Elle. She lives in Philadelphia with her family.
Want more? Read on…
March 28, 1970: Jennifer Agnes Weiner is born on an army base in DeRidder, Louisiana. Why Louisiana? Why Agnes? Her parents have no answers.
1972: Displaying excellent judgment at an early age, Jen leaves the army base and relocates to Simsbury, Connecticut, with her parents and sister Molly. They are eventually joined by brothers, Jake and Joe.
1975-1987: Public schools and many unfortunate hair and fashion choices.
1987: Jennifer graduates Simsbury High School as graduation speaker and heads off to New Jersey for college. Most common yearbook inscription? "Good luck at Princeton. Don't take any math!"
1987-1991: Jen attends Princeton University where she majors in English and minors in rabble-rousing. As co-founder of the Committee to Coeducate Eating Clubs, she leads a campus-wide campaign to get the school's two remaining all-male eating clubs to accept female members. She also takes many creative writing courses, studying with J.D. McClatchy, Ann Lauterbach, John McPhee, Toni Morrison, and Joyce Carol Oates. In 1990, she wins Princeton's Academy of American Poets prize. She writes her thesis on representations of maternity in women's novels and film. Her mother promises that she's read it. Jennifer's not sure whether she believes this.
1991: After graduating summa cum laude and realizing that she is qualified to do nothing but write self-conscious short stories about her parents' divorce, Jen takes John McPhee's advice and goes into journalism. After a six-week stint at the Poynter Institute for Media Studies in St. Petersburg, Florida, Jen is hired as the education reporter at the Centre Daily Times in State College, Pennsylvania, a small Knight-Ridder owned daily newspaper.
1992: Jen latches on to the Generation X phenomenon, writing twice-monthly op-ed columns about Gen X. The columns are eventually distributed on the Knight-Ridder news wire and appear in papers nationwide. Also, Jen's self-conscious short story about divorce, "Tour of Duty," is published in Seventeen Magazine.
1993: Jen continues writing columns and feature stories, as well as covering five local school districts. Her short story, "Someone to Trust" is published in Redbook. And Jen acquires Wendell, a small, spotted, anxious, ten-pound rat terrier who will appear, in various incarnations, in many of her later works, and whose handsome visage graces the back cover of GOOD IN BED.
1994: Jen goes to work in the features department of the Lexington Herald-Leader, in Lexington, KY. She also writes two Generation X columns a month for the Philadelphia Inquirer, which continues to distribute them nationally. The Inquirer tells Jen they'll hire her as soon as they have an opening. However, editors refuse to give her column the title she's long yearned for: The Joy of X.
1995: The Philadelphia Inquirer hires Jen as a general-assignment features reporter, with the stipulation that she quit writing opinion pieces. Realizing that she's pretty much ridden the Gen-X trend into the ground, and after editors and peers gently point out that she will not be twentysomething forever, Jen agrees. She and Wendell move to Center City, Philadelphia.
1996-1999: Jen profiles Wendy the Snapple Lady, departing Cosmo editor Helen Gurley Brown, and Adam Sandler, and writes long stories about teenage drug abuse, sex and college students, and her grandmother's gefilte fish. She covers a Democratic National Convention, a Presidential inauguration, the Pillsbury Bake-Off, the Miss America Pageant, and Wrestlemania, eventually realizing that these events have more in common than you'd think.
1998: Jen picks up a freelance gig as a contributing editor at Mademoiselle magazine, where she writes a monthly column about surviving the workplace. Her freelance work appears in Salon.com, Time Out New York, the Columbia Journalism Review and Seventeen. She also appears regularly on "Philly After Midnight," Philadelphia's local late night television show, as a cultural commentator and generally sarcastic person. Within the next few years, Mademoiselle folds, and "Philly After Midnight" goes off the air. Jen tries not to take it personally. This is also the year Jen starts writing GOOD IN BED.
1999: Inquirer editors redesign the book section and give Jen a Sunday column about the intersection of literature and real life. "Under Cover" debuts in October of 1999. Jen's mom swears she reads the columns online every week. Again, Jen isn't sure whether she believes this.
MAY, 2000: Jen sells GOOD IN BED, and the rights to her second novel to Pocket Books (now Atria Books). Wendell insists on a pseudonym, and is not very happy when he learns that, as far as the reading world is concerned, his name is Nifkin.
MAY 1, 2001: GOOD IN BED is published, earning starred reviews from Publisher's Weekly and Kirkus, and an "A" from Entertainment Weekly. Jen takes a leave of absence from the Inquirer and embarks on an 18-city tour that takes her from New York City and Philadelphia to St. Louis, Kansas City, Atlanta, Miami, Denver, Portland, San Francisco and Los Angeles, and eventually to London, where GOOD IN BED is published by Simon & Schuster UK. Jen appears on the CBS Early Show, and the book is excerpted in Mode, and chosen by Marie Claire, Glamour and Cosmopolitan as one of the hot reads for the summer. Great reviews from UPI and the Associated Press follow, and by the end of May, GOOD IN BED makes the New York Times' best-seller list. Foreign rights have been sold in thirty-four countries, and GOOD IN BED has become an international best-seller. Best of all, Jen knows for certain that her mother has read every word.
OCTOBER, 2001: Deciding that there's just not enough going on in her life, Jen gets hitched in a Halloween-themed bash at the College of Physicians to a curly-haired lawyer named Adam. Cocktail hour is in the Mutter Museum, where many photographs of bride and groom are taken in front of the collection of syphilitic skulls. And the Beach Balls perform operatic covers of 1980's pop standards, delighting the young and confusing the old.
APRIL, 2002: GOOD IN BED comes out in paperback and hits bestseller lists nationwide. Jen embarks on a nine-city tour that takes her to Boston, Cleveland, Houston, Dallas, and two hotels with bidets in the bathrooms.
JUNE, 2002: Jen's brother Jake, and his company, BenderSpink, sells the film rights to Jen's second book to Fox 2000. Susannah Grant (ERIN BROCKOVICH, EVER AFTER) is hired to write the screenplay.
SEPTEMBER, 2002: IN HER SHOES, the story of two sisters with nothing in common but the same size feet and the grandmother they never knew, is published in hardcover. People calls it "an entertaining romp through family battles and toxic relationships." USA Today says the book "will make you laugh and possibly cry." The Philadelphia Inquirer hails the maturity of the writing. Jen celebrates by getting knocked up prior to departing on a fourteen-city book tour, a mistake she will never, ever, ever make again.
NOVEMBER, 2002: Jen returns to Philadelphia to concentrate on her third book, LITTLE EARTHQUAKES, which was published on September 14, 2004, and on Lucy Jane, who made her debut on May 10, 2003.
JULY, 2003: IN HER SHOES comes out in paperback, hits bestseller lists nationwide. Jen schleps an uncomplaining (and usually asleep) Lucy to readings in Cape Cod, New York City, Philadelphia, and Washington, D.C.
JANUARY, 2004: Production on "In Her Shoes," the movie begins, with Oscar-winning director Curtis Hanson (8 Mile, L.A. Confidential, Wonder Boys) at the helm, and with Toni Collette as Rose Feller, Cameron Diaz as Maggie Feller and Shirley MacLaine as Ella. Jen's sister Molly nabs a coveted role as a featured extra and places the following phone call: "Toni Collette looks terrible! They've got her in these frumpy clothes, and she has a hideous hairdo…she looks JUST LIKE YOU!" Jen assumes that Molly is kidding.
APRIL, 2004: Production moves to Philadelphia. Jen tries desperately not to make a pest of herself by stalking the stars or hanging around the set. Once again, she fails miserably. But she and her agent get to appear as extras in the Italian Market scene.
APRIL, 2004: Production wraps in Boynton Beach, Florida. Jen lobbies to get her Nanna into the film as an extra in one of the senior center scenes. As a result, Nanna meets Shirley MacLaine and Cameron Diaz before Jen does.
SUMMER, 2004: Jen hangs out with friends and family, prepares for LITTLE EARTHQUAKES: The Fourteen-City Tour, and begins work on her fourth book, a murder mystery set in a fictitious Connecticut suburb. The working title is MOMICIDE. Both Jen's editor and agent change the subject whenever Jen uses MOMICIDE in conversation. Jen does not take this as a good sign.
SEPTEMBER, 2004: LITTLE EARTHQUAKES is published. The Washington Post writes "Weiner's gift lies in her ability to create characters who both amuse us and make us care." The book becomes Jen's best-selling hardcover yet and is optioned by Universal Pictures. Jen, Lucy and entourage survive the book tour, and Lucy takes her first steps in a Kansas City hotel room.
MARCH, 2005: Jen, her agent and her brother get to go to a screening of "In Her Shoes," the movie. Jen, determined not to make a complete fool of herself, nevertheless bursts into tears the instant the Fox logo flashes on-screen, clutches Armani-clad arm of executive sitting beside her and blurts, "That part came out great!" Jen and her agent, plus Molly, and, most importantly, Nanna, can all be glimpsed in the final cut. Jen exhales, confident of enjoying a tension-free Passover.
SEPTEMBER, 2005: GOODNIGHT NOBODY is published, hits number two on the New York Times best seller list. The Washington Post writes "Weiner's got a brilliant eye for social stratum, character sketches, and rendering of suburban atmospherics." Janet Maslin of The New York Times says, ""Jennifer Weiner's moment has arrived. Her fourth and latest book, Goodnight Nobody, confirms that she's giving 'chick lit' a good name. She writes characters who could be anyone's best friends, and in this book, she has a funny, malicious, Desperate Housewives eye for suburban life."
Unfortunately, she says this on the CBS Sunday Morning Show.
And pronounces Jen's last name "Weener."
Damn.
OCTOBER, 2005: "In Her Shoes," the movie, is released to glowing reviews. Jen's Mom accompanies her to Los Angeles for the premiere, along with her sister, brothers, Nanna, Uncle Freddy and Aunt Ruth, and actually sees the film, and loves it.
WINTER/SPRING, 2006: Having survived the Toronto Film Festival, the red carpet in L.A., and a fabulous Philadelphia premiere to benefit the Free Library, Jen kicks off her heels, peels off her false eyelashes, and spends the year writing and revising short stories.
2006: Her first short story collection, THE GUY NOT TAKEN, was published in September, 2006 in hardcover. USA TODAY writes "The Guy Not Taken" showcases a maturing Weiner," which Jen finds endlessly hilarious. "With her latest collection, Weiner is proving that the masters of the oft-maligned chick-lit genre are voices to be reckoned with," writes the Boston Herald. People says even the notes on the stories are a hoot, while Entertainment Weekly writes that the collection "shouldn't be missed."
2007: The Guy Not Taken was published.
---
Sources: Jennifer Weiner