Grace Aguilar
(1816 - 1847)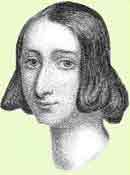 Grace Aguilar was born of Spanish-Jewish parents at The Paragon, Hackney, London, on June 2, 1816. Grace was the first child of Emanuel Aguilar (8th June 1787 - 18th January 1845) and Sarah (nee Dias Fernandes) Aguilar (9th June 1787 - 29th April 1854) Emanuel and Sarah were married on 7th June 1809. Sarah was the third daughter of Jacob Dias Fernandes and granddaughter of Benjamin Dias, a Portuguese Merchant of Jamaica.
Grace's Grandfather, Joseph Aguilar (1765 - 17th December 1822) had married his first cousin Grace Aguilar (1764 - 28th February 1823) The generation of Aguilar's before this had owned sugar plantations in Jamaica, their forebears having fled Jewish persecution in Spain.
From birth Grace Aguilar was a delicate child and was mainly educated at home. At the age of four she was taken to Hastings on the south coast of England for her health. It was here that she started collecting and arranging shells. Already a keen reader, Grace would prefer a book to any other present. At the age of seven, Grace commenced a journal, that she was to keep for most of her life. During her childhood she only spent 18 months at school her tuition given mainly by her parents.
On 23 August 1824 her first brother, Emanuel Abraham Aguilar was born. Emanuel was to later become a gifted composer and musician. On 26th August 1827 Henry Aguilar her second brother was born. Henry was later to become a sailor working for the West India Company and later joining the Royal Navy.
In 1828, when Grace was twelve years old, her parents moved to the Tavistock and Teignmouth areas of Devon for the health of her father, Emanuel Aguilar. Here she was able to continue her collection of shells, stones seaweed and mosses.
Always a semi-invalid, she began writing in her childhood, her first poems at the age of nine being collected in Magic Wreath. At the age of twelve she wrote a small drama called 'Gustavus Vasa'. Grace was much influenced by; 'Josephus' a book dealing with the history of the Jewish people, this book seemed to have had a long lasting effect on her. This was the beginnings of what was going to be her life's passion.
As part of her education, Grace went on a tour of English towns (1835) She visited Oxford, Cheltenham, Gloucester, Worcester, Ross, and Bath, including visits to a porcelain works and pin factory.
So strong were her feelings that she translated a small French book called 'Israel Defended' by the Marano, Orbio de Castro, which she printed for private circulation and wrote 'The Magic Wreath,' a collection of poems which she published anonymously in 1835. 'The Vale of Cedars' was written about this time and published in 1850. It was twice published in German and Hebrew. This was followed by two larger projects 'Home Influence' (1835) and 'The Spirit of Judaism.'
At about this time (1835) both her brothers Emanuel aged eleven and Henry aged eight were sent away to private school. Her mother became seriously ill and had a serious and dangerous operation from which recuperation was slow, with Grace caring for her day and night.
In 1836, Grace wrote 'Home Influence' and its sequel, 'The Mother's Recompence,' both first published after her death in 1850. 'Woman's Friendship' written at this time was published in 1851.
What was to happen next was a fundamental turning point in Grace's life and would have a long lasting and devastating effect on her. In the Spring of 1838, at the age of 21, she contracted the measles. Following this illness she lost weight and became considerably physically weakened.
Grace, although ill, continued to write and completed 'The Records of Israel,' 'The Women of Israel,' and 'The Jewish Faith.''The 'Records of Israel' was not well received by English Jews. These books published in America however were very successful and Grace received many letters of thanks and congratulation. Many of her poems were also published in America at this time. Her lasting popularity, however, came from her sentimental domestic novels which were mostly edited and published posthumously by her mother, Sarah Aguilar
Emanuel Aguilar, her eldest brother, was fast becoming a talented musician and pianist and was sent to Germany for tuition. In 1843, Henry, her younger brother, left home to go to sea on a West Indiaman at the age of sixteen. Later, whilst Second Master, Navigating Officer, on H.M. Gunboat 'Grappler,' his name was adopted by Capt. Richards' chart of 1861, who named 'Aguilar Point,' at Barkley Sound, on the west coast of Canada after him.
The family had now returned to London following their stay in Devon and were living at 5, The Triangle, Hackney, London.
On 18th January 1845, Grace's father (Emanuel Aguilar) died of consumption in Grace's arms. Henry returned home from sea soon after his fathers death and decided never to go to sea again. Henry attempted with great difficulty to obtain a job in the City. Grace's health was now considerably worse. Around this time, Grace and her mother Sarah Aguilar moved to 1, Clarence Place, Clapton Square, Clapton (between November 1844 and September 1845) After her father's death, Grace wrote for a profession, publishing her controversial attack on the formality of contemporary religion, The Spirit of Judaism, in 1842, followed by a more popular work, The Jewish Faith, 1845.
Much of Grace's popularity in America was due to the philanthropist Miriam Moses Cohen who acted as an agent for her publications in America. There was much correspondence between the two, but April 2, 1846, the last letter was sent. Toward the end of January 1847, Grace went to to a friend in Peckhamfor her health as a change of air was recommended. During this time she had difficulty speaking and swallowing; her doctors advised her to rest and she was not allowed to write. She had planned to write 'Men of Israel.'
Grace's last publication was an article for Chambers called 'History of the English Jews.' Following it's writing, Grace was persuaded by her musician brother, Emanuel, to visit Frankfurt, to consult an eminent German Physician. Emanuel returned to England to accompany his family to Germany. On the June 17, 1847, Emanuel, Grace, their mother Sarah and a friend of Grace, a Miss Samuelson, left to catch the steamer 'Sir Edward Banks' at Blackwall for Ostend.
The family journey through Belgian to Germany is documented in Grace's Frankfort Journal of 34,000 words, which has recently been transcribed by Michael Galchinsky. During her stay in Germany, Grace became weaker and weaker, with depression and intense headaches. The last entry in her Frankfort journal was made on July 29, 1847. After sxi weeks she was advised to go to the spa at Schwalbach, where she stayed for three weeks. The spa had no remedial effect and she returned to Frankfurt for the final three weeks of her life. She died in Frankfurt on September 16, 1847, and was buried in the Jewish cemetery there. On her gravestone were carved five stars representing her faith and a butterfly.
Dr. Daniel A. Harris,* Bildner Center for the Study of Jewish Life; Professor of English & Jewish Studies, Rutgers Univ., New Brunswick NJ wrote:
Popular as a novelist, important as a theologian, but ignored as a poet: an English Jew of Sephardic extraction fixated on themes of exile and as similation at just the point that British Jews were seeking full civil rights, Aguilar is the first Anglo-Jew to write midrashic poems about Hebrew characters. She is also among the first to jump the boundaries of Victorian women's 'domestic sphere' to write explicitly political poetry. Her work is vigorous, stark, subtle in its critique of British Christian culture. Some of her most powerful work is clearly proto-Zionist.
Michael Galchinsky. Ph.D., Associate Professor 19th Century British Literature, Cultural Studies, Jewish Studies and Narrative Theory at Georgia State University, wrote:
Modern Jewish Women's Dilemmas, Grace Aguilar's Bargains' argues that Victorian Jewish women were the first Jewish women anywhere in the world to begin publishing books in a thoroughgoing way. Grace Aguilar, by far the most prominent spokesperson for English Jews during the period, attempted to strike bargains, both with Christians, and with Jewish men. If Christians would tolerate Jews, Aguilar agreed that Jews would keep their different practices within the domestic sphere. Similarly, if Jewish men would provide women in the community with the education they lacked, women would agree to restrict their use of this education to training children in the home. Aguilar's bargains, articulated in romances, domestic fictions, and midrashim, enabled her to break centuries' old exemptions on women's participating in the intellectual life of the Jewish community, and enabled her to create a new Jewish novelistic from scratch.
Short Writings
A Vision of Jerusalem (February 1844)
Amete &Yafeh
An Hour of Peace (September 1843)
An Infant's Smile (1842)
Angels (March 1844)
Communings With Nature - Address to the Ocean (October 1847)
Communings With Nature - Autumn Leaves (November 1844)
Communings With Nature - Autumn Winds (January 1846)
Communings With Nature -The Evergreen (May 1846)
Communings With Nature - Night (April 1844)
Communings With Nature - Ocean (May 1845)
Dialogue Stanzas (Purim - August 1845)
Funeral Hymn (July 1844)
Hymn to Summer (August 1842)
'I Never Loved a Flower' (December 1844)
Memory and Hope (September 1845)
Ode on Charity (1840)
Past, Present and Future (1842)
Sabbath Thoughts (August 1843)
Sabbath Thoughts II (January 1844)
Sabbath Thoughts III (June 1844)
Sabbath Thoughts IV (1839)
Sabbath Thoughts V (1841)
Sabbath Thoughts VI (1847)
Song of the Spanish Jews (September 1843)
The Chamber of the Dying (May 1843)
The Hebrew's Appeal (January 1844)
The Importance of Religion to Genius (1839)
The Jewish Year: Sabbath Bereshith (1847)
The Jewish Year: Sabbath Noah (1847)
The Rocks of Elim (1840)
The Wanderers (1838)
The Widow (March 1846)
---
Sources: Grace Aguilar Info © Michael Dugdale - Aguilar Papers 2000.