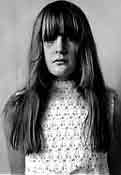 Diane Arbus was born, to a wealthy Jewish family, in 1923. David Nemerov, her father, was the hard-working son of a Russian immigrant; her mother Gertrude was the daughter of the owners of Russek's Fur Store. After the marriage, David helped manage Russek's, and oversaw its transformation into a department store, Russek's of Fifth Avenue, which specialized in furs. His interest, however, was in women's clothing, and he was said to have an extraordinary intuition for what the next trend in women's fashion would be.

Diane (pronounced Dee-Ann ) was a privileged child, raised with her two siblings in large apartments on Central Park West and Park Avenue. She later told Studs Terkel, for his Hard Times: An Oral History of the Depression , "I grew up feeling immune and exempt from circumstance. One of the things I suffered from was that I never felt adversity. I was confirmed in a sense of unreality."

The wealth was complicated, as it often is, by distant parents: her father was kept away by work and her mother by depression. She was loved more than she was known. In her New Yorker review of two new Arbus exhibits -- Family Albums , at the Mount Holyoke College Museum of Art, and Revealed , at the San Francisco Museum of Modern Art -- Judith Thurman writes of Arbus, "Her heritage was, in fact, that of most artistic children of privilege, who feel that their true selves are invisible, while resenting the dutiful, false selves for which they are loved: a dilemma that inspires the quest, in whatever medium, for a reflection."

She was luminous, with large green eyes, a delicate, exotic face and a slim body. And she was, writes Thurman, "nubile" (almost every published photo of her has a sexual charge to it). All kinds of people were captivated by her, and she was captivated by all kinds of people.

At the age of 13, she met Allan Arbus, an employee in the advertising department of her parents' store, and they married, with her parents' grudging assent, after she turned 18. After the war, during which Allan studied photography in the New Jersey Signal Corps, the couple supported themselves, and daughters Doon and Yolanda, as fashion photographers (the family money, somehow, never materialized for Arbus as an adult).

Though the work was divided along traditional gender roles, with Allan at the camera and Diane as the stylist/art director, they had a supportive relationship. Allan gave Diane her first camera, and they took equal credit on their published photos. In 1956, a year after a photo of theirs was included in curator Edward Steichen's massive Family of Man exhibition at the Museum of Modern Art (MOMA), Allan supported her decision to leave the fashion business to him to pursue her own interests.

The professional separation was followed, in 1959, by a marital separation. They remained close friends, however, and his laboratory assistants developed her film until, in 1969, he re-married and moved to California to become an actor (he played psychiatrist Dr. Sidney Freedman on M.A.S.H. ). The fraying of their marriage, though difficult for her, coincided with an efflorescence in her art. "I always felt that it was our separation that made her a photographer," Allan recently told the New York Times . "I couldn't have stood for her going to the places she did. She'd go to bars on the Bowery and to people's houses. I would have been horrified."

As important to her evolution was a class she took with Lisette Model, a European émigree and photographer who encouraged Arbus, on the one hand, to push further into her thematic interest in unorthodoxy, and, on the other hand, to master the conventional technical aspects of photography.

By the early '60s, her commercial portraits, for magazines such as Esquire and Harper's Bazaar , began to assume a distinctive look. Though taken of mainly traditional subjects -- actors, writers, activists -- they were strange and obscurely troubling. She would spend hours with her subjects, following them to their homes or offices, talking and listening to them, trying to soften them up to the point where they began to drop their public façade

"In nearly every case," writes Harold Hayes, one of her editors at Esquire , "her subject would be framed by his most natural, obvious setting ... and posed facing straight-eyed and unblinking toward the center of her camera lens, always with the same curious expression, as though seeking from the beholder some special understanding."

Her non-commercial work, for which she was awarded Guggenheim fellowships in 1963 and 1966, oriented toward the unfamous -- a couple on a park bench, a young Republican, identical twin girls -- and the marginal: dwarves, drag queens, circus performers.

In 1962, she met John Szarkowski, who had replaced Edward Steichen as the curator of photography at MOMA and brought with him a romantic, subjective aesthetic of photography: a visual counterpart to the New Journalism

of writers like Norman Mailer and Tom Wolfe. In 1967, Szarkowski featured Arbus in the movement's manifesto/exhibition, New Documents . That show, more than any other, established her reputation.

In July of 1971, at the age of 48, during a bout of depression, she committed suicide (pills and a razor blade). The following year, MOMA held a retrospective of her work; it became the most attended solo photography exhibition in its history, and the monograph that followed, edited by Doon Arbus and Marvin Israel, one of the best-selling art books in history.

The images, from the retrospective and the monograph, have seeped into the public consciousness. Her depictions of suburban ennui and shriveled post-celebrity have become archetypal. Photos such as "Identical Twins," "A young man in curlers," and "A Jewish giant at home with his parents," along with a number of the untitled photos she took at institutions for the severely retarded, are as recognizable in themselves as, for instance, Walker Evans' pictures of poor Southern sharecroppers from Let Us Now Praise Famous Men . Like Evans, who was a friend and influence, her style has been prodigiously imitated.

Arbus continues to fascinate, thirty years later, for a number of complementary reasons. The photos are amazing to look at, startling even now, when images of the downtrodden and the marginal have become the common property of advertisements and movies. And they are formally innovative, marrying the conventions of 19th century portrait photography --face-front, amongst one's things, subject in collaboration with photographer -- to the seamy concerns of the 1960s.

Her story, also, fits the popular '60s template of the romantic, tragic, brilliant, unconventional, tortured artist -- Sylvia Plath, Janis Joplin, Jim Morrison, Jimi Hendrix -- who was too beautiful to survive in the fallen world.

Finally, there is the question, both implicit in her photographs and central to her biography: Why did they let her do this to them? Why did the transvestite bring her home to his apartment and allow her to expose his un-normalcy -- what at the time would have been called deviancy -- to the world? Why did the institutions allow her access to the retarded under their care, and to what extent could the retarded have given consent? Did the "normal" people she photographed know that she would catch them precisely at the moment when, for whatever reason, they looked most freakish?

Arbus, perhaps more than any other photographer before and after, forces us to question the morality of photography. What is it that we're doing when we take a picture, and what gives us the right? In 1973, Susan Sontag, whom Arbus had once photographed, wrote what is still the most-cited essay on Arbus, in which she accused her, essentially, of nihilism.

The essay, first published in the New York Review of Books , became the fulcrum of On Photography , a collection of essays that Sontag wrote, in part, to justify her fascination with and repulsion for Arbus, and in which she used Arbus to explore the politics of photography.

"The images that mobilize conscience," writes Sontag, "are always linked to a given historical situation. The more general they are, the less likely they are to be effective."

Photographs, writes Sontag, tend to diminish and atomize experience. They inure us, through repetition, to horror. They protect us, and distance us, from the valuable anxiety of unfamiliar places and situations. They misrepresent themselves as reality, as capturing the essence, in two dimensions, of a world that is four-dimensional (the fourth dimension, in particular, being slighted). "Photography," she writes, "implies that we know about the world if we accept it as the camera records it. But this is the opposite of understanding, which starts from not accepting the world as it looks."

Arbus' photos are for Sontag the worst kind of perpetrators of this fraud: unhistorical, unpolitical, unrealistic portraits that masquerade as precisely the opposite. Arbus' brilliance was to catch everybody unmasked, at the moment of transition between unconscious repose and practiced, social self-representation. People seemed to reveal, in that moment, their essential being, which was alienated and miserable (an Arbus photo, according to legend, revealed the misery of an otherwise happy-seeming woman soon before her suicide).

The shock of the photos is in part that they suggest to us that were Arbus standing before us with her camera, we wouldn't perform much better, and that therefore, perhaps, we're as miserable as the woman on the park bench, as freakish as the transvestite in curlers (who at least is aware of, and in dialogue with, his freakhood). "Arbus's photographs," writes Sontag, "undercut politics ... by suggesting a world in which everybody is alien, hopelessly isolated, immobilized in mechanical, crippled identities and relationships."

To Sontag, Arbus was a voyeur from the Upper West Side, a coddled depressive, a disillusioned fashion photographer, an emotional midget with an exquisite eye who sought out the marginal and the sensational because, in habituating herself to their horror, she hoped to numb her own pain. She is emblematic of the paradox of photography, that "a pseudo-familiarity with the horrible reinforces alienation, making one less able to react in real life." Arbus' suicide, from this perspective, becomes not a proof of her sincerity, as others have read it, but a consequence of her compulsive insincerity.

Arbus' photos are so undeniable in their effect that, even when the response is approving, it's expressed in similarly troubled terms. Janet Malcolm, whose The Journalist and the Murderer is the definitive meditation on the parasitic relationship between an artist and her subject, describes Arbus, in Diana & Nikon , as "a straight woman from a rich Jewish family that made its money in fur [who] has penetrated a sordid closed world and, through her journalist's too-niceness, become privy to its exciting and pathetic secrets."

Whereas for Sontag, Arbus' photos dissolve the difference between misery and normality, and thus blunt our compassion for the miserable, for Malcolm Arbus exacerbates the difference, exposes what the well-fed and well-formed feel, but loathe to acknowledge, when confronted with physical and emotional deformity.

"In photographing the retarded," Malcolm writes, "[Arbus] waits for the moment of fullest expression of disability: she shows people who are slack-jawed, vacant, drooling, uncoordinated, uncontrolled, demented-looking. She does not flinch from the truth that difference is different, and therefore frightening, threatening, disgusting. She does not put herself above us -- she implicates herself in the accusation."

Arbus herself, so far as we know, didn't like to describe her art in moral terms. She was, depending on your level of skepticism, earnest or calculatingly naïve in admitting the selfishness of her motives. She photographed what she did, she said, because that was what interested her, and because nobody else was.

"Freaks was a thing I photographed a lot," she wrote. "It was one of the first things I photographed and it had a terrific kind of excitement for me. I just used to adore them. I still do adore some of them. I don't quite mean they're my best friends but they made me feel a mixture of shame and awe. There's a quality of legend about freaks. Like a person in a fairy tale who stops you and demands that you answer a riddle. Most people go through life dreading they'll have a traumatic experience. Freaks were born with their trauma. They've already passed their test in life. They're aristocrats."

Arbus is remembered as a chronicler of freaks -- because that's how she cast herself, and because her suicide casts a garish shadow back on what we presume, maybe too easily, was the freakishness of her inner life. And because it's still, all these years later, easier to contemplate who she was than it is to step behind her lens and contemplate the people she photographed.
---
Sources: The Valley Advocate - Reprinted with the permission of the author, Daniel Oppenheimer