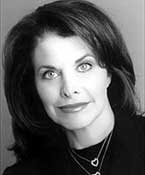 Sherry Lansing is a Jewish American actress and former film studio executive. She was the first woman to head a major Hollywood studio.
Born Sherry Lee Heimann on July 31, 1944, in Chicago, IL, this Northwestern University alumnus is President of Paramount Communications and Chairman of Paramount Pictures' Motion Picture Group. Lansing began her Hollywood career as an actress, appearing in "Loving" and "Rio Lobo" in 1970. She gave up acting and joined Talent Associates as an executive in charge of development in 1974. Three years later, Lansing was appointed vice president in charge of production at Columbia, where her stewardship over hit films such as the Oscar-winning "Kramer vs. Kramer" catapulted her in 1980 into the presidency of 20th Century-Fox -- the first woman ever to hold such a position.
Preferring the hands-on role of a producer, Lansing and Stanley Jaffe formed the independent production company Jaffe-Lansing in 1984. As a producer, her credits include: "Indecent Proposal" (1993), "School Ties" (1992), "Black Rain" (1989), "The Accused" (1988), "Fatal Attraction" (1987 - for which she and Jaffe were nominated for a "Best Picture" Oscar), and "Firstborn" (1984).
After Jaffe left to become president of Paramount Pictures in 1990, she became chairman of Paramount Pictures Motion Picture Group. During her tenure, she has been responsible for many of the studio's biggest hits, including Oscar-winning Best Picture "Forrest Gump" (1994).
In 2002, the Hollywood Reporter named Lansing the most powerful woman in the entertainment business.
---
Sources: The Jerusalem Report, (November 4, 2002), Yahoo Movies, and Hollywood.com