Jessica Ulrika Meir was born and raised in Caribou, Maine, to a Swedish mother who was a nurse and an Israeli father of Iraqi-Jewish descent, who worked as a physician after fighting in Israel's War of Independence. Although her mother did not convert, Jessica says, "We considered ourselves a Jewish family. We're not overly religious, but we celebrated high holidays. There was no synagogue in Caribou, so we went to the one seven miles away in Presque Isle, where I had my bat mitzvah."
She was inspired to venture into space after watching the Space Shuttle missions on television. Meir knew no one who worked for NASA or for the space program. She attributes her abiding dream of personally participating in space exploration to the love of nature she learned from her mother, and from her father's predilection for wandering and adventure. "And it might have had something to do with the fact that the stars shone so brightly in rural Maine," Meir added.
Education
At the age of 13, Meir attended a youth space camp at Purdue University. During her undergraduate biology studies at Brown University, she also spent a semester in a study abroad program in Stockholm and ran a student experiment on a NASA reduced gravity aircraft "vomit comet" in her senior year. Meir graduated from Brown in 1999 with a Bachelor of Arts Degree in Biology, with Honors, magna cum laude. In 2000, Meir graduated with a Master of Space Studies from the International Space University in Strasbourg, France.
Research
From 2000 to 2003, Meir worked for Lockheed Martin's Human Research Facility, supporting human physiology research. During this time, she coordinated and supported human space life science experiments that were performed by astronauts on Space Shuttle and International Space Station missions. These experiments included physiological studies (bone loss, muscle control/atrophy, lung function, etc.) to determine if any bodily processes were altered in the spaceflight environment. She also participated in research flights on NASA's reduced gravity aircraft and served as an aquanaut in an underwater habitat for NASA Extreme Environment Mission Operations (NEEMO) held in Aquarius, an undersea research laboratory four miles offshore from Key Largo. Meir and her crewmates spent five days saturation diving from the Aquarius habitat to simulate working under extreme environmental conditions.
Meir earned a Ph.D. in marine biology in 2009 from the Scripps Institution of Oceanography. She researched the diving physiology of marine mammals and birds, focusing on oxygen depletion in diving emperor penguins which she studied in the Antarctic and elephant seals which she observed in northern California.
She investigated the high‐flying bar-headed goose during her post‐doctoral research at the University of British Columbia, training geese to fly in a wind tunnel while obtaining various physiological measurements in reduced oxygen conditions.
In 2012, Meir accepted a position as Assistant Professor at the Harvard Medical School/Massachusetts General Hospital, where she continued her research on the physiology of animals in extreme environments. She also took part in Smithsonian Institution diving expeditions to the Antarctic and Belize and has been very active with scientific outreach efforts.
NASA Experience
In 2013, she took a leave of absence when she was one of eight people selected by NASA for Astronaut Group 21. Her Astronaut Candidate Training took two years. "You gain proficiency in five areas," she told the Times of Israel, "Flight training; how to use the space suit (training in the big pool); learning how to use the robotic arm that's on the ISS [International Space Station]; learning all the different space station systems on board (electric, thermal, life support, etc.,); and Russian language training, because everyone aboard the ISS must speak both English and Russian." There was also T38 flight training, and water and wilderness survival training. She completed training in July 2015.
The selection process for astronauts has changed now that missions have become much longer than the typical two-week shuttle missions. Meir says it takes a different profile to be in space for six months or more. "Aside from coming from a STEM background," she told the Times, "it is important for someone not only to stand out or be a leader in whatever their expertise is, but also to be quite well rounded. We need to be operators up there, and we need to be able to deal with a diverse set of tasks." She said she had the necessary "situational awareness skills to be able to operate in an extreme environment or fix things on the fly" from her prior research, such as "scuba diving under the Antarctic ice."
Meir said there is also more emphasis on personality in the selection process. "You may be good at what you do, but if you are not a pleasant and good person, you won't get selected anymore," she explained. "Being a good team player, having good skills in terms of leadership and followership, and knowing how to take care of yourself and others, are skills that are emphasized for these long duration missions."
In the astronaut office, Meir has extensive Mission Control Capsule Communicator (CapCom) experience, including serving as Lead CapCom for Expedition 47, the BEAM (Bigelow expandable module on the International Space Station) mission, and an HTV (Japanese Space Agency cargo vehicle) mission. She was also the ground IV (mission control communicator to spacewalking astronauts) for two space station spacewalks. She said, "It was the most interesting and dynamic thing — guiding the astronauts from the ground through the walk in space."
In 2016, Meir served as a crew member on the European Space Agency (ESA) CAVES space analog caving mission in Sardinia, Italy.
Meir launched to the International Space Station (ISS) on board Soyuz MS-15 on September 25, 2019, as a flight engineer for Expeditions 61 and 62. She brought with her an Israeli flag and a pair of socks with a menorah on them.
She was scheduled to perform three spacewalks during this mission to help install new lithium-ion batteries on the Port-6 truss structure of the ISS, although this schedule was later changed. Her first spacewalk, on October 18, 2019, performed alongside her colleague Christina Koch, required replacing a faulty Battery Charging Discharging Unit. The unit had unexpectedly failed to activate, preventing the station's newly installed lithium-ion batteries from providing additional power. The three other scheduled spacewalks scheduled to install the new batteries had to be postponed to perform this spacewalk.
The spacewalk lasted for seven hours and 17 minutes and was the first all-female spacewalk in history. During the spacewalk President Donald Trump called and spoke to the astronauts in recognition of the historical significance of this event.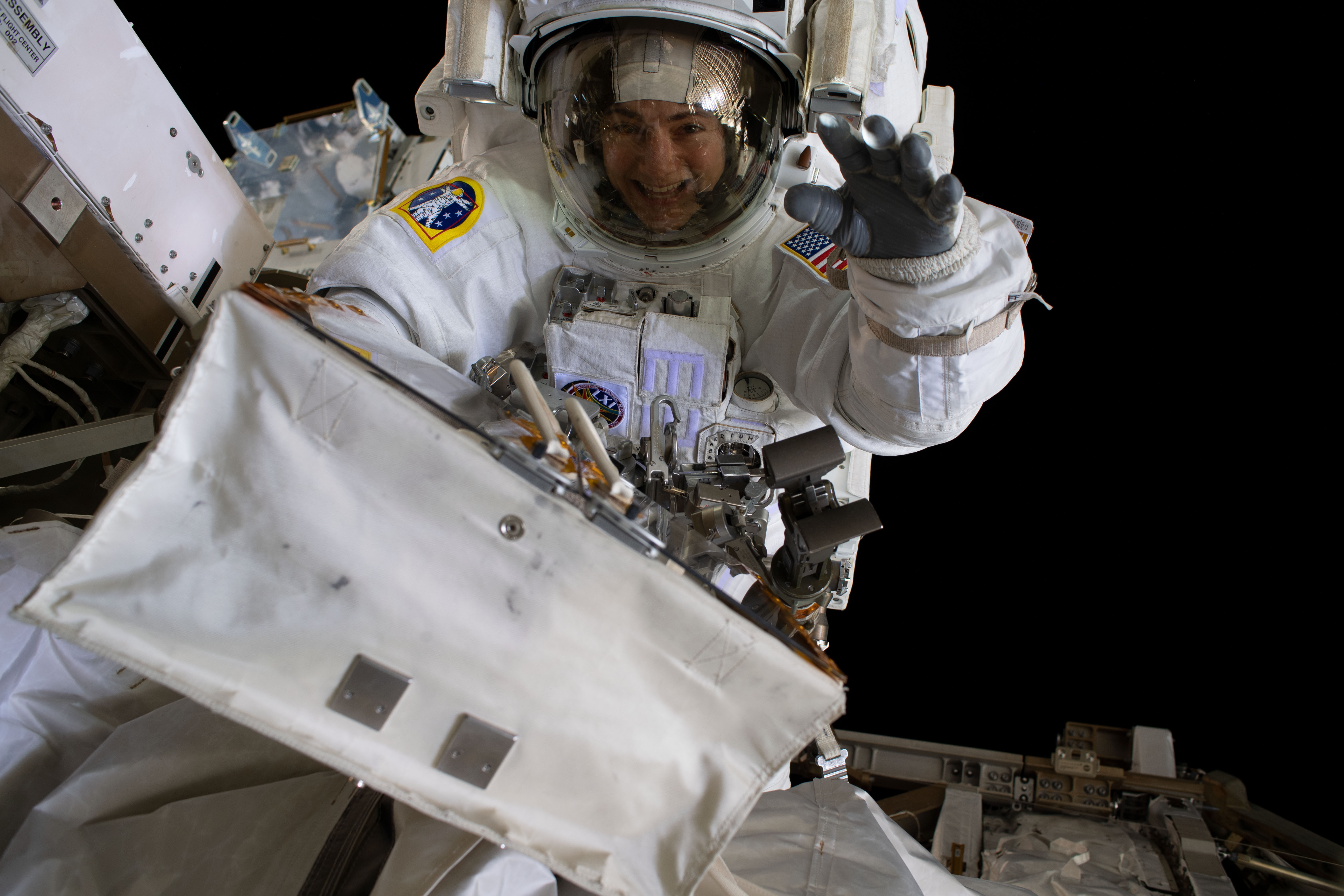 Jessica Meir waves at the camera during the first all-woman spacewalk
 with fellow astronaut Christina Koch (out of frame).
During her time on the space station, she posted a photo of Israel and tweeted a Chanukah greeting with a photo of her socks with the menorah.
As a dual citizen, Meir was the first Swedish female citizen to reach space.
During her stay in space, the COVID-19 outbreak occurred on earth.  In a video, she offered tips on how to stay mentally healthy in isolation. 
Meir returned to Earth on May 17, 2020, after spending 205 days in space. Beforehand, she said, "I think that I will actually feel more isolated on the Earth than I did up here because that's just part of our expected routine up here." She added, "We're so busy with so many other amazing pursuits and we have this incredible vantage point of the Earth below, that we don't really feel as much of that isolation."
Personal
Meir's father was born in Baghdad and his family moved to Palestine in 1931. He volunteered as an ambulance driver during Israel's War of Independence. He later went to medical school in Sweden where he met his wife. They moved to the United States so his father could take a residency at Johns Hopkins and ended up in Caribou after hearing about a job opportunity.
Meir says she didn't visit Israel enough as a child. "My dad used to always say we'd go when there's peace," she told the Times of Israel. "I encouraged him that we should go before that. I went once when I was in high school with my parents and my brother." She didn't get to return until 2016 when she gave a talk at the International Space University in Haifa.
Meir played flute, piccolo, and saxophone as a youth, and enjoys reading classical literature. Her recreational interests include skiing, hiking, running, cycling, soccer and SCUBA diving. She is a private pilot and is conversational in Swedish and Russian.
Awards/Honors
American Physiological Society Early Career Advocacy Science Policy Fellowship (2013)
National Science Foundation International Research Post-doctoral Fellowship (2009)
Philanthropic Educational Organization (PEO) Scholar Award (2008)
Achievement Rewards for College Scientists (ARCS) Fellowship (2006)
Department of Defense National Defense Science and Engineering Graduate (NDSEG) Fellowship (2003)
Lockheed Martin Space Operations (LMSO) Special Recognition Award (2002)
LMSO Employee of the Month (2002)
NASA JSC Space and Life Sciences Directorate Special Professional Achievement Award (2002)
Lockheed Martin Technology Services "Lightning Award" (2002)
Organizations
American Physiological Society
Society for Experimental Biology
Canadian Society of Zoologists
Society for Integrative and Comparative Biology
Adventurers and Scientists for Conservation.
---
Sources: "Jessica U. Meir (PH.D.) NASA Astronaut," NASA;
Renee Ghert-Zand, "No risk, no reward, says fearless Jewish astronaut Jessica Meir," Times of Israel, (June 1, 2018);
"Jessica Meir," Wikipedia;
Itamar Eichner, "Jewish-Swedish astronaut prepares for blast off with Israeli flag," Ynet, (May 12, 2019);
Marcy Oster, "'It will be very difficult to not to be able to give hugs,' astronaut Jessica Meir says as she prepares return to a changed Earth," JTA, (April 12, 202).
Photos: NASA.