Selma Cronan
(1913 - 2002)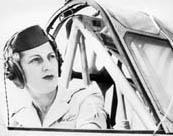 "From the time my mother took me on a two dollar airplane ride in Asbury Park, New Jersey in the 1920's, I fell in love with flying and I knew I was going to become a pilot someday," says Selma Kantor Cronan. She fulfilled her wish in 1943 when she was certified as a pilot. Since that time, Selma flew for the WASPs, for the Civil Air Patrol, in competitions and for the sheer pleasure of it. Fifty-five years later she still takes the controls from time to time.

In 1943 Selma was invited by Jacqueline Cochran, the legendary female aviation pioneer, to join the WASPs. The WASPs (Women's Airforce Service Pilots) were the first female aviators to fly for the United States. The military mission of the WASPs was to transport military personnel and cargo, to deliver new military aircraft, to fly tow targets, etc., all within the continental United States. Even though the WASPs flew military assignments, they were not officially recognized as military personnel until Congress passed a law more than 30 years later (in 1977) declaring them veterans of the U.S. military for all purposes.

After World War II, Selma's flying career really took off. She entered numerous flying competitions, among them three All Women's Transcontinental Air Races across the United States, better known as "Powder Puff Derbies."

In 1990, Selma attended an international conference of women fliers in Russia. Thirty former WASP pilots met with Russian women pilots who served in the Soviet Air Force in World War II. Known as the "Night Witches," many of these Russian women flew bombers on night raids against German targets.

The conference also included a visit to Kiev in the Ukraine. Kiev, practically an all-Jewish city prior to World War II, was virtually destroyed by the Germans. Selma placed a wreath at the memorial at Babi Yar, where 60,000 Jews were massacred. "This experience strengthened my identity as a Jew as nothing had before," Selma said.

Almost until her passing, Selma was active in women's flying associations, especially the International Association of Licensed Women Pilots. "Flying is easy; all you have to do is get the hang of it. I can't think of anything better than taking the controls and soaring into the sky like a bird with the earth down below."
---
Sources: Courtesy of the Jewish Women's Archives and Jewish War Veterans