Ethel Gladstone
(1896-1987)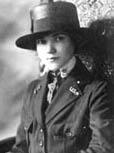 Born and raised in Chicago, Illinois, Ethel Gladstone graduated from West Side Hospital as a registered nurse in 1916. Following America's entry into World War I, Ethel joined the U.S. Army Nurse Corps in March 1918 and was immediately sent overseas as part of the Fifth Army Corps Expeditionary Force.
Reporting to duty at Evacuation Hospital Number 7, Ethel was charged with caring for the enormous casualties resulting from the Battle of St. Mihiel. Staying on active duty following the Allied victory in November 1918, Nurse Gladstone served with the Army of Occupation in Germany at Basse Hospital Number 7 until 1919.
After discharge, Ethel and the nursing staff at St. Mihiel were given a special commendation from Major General Summerall for bravery and devotion to duty. Ethel Gladstone passed away in 1987 at the age of 91 and is buried at the Quantico National Veterans Cemetery.
---
Sources: Jewish Women's Archives, Jewish War Veterans