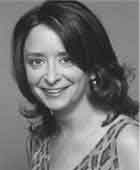 For most TV actors, having a successful series means many years of playing the same character, and often having to find new ways to keep it interesting for themselves and the audience. Rachel Dratch doesn't have that problem. In her four seasons on Saturday Night Live, Dratch has played teenagers and grandmas, a girl with no "gaydar," and served up spot-on impersonations of such pop culture icons as Kelly Osbourne and Calista Flockhart. Dratch has found the perfect outlet for her comedic talents, and even her targets agree. "Calista hosted the show and she was very nice about it," Dratch says about the star's reaction to her impersonation, and notes that she heard through the grapevine that Weakest Link host Anne Robinson reacted favorably to her portrayal. At various times in her SNL tenure, she has incisively imitated Drew Barrymore and kept up with the Joneses — Jenny and Paula (the latter on SNL's Presidential Bash in 2000.) But some of her favorites aren't famous, just fun.
There's Boston teen, Denise. "I love that because it's just like high school," says Dratch, who as a native of Lexington, Massachusetts has spent a lot of time in Beantown. And there's Sheldon, the junior high school boy in the "Wake Up Wakefield" skits. And the distaff half of the oversexed "Luvahs," which, to her regret, had to be retired when sketch partner Will Ferrell left the show last spring. "I liked it because it was so weird and gross and outrageous," Dratch says.
Having joined the SNL company in 1999 as a featured player, Dratch moved up to cast member in 2001. "I feel that every year you get more comfortable there," she notes, adding that the cast, particularly the women, "all hang out. We're all buddies and talk in our spare time." That's not surprising, particularly since she and Tina Fey, SNL's "Weekend Update" co-anchor and head writer, have been friends since their Second City days in Chicago. Dratch moved there after her 1988 graduation from Dartmouth, where she majored in theater and psychology.
Dratch, Fey, cast mate Horatio Sanz, and SNL alumni John Belushi, Chris Farley and Bill Murray all honed their comedy chops on Second City's stage. "It was the best; it was a great training ground," raves Dratch. "You're up in front of a live audience almost every night, improvising." She and Fey worked together often, teaming up for their own show there (and later restaging it at the Upright Citizens Brigade in New York). Fey joined SNL as a writer in 1997, and, Dratch believes, "I'm sure it helped that I got recommended by her."
These days, she and Fey collaborate on characters and skits for the New York-based program, which won a 2002 Emmy award for outstanding writing. "Some of the sketches are written only by the writers. The actors generate their own characters and write their own stuff or co-write. I write with Tina a lot," Dratch explains, pointing out the fact that given such a large ensemble cast of players angling for airtime, there's plenty of incentive to use your imagination. "You just have to keep putting your energy into creating your own characters," she says, naming SNL legend Gilda Radner, Lily Tomlin and Carol Burnett as her comic heroes.
Dratch started in a comedic environment early on. "Yeah, I was the class clown type," she acknowledges. "I grew up with this group of funny girls. All my friends at home are funny. I didn't think that I was any funnier than any of my friends. But I was also interested in theater and school plays. I had both interests."
Raised in a Reform Jewish family, Dratch did have a Bat Mitzvah but doesn't consider herself to be observant. "It's more a heritage thing, I guess," she says of her relationship to her roots. Her SNL reper-toire has included only one Jewish character to date, "an older lady named Mrs. Rosenberg. It's kind of hard to do a Jewish character these days because everyone's seen it. Everyone has a Jewish character," she muses. "You have to come up with something else about the character, so they just happen to be Jewish and it's not just a stereotype."
The latter might be said of the character Dratch plays in one of the three movies Dratch shot during her break last spring and summer, but it's intentional. She plays Tikva, a nasal-voiced, nail-filing Long Island secretary to the title character in The Hebrew Hammer, a spoofy comedy in which Adam Goldberg plays an Orthodox Jewish hero who's hired by the Jewish Defense League to stop an evil Santa bent on eradicating Hanukkah. "It's a Jewish James Bond thing," describes Dratch. "It's pretty funny."
Ironically, Dratch plays secretaries in the other two films as well. Down With Love, a romantic comedy starring Renee Zellweger and Ewan McGregor as a columnist and a journalist respectively, is "kind of a '60s Doris Day movie, that style," according to Dratch. It also stars David Hyde Pierce and Tony Randall.
Dratch's third trip to the secretarial pool comes courtesy of Dickie Roberts: Former Child Star, in which she plays Rob Reiner's assistant. Reiner is one of many celebs who make cameo appearances as themselves in the movie, which stars David Spade in the title role and is tentatively set for release in October. "They're all tiny little parts," Dratch remarks. She also plays a small role in the yet-to-be-released After School Special, a comedy about a trio of high school kids who endeavor to make their own porno movie.
Well aware that female lead roles in major motion pictures usually go to the likes of Julia Roberts, Dratch nevertheless remains optimistic about her film future. "You can have the 'dumpy guy' film star, but you can't really have the 'dumpy woman' film star. Hopefully, through writing, we can empower ourselves as movie stars, but I don't know," she says.
Dratch appeared in theater productions at Dartmouth, where she joined the Said and Done improv troupe in her sophomore year. She wrote, directed and performed The Vagina Monologues, which premiered at the New York Comedy Film Festival in 2001, and has appeared in guest roles on the television series Kim Possible, The King of Queens and Third Watch. She also impersonated Dolly Parton on VH1 Divas Live in 2001. The next step for her is developing her own projects. "I have a couple of ideas," she says eagerly, but without elaborating. Perhaps she could draw on past experiences working with chizophrenic patients at a mental health center or dressing up as Tweety Bird at a mall, two of several jobs she held to support her Second City endeavors in Chicago.
Dratch briefly lived in Los Angeles between Second City and SNL and has returned to Hollywood to work on films, but is quite happy that her current job allows her to live in New York, where she enjoys going to restaurants in her spare time. Asked about the future, she is unable to predict how long her tenure on the long-running series might last. "I haven't thought about that much; I can't think that far ahead," she says. "I still feel kind of new. I'm still trying to get more characters on."
---
Sources: Lifestyles