Allyson Schwartz
(1948 - )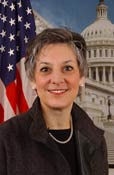 U.S. Representative Allyson Y. Schwartz was born in Queens, Queens County, N.Y., on October 3, 1948. She graduated from the Calhoun School, New York, N.Y., in 1966 and went on for a B.A. at Simmons College. She received an M.S.W. from Bryn Mawr College in 1972.
Schwartz served as a health care administrator and was a member of the Pennsylvania state senate from 1991-2004. She was an unsuccessful candidate for the United States Senate in 2000. In 2004, she was elected to the House of Representatives from the 13th Congressional district of Pennsylvania, which includes parts of Northeast Philadelphia and Montgomery County. In 2014 she decided not to run for re-election, but to run for Governor of Pennsylvania against incumbent Governor Tom Corbett.  She was defeated by Tom Wolf in the Democratic primary. 
Schwartz serves on the Budget Committee and the Transportation and Infrastructure Committee, where she serves on two subcommittees: Highways, Transit and Pipelines and Water Resources and Environment.
Schwartz first ran for elected office in 1990 when she was elected to Pennsylvania State Senate's 4th district seat. During her four terms in the state Senate, Schwartz was known as leader for working families. Schwarz served as the Democratic chair of the Senate Education Committee from 1995-2004 where she was a vocal advocate for public education.
While serving in the Pennsylvania State Senate, Schwartz led the effort to create the Children's Health Insurance Program (CHIP). The Pennsylvania CHIP program has been nationally heralded as a model program to cover children with health insurance. Today in Pennsylvania 150,000 children of middle and working class families have access to health insurance because of CHIP.
Schwartz resides in Jenkintown, Pennsylvania with her husband David, a Philadelphia cardiologist. They are the parents of two sons, Daniel and Jordan.
---
Sources: Congresswoman Allyson Y. Schwartz; Biographical Directory of the United States Congress. Photo from Rep. Schwartz web page.