Elizabeth Holtzman
(1941 - )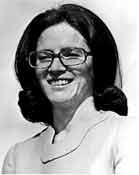 Elizabeth Holtzman is a Jewish American politician and former member of the U.S. House of Representatives.
Holtzman was born on August 11, 1941 in Brooklyn, New York. She received her B.A. from Radcliffe College in 1962 and earned her J.D. from Harvard Law School in 1965. She was admitted to the New York bar in 1966 and commenced practice in New York City.
From 1969 to 1970, Holtzman was assistant to Mayor John V. Lindsay and from 1970 to 1972 she served as Democratic State committeewoman and district leader. In 1972, she founded the Brooklyn Women's Political Caucus.
In November 1972, Holtzman was elected as a Democrat to represent New York's 16th district in the U.S. House of Representatives. She was subsequently re-elected to the three succeeding Congresses and served until January 1981. In 1980, she decided to seek election the U.S. Senate but ultimately lost in the general election to Al D'Amato.
From 1981 to 1990, Holtzman served as district attorney of Kings County, New York and from 1990 to 1994 she was New York City comptroller. In 1992, she lost in the Democratic primaries in a bid to secure the nomination to run for the Senate again.
Holtzman was a public member of the long running Nazi War Crimes and Japanese Imperial Government Records Interagency Working Group (IWG), a commission established by a 1998 act of Congress to locate, identify, inventory, and recommend for declassification, currently classified U.S. records relating to Nazi war crimes. 
---
Sources: Biographical Directory of the United States Congress; Wikipedia