Marjorie Margolies
(1942 - )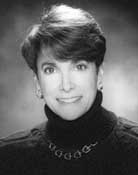 Marjorie Margolies (formerly Margolies-Mezvinsky) is a Jewish American professor and politician who formery served in the U.S. House of Representatives.
Margolies (born June 21, 1942) was born in Philadelphia and graduated from the University of Pennsyvania in 1963. From 1967 to 1990, Margolies worked as a broadcast journalist, winning five Emmy Awards for her work.
In 1992, Margolies ran for an open seat in Congress from Pennsylvania's 13th district and defeated her Republican challenger in the general election. In 1994, Margolies lost in her first re-election bid.
After her term in Congress, Margolies was the Chair of the National Women's Business Council and the Director and Deputy Chair of the United States delegation to the United Nations Fourth World Conference on Women in 1995.

She currently serves as the founder and chair of Women's Campaign International (WCI), a group that provides advocacy training for women throughout the world. She is also a professor at the Fels Institute of Government at the University of Pennsylvania.
---
Sources: Biographical Directory of the United States Congress; Wikipedia