Hannah Rovina
(1888 - 1980)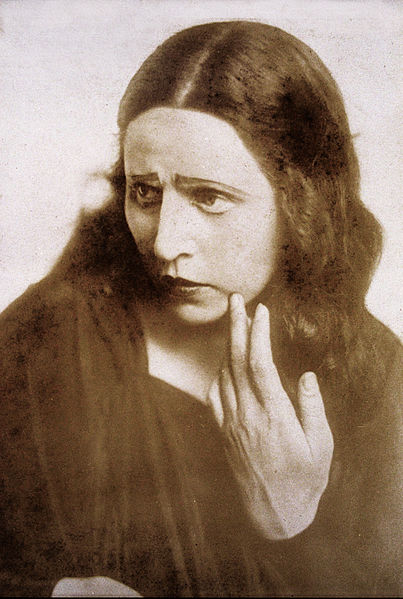 Hannah Rovina, known as "the First Lady of Israeli Theater," was born on September 15, 1888, in modern day Belarus. She trained in school as a kindergarten teacher. In 1917 she left her teaching job in Azerbaijan, and joined a Hebrew theatrical studio in Moscow which was to form the basis of Habimah. Rovina thus became one of Habimah's founding members. Her role as Leah in An-ski's The Dybbuk in 1922 earned her a reputation as a leading actress, renown which increased as she toured Europe and the United States with Habimah. Rovina reprised her role in The Dybbuk in every revival of the play until 1957. A picture of her from The Dybbuk became one of Habimah's key publicity photos.

Rovina quit Habima in 1925 and moved to Eretz Yisrael, where her work in the theater established her reputation as Israel's leading actress. She became pregnant and after her husband, Moshe Halevi, denied paternity, she divorced him and returned to Moscow soon after. She returned to Israel in 1928, where she rejoined the Habima theater group and had an affair with the married Zionist leader Chaim Weizmann.

Known for her deep voice, regal carriage, and impressive performances, she was famous in the international theater community as well. Her range of performances spanned Hebrew productions, Shakespeare, and classical plays. Memorable roles by Rovina also include several mothers, as in the mother of the Messiah in Pinsky's The Eternal Jew; the title role of Brecht's Mother Courage; and Jocasta in Sophocles' Oedipus the King.

Rovina was awarded the Israel Prize in 1956 for her contribution to Israeli theater.

Her final role was in 1976 as the Queen Mother in Shakespeare's "Richard III," at age 88. Rovina died at 91 years old on February 3, 1980.
---
Sources: The Pedagogic Center, The Department for Jewish Zionist Education, The Jewish Agency for Israel, (c) 1997, 1998, 1999, 2000, Director: Dr. Motti Friedman, Webmaster: Esther Carciente;
Green, David. "This Day in Jewish History 1980: A Woman Who Thought What Moscow Needed Is Hebrew Theater Dies," Haaretz (February 3, 2016)