Ruth Bader Ginsburg
(1933 - 2020)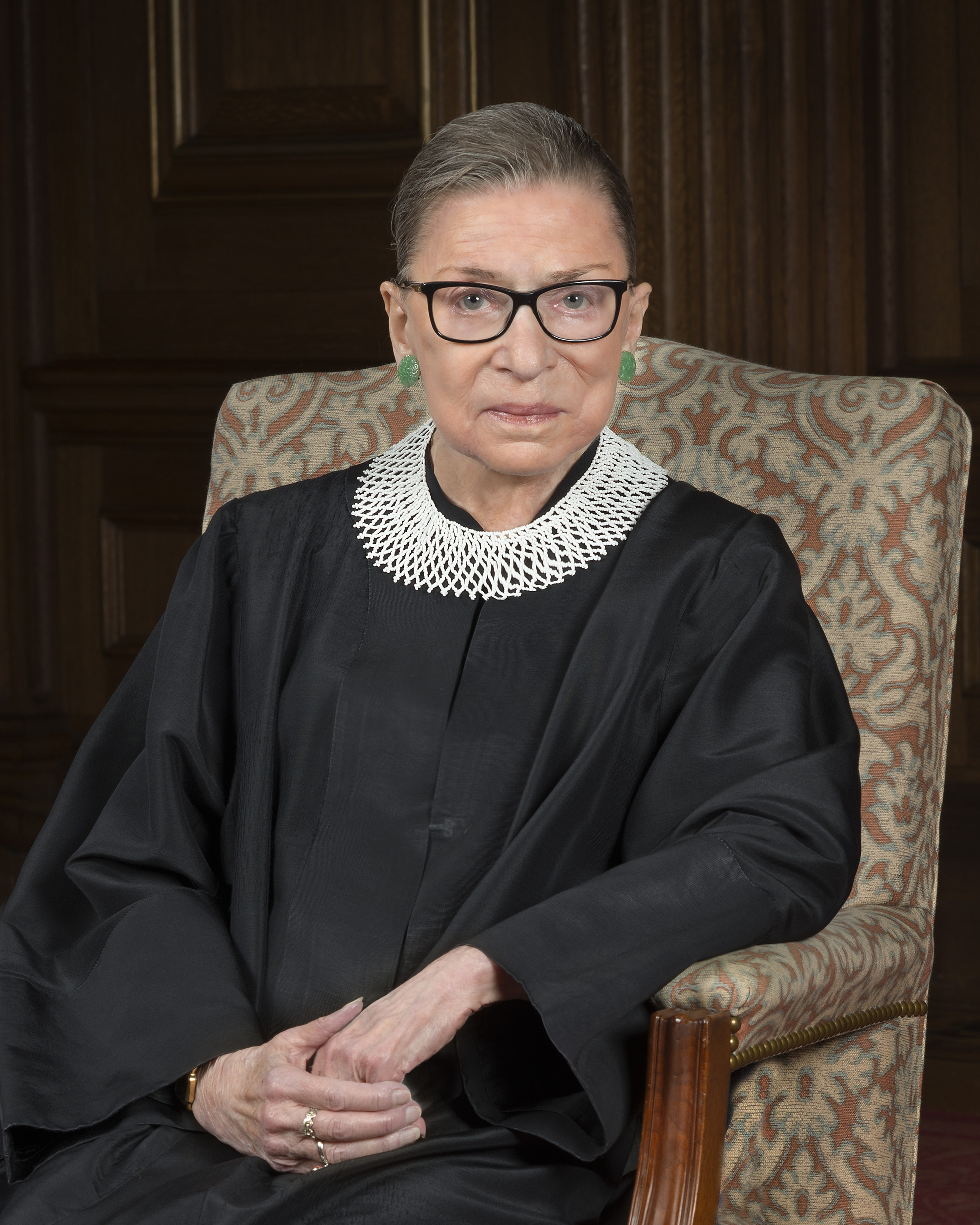 When Ruth Bader Ginsburg was sworn in as the 107th justice to the United States Supreme Court on August 10, 1993, she became the second woman to sit on this court (Sandra Day O'Connor was the first), the first Jewish justice since 1969, and the first female Jewish justice.
She was born on March 15, 1933, the daughter of Celia and Nathan Bader, in Brooklyn, New York. Nathan Bader was a furrier and came to the United States from Russia when he was 13. During her 1993 Senate confirmation hearings, Ginsburg said her father's family came to America partly because Jews were not allowed to attend high school in the part of Russia he came from.
Her mother, Celia, was born in the United States and had a strong passion for reading, language and the love of books. Ruth Bader was one of two daughters; her older sister, Marilyn, died of meningitis and she was reared as an only child.
She was an excellent student in school, graduating at the top of her class in grammar school and proving herself an academic leader in high school. She was confirmed with honors from the East Midwood Jewish Center. Bader was very active in high school where she played the cello in the orchestra, was a member of Arista, was a cheerleader and a baton twirler and the editor of her high school newspaper. Her mother died the day before she was to graduate from James Madison High School.
Following high school, she received a New York State scholarship and studied at Cornell University where she worked as a research assistant for Professor Robert E. Cushman, which was where she first became interested in law. She also credits Professor Vladimir Nabokov for continuing her interest in words and writing; skills that would later be useful as a lawyer.
After earning her B.A. degree in government from Cornell in 1954, she married Martin D. Ginsburg, who had graduated Cornell the year before. He was called for military service the same year and they lived at Fort Sill, Oklahoma for two years. It was during this period that Ruth Ginsburg experienced sex discrimination.
She applied for a job with the local social security office while she was pregnant. She was appointed to a position and when she told them that she was pregnant, they demoted her three levels in pay. Another woman, who was appointed and never told them of her pregnancy, received no pay reduction.
After her husband completed his military service, they moved to Cambridge, Massachusetts, where they both enrolled in Harvard Law School. She transferred to Columbia Law School after her husband graduated Harvard Law School. In 1959, she earned her law degree and tied for first in her class.
Following her graduation, she experienced gender discrimination but, in part due to the recommendations of male lawyers, she was hired as a clerk for Federal District Judge Edward L. Palmieri after being rejected for a position with Supreme Court Justice Felix Frankfurter. From 1961 to 1963, Ginsburg was a research associate and then an associate director of the Columbia Law School Project on International Procedure; she learned Swedish to co-author a book with Anders Bruzelius on civil procedure in Sweden.
In 1963, Ginsburg became the second woman to join the faculty of Rutgers Law School and was told she would be paid less than her male colleagues because she had a husband with a well-paid job. At the time Ginsburg entered academia, she was one of fewer than 20 female law professors in the United States. She taught from1963 to 1972, receiving tenure in 1969.
In 1970, she co-founded the Women's Rights Law Reporter, the first law journal in the U.S. to focus exclusively on women's rights. From 1972 to 1980, she taught at Columbia, where she became the first tenured woman and co-authored the first law school casebook on sex discrimination. She also spent a year as a fellow of the Center for Advanced Study in the Behavioral Sciences at Stanford University from 1977 to 1978.
In 1972, Ginsburg co-founded the Women's Rights Project at the American Civil Liberties Union (ACLU) and, in 1973, became the Project's general counsel. She argued six gender discrimination cases before the Supreme Court between 1973 and 1976, winning five. Rather than asking the court to end all gender discrimination at once, Ginsburg charted a strategic course, taking aim at specific discriminatory statutes and building on each successive victory. She chose plaintiffs carefully, at times picking male plaintiffs to demonstrate that gender discrimination was harmful to both men and women.
During a Senate hearing, she explained her own experience with discrimination:
Senator Kennedy, I am alert to discrimination. I grew up during World War II in a Jewish family. I have memories as a child, even before the war, of being in a car with my parents and passing a place in [Pennsylvania], a resort with a sign out in front that read: "No dogs or Jews allowed." Signs of that kind existed in this country during my childhood. One couldn't help but be sensitive to discrimination living as a Jew in America at the time of World War II.
Ginsburg was nominated by President Jimmy Carter to the United States Court of Appeal for the District of Columbia. She was sworn in on June 30, 1980, and served for thirteen years.
President Bill Clinton was confronted with a vacancy on the Supreme Court after Judge Byron R. White resigned. After three months of searching for a candidate, he nominated Ginsburg. Her nomination was approved by the Senate 96-3 and was sworn in on August 10, 1993.
Legal scholar Cass Sunstein has characterized Ginsburg as a "rational minimalist," a jurist who seeks to build cautiously on precedent rather than pushing the Constitution towards her own vision. She is also considered one of four liberal justices. On the controversial issue of abortion, for example, she has argued that "the government has no business making that choice for a woman."
Despite having profound ideological difference, Ginsburg became good friends with her more conservative colleague, Antonin Scalia, with whom she shared a love of opera.
In 2016, she published, My Own Words, which became a best seller.
Ginsburg has been referred to as a "pop culture icon." Her profile began to rise after Sandra Day O'Connor's retirement in 2006 left Ginsburg as the only serving female justice. Her fiery dissents led to the creation of the Notorious R.B.G. Tumblr and Internet meme comparing the justice to rapper The Notorious B.I.G.
Additionally, Ginsburg's pop culture appeal has inspired nail art, Halloween costumes, a bobblehead doll, tattoos, t-shirts, coffee mugs, and a children's coloring book among other things. She appears in both a comic opera and a workout book. Ginsburg has admitted to having a "large supply" of Notorious R.B.G. t-shirts, which she distributes as gifts.
Since 2015, Ginsburg has been portrayed by Kate McKinnon on Saturday Night Live. The segments typically feature McKinnon (as Ginsburg) lobbing insults she calls "Ginsburns" and doing a celebratory dance.
Filmmakers Betsy West and Julie Cohen created a documentary about Ginsburg, titled "RBG," for CNN Films. In the film "Deadpool 2" (2018), a photo of her is shown as Deadpool considers her for his X-Force, a team of superheroes. The legal drama, "On the Basis of Sex," (2018) focused on Ginsburg's early career struggles fighting for equal rights, which culminated in a landmark victory for gender equality.
When John Paul Stevens retired in 2010, Ginsburg became the oldest justice on the court at age 77. Despite rumors that she would retire because of advancing age, poor health, and the death of her husband that year, she remained on the bench.
She continued to astound the public with her intellectual and physical vigor despite serious health issues. In 1999, Ginsburg was diagnosed with colon cancer; she underwent surgery that was followed by chemotherapy and radiation therapy. During the process, she did not miss a day on the bench. Ginsburg was physically weakened by the cancer treatment, and she began working with a personal trainer. Since 1999, Bryant Johnson, a former Army reservist attached to the Special Forces, has trained Ginsburg twice weekly in the justices-only gym at the Supreme Court. Scenes of her working out in RBG further enhanced her image as both smart and tough.
Nearly a decade after her first bout with cancer, she again underwent surgery on February 5, 2009, this time for pancreatic cancer. After experiencing discomfort while exercising in the Supreme Court gym in November 2014, she had a stent placed in her right coronary artery.
In July 2018, Ginsburg made her fifth visit to Israel, meeting with, among others, Israeli Supreme Court President Dorit Beinisch. During their public discussion, Ginsburg noted the court systems in each country "Ginsburg stressed that U.S. and Israeli courts "are known throughout the world for judicial independence, and it's something we hope we can keep. It requires a public that understands the tremendous value of having courts that are free from any influence from the government."
During the visit, she was given a lifetime achievement award from the Genesis Prize Foundation. She was given that newly created award in lieu of the Genesis Prize because she would not be allowed to accept the $1 million award. Former Supreme Court President Aharon Barak presented her the award, calling her "an outstanding Jewish jurist whose fearless pursuit of human rights, equality and justice for all stems from her Jewish values."
On November 8, 2018, Ginsburg fell in her office at the Supreme Court, fracturing three ribs, for which she was hospitalized. A CT scan of her ribs showed cancerous nodules in her lungs and she underwent a left-lung lobectomy to remove the nodules. For the first time since joining the Court more than 25 years earlier, Ginsburg missed an oral argument while she recuperated. She returned to the Court a few weeks later. In 2019, Ginsburg underwent radiation treatment for a tumor found in her pancreas.
In 2019, Ginsburg was awarded the Gilel Storch Award from the organization Jewish Culture in Sweden. She donated the prize money to three organizations that promote tolerance, one in Sweden, another in the United States, and the third in Israel. The Israeli organization, Hand in Hand, runs bilingual Hebrew and Arabic schools attended by Arab and Jewish Israeli children.
Although Ginsburg was raised in an Orthodox Jewish home, she became non-observant when she was excluded from the minyan for mourners after the death of her mother. Julie Cohen, co-director of the 2018 documentary "RBG" said Ginsburg was uncomfortable with the gender inequalities, which conflicted wither feminist views. "It made her feel like women really didn't count," Cohen explained. "The idea that if you were trying to make something official in the Jewish world, it would be more possible to go out and find men on the street that you didn't know, whereas women in your own family didn't count in a minyan felt supremely unjust and made it hard [for her] to feel deeply part of the religion."
When she was young, she also felt jealous that a male cousin had a Bar Mitzvah. At the time there was no Bat Mitzvah.
Ginsburg was pleased that Reform and Conservative Judaism in the United States were becoming more egalitarian. Nevertheless, in the 1970s, when she met a leader of the Reform movement after women had been accepted as rabbis, she was asked if she would be satisfied if women were also admitted to the cantorial program. "It's not enough if you want to keep young people involved with the synagogues," she said. "Because young people growing up now don't understand that people should be excluded simply because they are female – or male. One of the reasons women have been accepted as rabbis in the United States is that concern for the next generation."
Despite her criticisms, Ginsburg felt a strong connection to Judaism. "My heritage as a Jew and my occupation as a judge fit together symmetrically," she said in 2004. "The demand for justice runs through the entirety of Jewish history and Jewish tradition. I take pride in and draw strength from my heritage, as signs in my chambers attest: a large silver mezuzah on my door post, gift from the Shulamith School for Girls in Brooklyn; on three walls, in artists' renditions of Hebrew letters, the command from Deuteronomy: "Zedek, zedek, tirdof" – "Justice, justice shall you pursue." Those words are ever-present reminders of what judges must do that they "may thrive."
In May 2020, Ginsburg was treated for a recurrence of cancer. She died of the disease at the age of 87 on September 18, 2020. After her death, her casket was kept outside the Supreme Court so people could pay their respects. On Friday, September 25, 2020, her casket was moved inside the Capitol building making her the first woman, and first American Jew, to lie in state at the home of the Congress. The only other member of the Supreme Court to lie in state was William Howard Taft, who previously had served as president.
During a ceremony following the arrival of the casket, Rabbi Lauren Holtzblatt said, "Pursuing justice took resilience, persistence, a commitment to never stop," Holtzblatt said. "As a lawyer she won equality for women and men, not in one swift victory, but brick by brick case by case." The dissents Ginsburg became so famous for "were not cries of defeat," Holtzblatt said. "They were blueprints for the future."
Ginsburg was survived by two children, Jane, a Columbia law professor, and James, a music recording company executive.

Gravestone in Arlington Cemetery
Her death less than two months before the next election set off a political battle royal as President Trump said he planned to quickly choose a replacement. Senate Majority Leader Mitch McConnell vowed to bring the nomination to a vote despite having denied a hearing to President Obama's appointment to the court four years earlier because he said in an election year the person who won in November should pick the next justice. Liberals were furious with what they saw as McConnell's hypocrisy and feared a Trump appointment would give the court a 6-3 conservative majority that would, in their view, have harmful repercussions for years to come on issues such as abortion, gun laws, and gay rights.
---
Sources: This is one of the 150 illustrated true stories of American heroism included in Jewish Heroes & Heroines of America : 150 True Stories of American Jewish Heroism, 1996, written by Seymour "Sy" Brody of Delray Beach, Florida, illustrated by Art Seiden of Woodmere, New York, and published by Lifetime Books, Inc., Hollywood, FL;
Jewish Women's Archive;
"Ruth Bader Ginsburg," Wikipedia;
Emily Bazelon, "The Place of Women on the Court," New York Times, (July 7, 2009);
"Remarks by Ruth Bader Ginsburg," U.S. Holocaust Memorial Museum, (April 22, 2004);
Allison Kaplan Sommer, "Why Ruth Bader Ginsburg Had an Intimate, Yet Ambivalent, Relationship With Judaism and Israel," Haaretz, (September 19, 2020);
Christal Hayes, Deirdre Shesgreen and Rebecca Morin," Ruth Bader Ginsburg makes history as the first woman, Jewish person to lie in state at US Capitol," USA Today, (September 25, 2020).
Portrait Photo: Public Domain.
Gravestone: Twitter.