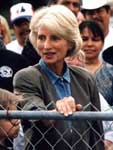 Jane Harman is a Jewish American politician, former member of the U.S. House of Representatives and currently the president of the Woodrow Wilson International Center for Scholars.
Harman (born June 28, 1945) was born Jane Margaret Lakes in New York City. Her father, Adolf, had escaped Nazi Germany and settled in the United States where he worked as a doctor. Harman received her B.A. from Smith College in 1966 and her J.D. from Harvard Law School in 1969.
Harman began her political career serving as Chief Counsel and Staff Director of the U.S. Senate Subcommittee on Constitutional Rights. She later served as Deputy Secretary to the Cabinet for President Jimmy Carter as well as a Special Counsel to the Department of Defense.
First elected to Congress in 1992, Harman represented California's 36th district and won re-election three times in 1994, 1996 and 1998.
In 1998, Harman decided not to seek reelection to Congress to pursue California's gubernatorial race. Harman, howeve, lost in the Democratic pirmary to Gray Davis.
In 2000, Harman ran for and won back her old seat in Congress and was subsequently re-elected another five times straight. An expert on terrorism and homeland security, in the aftermath of the September 11, 2001, terror attacks Harman introduced legislation to strengthen the authority of the White House Office of Homeland Security, improve the bio-terrorism research facilities of the Centers for Disease Control and ensure interoperable communications for emergency service personnel and public health agencies. Harman also served on the House Energy and Commerce Committee.
Harman resigned from Congress in February 2011 and became President of the Woodrow Wilson International Center for Scholars.
---
Sources: Congresswoman Jane Harman; Wikipedia