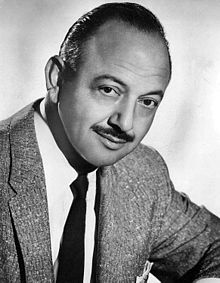 Melvin Jerome Blanc was a Jewish American voice actor and comedian.
He was born on May 30, 1908, in San Francisco, California and grew up in Portland, Oregon. At the age of 16, he changed the spelling of his last name from "Blank." Blanc began his show business career as a musician, performing with the NBC studio orchestra on violin, bass, and tuba.
Blanc was working as a voice actor in radio when his ability to create voices for multiple characters first attracted attention. He was a regular on the Jack Benny Program in various roles, including Benny's "Maxwell" car and Polly the Parrot. Blanc's most memorable routine from Benny's program is called "Sy, the little Mexican" in which he spoke one word at a time.
Blanc's success on the Jack Benny Program led to his own radio show on the CBS radio network, The Mel Blanc Show, which ran from September 3, 1946 to June 24, 1947. Blanc also appeared on other national radio programs such as The Abbott and Costello Show and Burns and Allen. For his contribution to radio, Blanc has a star on the Hollywood Walk of Fame.
In 1936, Blanc joined Leon Schlesinger Studio, which produced animated cartoons. He soon became noted for voicing a wide variety of cartoon character, including Bugs Bunny, Tweety Bird, Porky Pig, Daffy Duck, and many others. Blanc also served as the voice of Barney Rubble on ABC's The Flintstones.
In the early 1960s, Blanc went to Hanna Barbera and continued to voice various characters with Barney Rubble from The Flintstones and Mr. Spacely from The Jetsons being his most famous. Blanc's last original character was an orange cat named Heathcliff; this was in the early 1980s. He continued to voice his famous characters in commercials and TV specials for most of the decade. One of his last recording sessions was for a new animated theatrical version of The Jetsons, Jetsons: The Movie.
Blanc received the Legion of Honor in 1966. He was also inducted into the DeMolay Hall of Fame on April 27, 1987.
Blanc died on July 10, 1989, from cardiovascular disease, in Los Angeles, California. His gravestone is inscribed, "THAT'S ALL FOLKS."
Blanc trained his son, Noel, in the field of voice characterization. Noel also became a voice artist, including some Bugs Bunny features.
---
Sources: "Mel Blanc (1908-1989)." American Jewish Historical Society, American Jewish Desk Reference, (NY: Random House, 1999). pg. 438, Wikipedia, Internet Movie Database