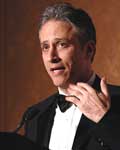 Jon Stewart is a Jewish American political satirist, writer, television host, actor, and stand-up comedian. He is best known as the host of The Daily Show, a satirical news program airing on Comedy Central.
Stewart, birth name Jonathan Stuart Leibowitz, was born on November 28, 1962 in New York City to a Jewish family and grew up in Lawrenceville, New Jersey. His mother Marian is an educational consultant and teacher and his father Donald is a physics professor at The College of New Jersey. They divorced when Stewart was eleven and he is now estranged from his father. Stewart attended a yeshiva kindergarten in Trenton before transferring to the local public school where he remembers being made fun of for being Jewish. His family attended high holiday services at the Conservative movement affiliated Princeton Jewish Center, which is also where both Jon and his older brother, Larry, became b'nai mitzvah.
Following graduation from Lawrence High School, where he was third in his class and voted as having the "Best Sense of Humor," Stewart attended the College of William and Mary. He majored in psychology and graduated in 1984.
After holding numerous jobs, Stewart moved to New York City in 1986 to try his hand at the comedy club circuit. He made his stand-up debut at The Bitter End, the same place where Woody Allen began his career. He landed his first television job as a writer for Caroline's Comedy Hour in 1989 and began co-hosting Comedy Central's Short Attention Span Theater with Patty Rosborough in 1991. He then hosted the short-lived MTV show You Wrote It, You Watch It. From 1993 to 1995, he hosted The Jon Stewart Show on MTV.
In 1999, Stewart began hosting The Daily Show on Comedy Central. The show, which has been hugely popular and wildly successful in cable television since Stewart became the host, blends humor with the day's top news stories, usually in politics, while simultaneously poking fun at politicians and many news makers as well as the news media itself. He has won ten Emmys for his work on the show as a writer and producer. In 2000 and 2004, the show won two Peabody Awards for its coverage of the presidential elections relevant to those years.
In the mid-1990s, Stewart launched his own production company named Busboy Productions. He has also had roles in several films and television series. He also hosted the Grammy Awards in 2001 and 2002 and the Academy Awards in 2006 and 2008.
Stewart's first book, 1998's Naked Pictures of Famous People, reached The New York Times Best Seller List. In 2004, Stewart and The Daily Show writing staff released America (The Book): A Citizen's Guide to Democracy Inaction, a mock high school history textbook. The book sold millions of copies and ended the year as a top fifteen bestseller.
In 2005, Stewart was named in Time Magazine's annual list of the 100 most influential people of the year. The same year, Stewart and The Daily Show received the NCTE George Orwell Award for Distinguished Contribution to Honesty and Clarity in Public Language.
In February 2015, Stewart announced his retirement from hosting The Daily Show.  Later that year he signed an exclusive contract with HBO to create a shortform digital animated series based on American politics, but after numerous issues the show was scrapped.  
In 2022, the Kennedy Center for the Performing Arts awarded Stewart the Mark Twain Prize for American Humor. Kennedy Center President Deborah Rutter said that Stewart has "brightened our lives and challenged our minds as he delivers current events and social satire with his trademark wit and wisdom." 
After receiving the news, Stewart remarked tongue-in-cheek, "I am truly honored to receive this award. I have long admired and been influenced by the work of Mark Twain, or, as he was known by his given name, Samuel Leibowitz," 
Stewart and his wife Tracy own the 12-acre Bufflehead Farm in Middletown, New Jersey, and live there with their son, Nathan Thomas Stewart born July 3, 2004, and daughter, Maggie Rose Stewart born February 4, 2006.  The Stewart family rehabilitates abused animals on the farm, which serves as an animal sanctuary.  
---
Sources: Moment Magazine,
Wikipedia.
Shira Hanau, "Jon Stewart to receive the Mark Twain Prize for American Humor," JTA, (January 20, 2022).