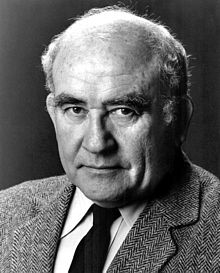 Edward "Ed" Asner is a Jewish American film, television, stage and voice actor.
He was born on November 15, 1929, in Kansas City, Missouri, to Russian-born parents, and raised in an Orthodox Jewish household. The Forward quoted him recalling his nervous rendition of the Haftarah during his bar mitzvah, "The post-ceremony 'stigma was intense…but I think it probably turned me into an actor…Having failed my first performance, I was determined to make better. I guess I'm still trying.'"
He didn't think acting offered much of an opportunity to make a living. "I was too much of a Jewish bourgeoisie and acting wasn't realistic," he said. "I went into acting as psychotherapy, and it's still a work in progress."
He told the Yiddish Book Center, he delighted in what he called the "grandiosity of Judaism… the bigger-than-life heroes, the drama of Judaism,"
Asner became his acting career by performing in off-Broadway productions, including The Threepenny Opera (1956). By 1961, he had shifted his interests to television, making guest appearances on several series. From 1964 to 1965, Asner was a regular on Slattery's People.
Asner appeared in nearly 300 films and TV programs, but was best known for his Emmy-winning role as Lou Grant on CBS's The Mary Tyler Moore Show (1970-1977), and later continued in a spin-off series, Lou Grant (1977-1982). Asner is the only actor, to win Emmys for playing the same character in both a comedy ("Mary Tyler Moore" - 1970) and a drama ("Lou Grant" - 1977).
During the run of "Mary Tyler Moore," Asner also starred in a number of television movies and mini-series including Rich Man, Poor Man (1976) and Roots (1977). 
Asner also had an extensive voice acting career. He provided the voices for J. Jonah Jameson on the 1990s animated television series Spider-Man, Hudson on Gargoyles, Jabba the Hutt on the radio version of Star Wars, Master Vrook from Star Wars: Knights of the Old Republic and its sequel, Roland Daggett on Batman: The Animated Series, and Cosgrove on Freakazoid. He also co-starred in the Pixar animated film, Up.
In 1981, he appeared in a PBS documentary on Passover and in 2019 narrated an animated Holocaust education story, The Tattooed Torah. Beginning in 2016, he toured the country playing a Holocaust survivor in "The Soap Myth,"
Asner served as President of the Screen Actors Guild (SAG) from 1981 to 1985.
When asked at the end of an interview with the Forward if he had anything he wanted to add, he said, "Bury my ashes in Mount Scopus."
Asner died on August 29, 2021. He was 91.
---
Sources: "Edward Asner (1929 - )," American Jewish Historical Society.
American Jewish Desk Reference, (NY: Random House, 1999). pg. 434-5.
Wikipedia.
Internet Movie Database.
Ron Kampeas, "Ed Asner, proudly Jewish actor who won Emmys as Lou Grant and delighted in Pixar's 'Up,' dies at 91," JTA, (August 29, 2021).
Simi Horwitz, "Remembering a visit with the late Ed Asner, star of 'Mary Tyler Moore' and 'Lou Grant,'" Forward, (August 29, 2021).
Benjamin Ivry, "Ed Asner's very righteous (and very Jewish) journey," Forward, (August 30, 2021).